Family cat left fighting for her life after acid attack left her with 'no fur'
'She had froth coming out of her mouth. How she made it home I will never know'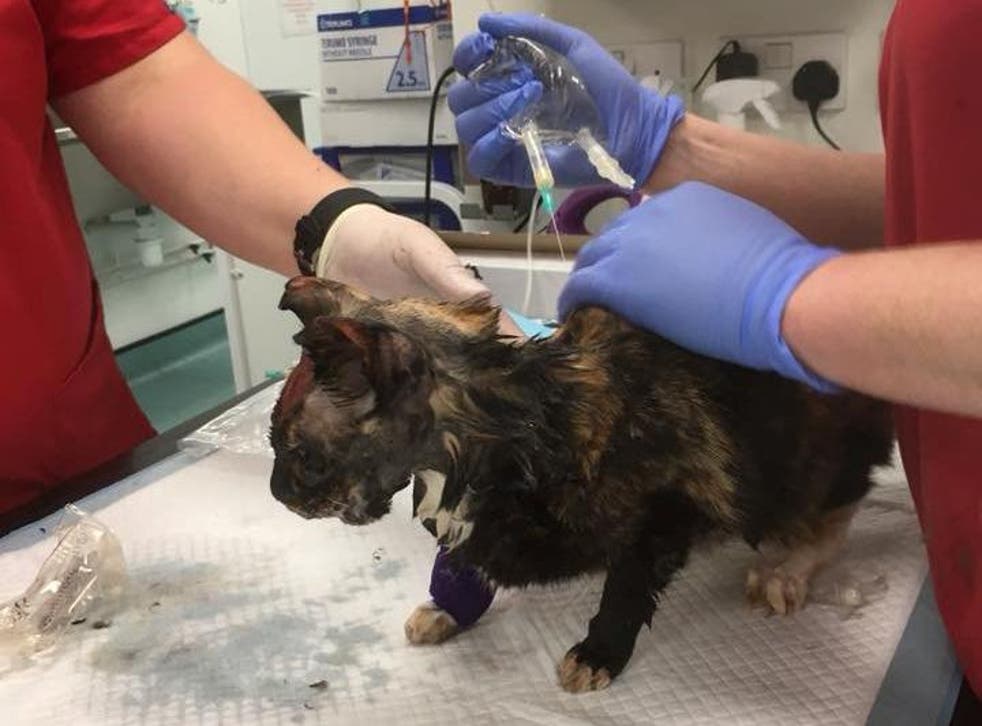 A family cat is fighting for her life after being subjected to an acid attack.
Georgie, a 10-year-old tabby cat, staggered home to her owners with "no fur" and severe burns to her face and body.
Owner Lyn Prewer said that when Georgie arrived home on Tuesday night she "looked dead".
The cat is now at a vet and if she survives is expected to lose her ears and sight. She is also unable to eat due to burns on her mouth.
Ms Prewer, 39, of Exeter, Devon, said: "She had no fur left on her head, her back and legs and she had froth coming out of her mouth. How she made it home I will never know.
"She has suffered horrific burns and the vet has said that it is likely that she will lose the tips of her ears and possibly her sight.
"She also has burns all over her mouth and tongue and ulcerations down her throat."
Ms Prewer, who also has a 10-year-old son, said she wrapped Georgie in a towel and rushed her straight to the vet.
She added: "It was the worst experience of my life.
"I cannot comprehend why some human can do this.
"My son is absolutely devastated.
"When we got Georgie to the vet they took her into theatre straight away and removed all of the acid.
"It is very touch and go at the moment because they don't know if the acid has caused any internal damage.
"They have told me that they will have to put a camera down her throat so they can assess the internal damage and then we will have to make a decision from there."
UK news in pictures

Show all 50
Ms Prewer described Georgie as a friendly cat and said it was not unusual for her not to come home at night.
"Georgie loves attention so when she goes out she often goes to our neighbour's house. She just loves people," she said.
"On Monday night she went out at about half eight and stayed out for the night and when she didn't come back on Tuesday morning I didn't think it was that unusual.
"But when Tuesday evening came around I asked my neighbours if they had seen her and they hadn't so that's when I started to worry.
"It was then I saw a shadow outside my window and could see she was home. But when I opened the door I can't even describe what I saw, I thought she looked dead."
The RSPCA is investigating the incident.
SWNS
Register for free to continue reading
Registration is a free and easy way to support our truly independent journalism
By registering, you will also enjoy limited access to Premium articles, exclusive newsletters, commenting, and virtual events with our leading journalists
Already have an account? sign in
Register for free to continue reading
Registration is a free and easy way to support our truly independent journalism
By registering, you will also enjoy limited access to Premium articles, exclusive newsletters, commenting, and virtual events with our leading journalists
Already have an account? sign in
Join our new commenting forum
Join thought-provoking conversations, follow other Independent readers and see their replies