Chalcots estate evacuations: Residents complain about Camden Council's handling of their removal
'It was a mess, we only had five minutes to get our stuff'
Caroline Mortimer
Friday 23 June 2017 23:31 Comments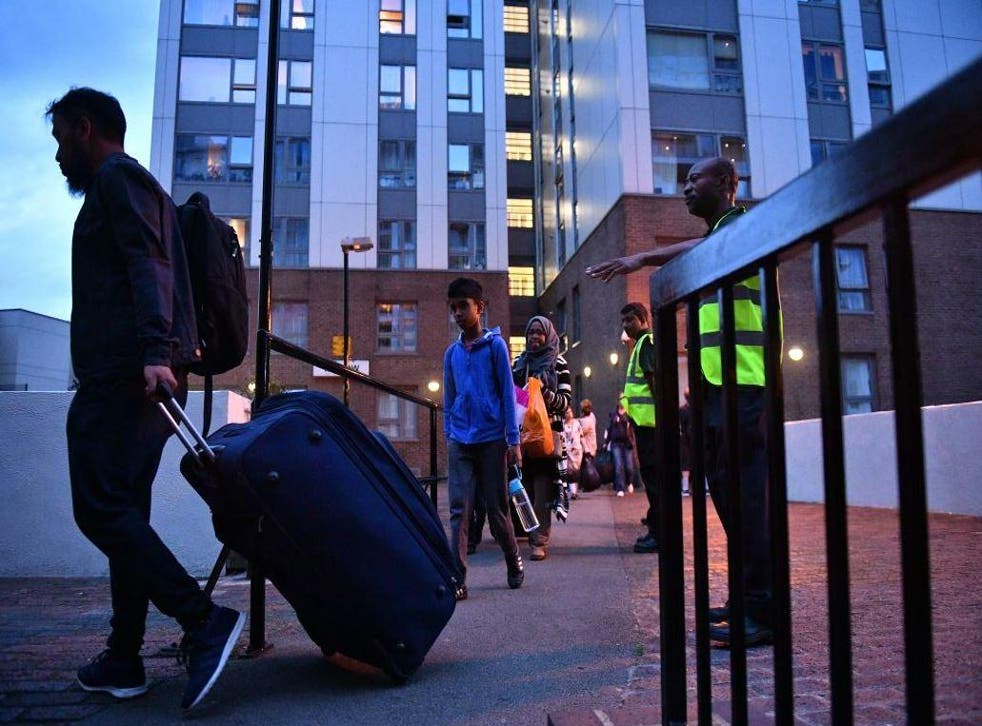 Residents have criticised the way the evacuation from five tower blocks in Camden over fire safety fears was handled by the local council.
Wheelchair bound Abdullah Sharif, who suffers from cerebal palsy said that he had only moved into a ground floor flat six weeks ago.
He added that it had taken a long time for them to find somewhere accessible for him to live and he was upset about having to move again.
Alice Clochet said she was only told she would have to leave her home by a journalist when she came home from drinks after work.
"I'm furious about how disorganised the evacuation is," she told The Independent.
The 25-year-old who has lived in the tower for a year, after moving to the UK from France, added that that the council only put the "dangerous" cladding on the side of her building to "cut costs in the first place."
Others said they were concerned about what would happen in future as the council has said it could take three or four weeks to make the buildings safe again.
Calling the evacuation a "huge overreaction", Edward Strange said "I would stay if I could."
He said that along with his family, he could stay with friends.
"But we can't impose on them for four to six weeks," he added. Camden council has said it could take at least three or four weeks to make the building safe.
Ahmed Mohamed, 19, who lives in Taplow tower with his parents and two sisters, said they were alerted by a neighbour that they needed to leave.
He said: "It was a mess, we only had five minutes to get our stuff.
"We had the meeting yesterday which I attended and they told us nothing about this. They said they're going to make sure we're safe, that's all.
UK news in pictures

Show all 50
"The officials have told us to go to the leisure centre where we might be rehoused or we might stay with friends and family. I don't think this is the right thing to do, I feel safe here and I don't think there's any threat to our building.
"When I think of the Grenfell Tower, yes, I do feel unsafe, but I don't know why they're telling us to evacuate 800 homes right now. We could've packed our stuff nicely and they would've have time to rehouse people."
Hamza Usman, 21, who lives in nearby Burnham Tower, said: "I found out that we have to evacuate through BBC News.
"I called my mum and she said she had heard nothing either. So far they've told us to pack and get ready, but it's a maybe if Burnham will be evacuated tonight. They've told us we might have to sleep in the leisure centre tonight but there's only 50 beds there."
Mother-of-three Adelina who also lives in Burnham, said: "I heard it from the news. I am in shock and I don't believe it. I think it's the right thing to do if it's health and safety. I'd rather be safe."
Register for free to continue reading
Registration is a free and easy way to support our truly independent journalism
By registering, you will also enjoy limited access to Premium articles, exclusive newsletters, commenting, and virtual events with our leading journalists
Already have an account? sign in
Join our new commenting forum
Join thought-provoking conversations, follow other Independent readers and see their replies