Channel crossings: UK strategy to stop migrant boats will not work, government warned
'If they stopped the boats they would definitely go back to lorries – they will do it or die trying,' say charity leaders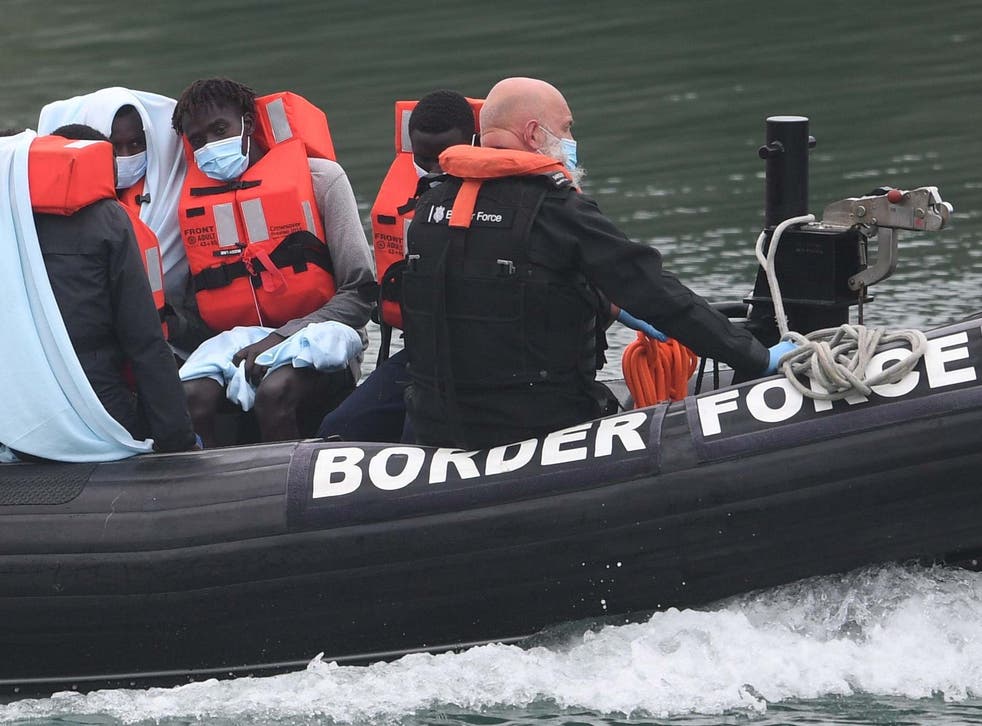 The British government's attempts to stem crossings across the English Channel by paying for increased coastal security in France will not work, it has been warned.
The new "clandestine Channel threat commander" is leading ongoing talks over enhanced surveillance, patrols and intelligence-sharing following the arrival of more than 5,000 asylum seekers in boats so far in 2020.
Dan O'Mahoney said France and Britain were working to make the sea route "completely unviable".
But the number of migrants crossing the Channel has increased dramatically since the UK paid £6m for similar measures as part of a "joint action plan" in January 2019.
The Care4Calais charity, which works with asylum seekers in northern France and Belgium, said the number of migrants waiting for their chance to reach the UK has remained "consistent" despite forced evictions at informal camps.
Founder Clare Moseley told The Independent: "In the five years I've been in Calais, I've seen nothing but tons of money thrown at security, and my experience is it makes no difference.
"All it does is put vulnerable people in greater danger."
The warning came under a fortnight after a Sudanese migrant, Abdulfatah Hamdallah, drowned while attempting to cross the Channel in a small dinghy.
French investigators said he and a friend had been living around the former Calais "Jungle" camp for two months.
The number of migrants attempting boat crossings has increased following crackdowns on lorries at ferry ports, and a fall in freight traffic due to coronavirus.
Ms Moseley said: "If they stopped the boats they would definitely go back to lorries – they will do it or die trying."
Priti Patel in Dover as Government face criticism over migrant crossing crisis
The most recent annual report by the National Crime Agency (NCA), which leads investigations into organised immigration crime, said tighter border controls on migration routes "has resulted in increasing numbers of irregular migrants seeking the assistance of criminal smugglers".
It followed a report by parliament's Foreign Affairs Committee, which called for the government to increase legal routes to seek asylum, improve "dire" conditions in French camps, and address the root causes of migration.
"A policy that focuses exclusively on closing borders will drive migrants to take more dangerous routes, and push them into the hands of criminal groups," the report said.
"In the absence of robust and accessible legal routes for seeking asylum in the UK, those with a claim are left with little choice but to make dangerous journeys by land and sea."
Priti Patel and other ministers have repeatedly blamed people smugglers and "criminal gangs" for rising boat crossings.
But Ms Moseley said smugglers were "a symptom, not a cause" of the problem, and accused the government of wrongly criminalising refugees.
She added: "The problem is there's not a safe and legal route. They do it illegally because there's not a legal alternative."
Hundreds evicted from French refugee camp amid Channel crossings rise

Show all 12
The NCA said that although many attempted boat crossings to the UK were facilitated by criminal networks, there is also a rising number of "DIY attempts".
Among them was Mr Hamdallah, who stole a dinghy from a shop with his friend and attempted to use shovels as oars.
The NCA has been increasing work with international authorities to combat smuggling gangs, who are mostly based inside France.
Boat crossings fell last week during stormy weather, but are expected to increase with calmer conditions.
Dan O'Mahoney, who leads the Home Offce's response to Channel crossings, said in an emailed statement: "These crossings are illegally facilitated by criminals willing to risk people's lives for money. France is a safe country with a fully functioning asylum system – those seeking refuge can and should claim asylum there.
"I am working with my counterparts in France daily to make this route totally unviable and through our joint intelligence work we have prevented many more migrants from leaving the French coastline today. We continue to return those who do not have a legitimate asylum claim despite barriers to removals under the Dublin Regulations and legal challenges.
"There are also safe routes to claiming asylum in the UK for those in genuine need and the UK has a clear record of resettling more refugees than any EU country."
Register for free to continue reading
Registration is a free and easy way to support our truly independent journalism
By registering, you will also enjoy limited access to Premium articles, exclusive newsletters, commenting, and virtual events with our leading journalists
Already have an account? sign in
Register for free to continue reading
Registration is a free and easy way to support our truly independent journalism
By registering, you will also enjoy limited access to Premium articles, exclusive newsletters, commenting, and virtual events with our leading journalists
Already have an account? sign in
Join our new commenting forum
Join thought-provoking conversations, follow other Independent readers and see their replies