Funded by our supporters
Channel crossings: Patel warned against arrests of migrants who face risk of exploitation in France
Seeking Refuge: Lizzie Dearden reports on how desperate asylum seekers are being coerced by people-smugglers – only to be told they face criminal action when they arrive in the UK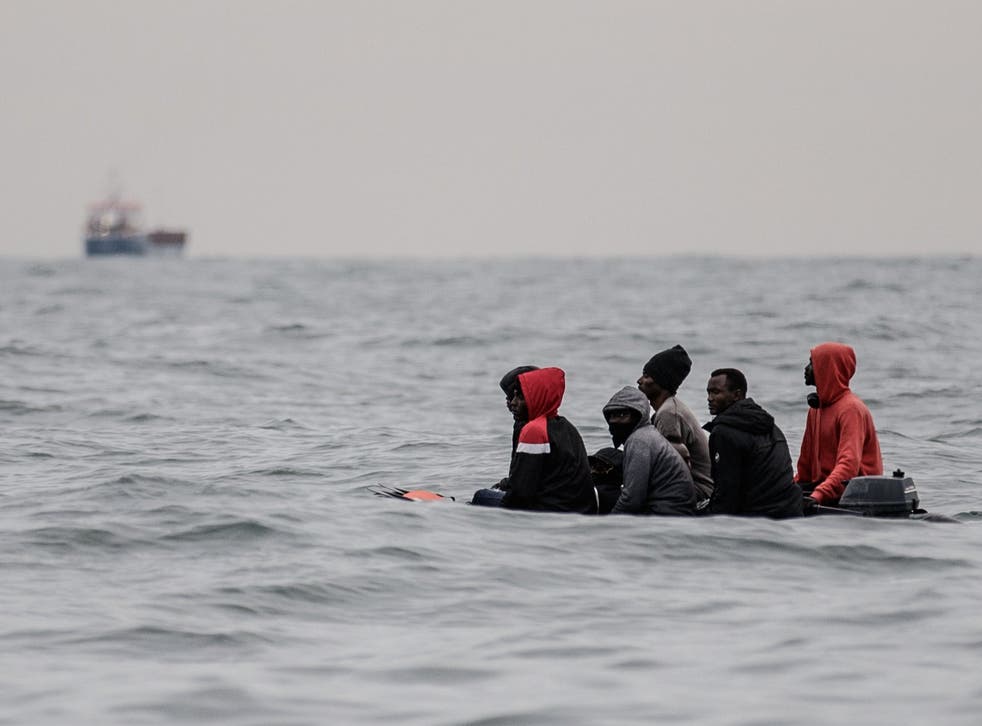 Priti Patel has been warned against the criminalisation of asylum seekers arriving in the UK by boat as it emerged people-smugglers were exploiting vulnerable migrants in northern France to facilitate Channel crossings.
The National Crime Agency (NCA) confirmed it had received intelligence of asylum seekers being forced to work for people-smugglers in northern France.
In an investigation funded by The Independent's Supporter Programme, migrants said that traffickers had taken their money for the crossing, only to then demand they work for free in order to make the journey to the UK.
But despite these concerns, the home secretary appears steadfast. Speaking at the Conservative Party conference on Sunday, she vowed to introduce "firm and fair" asylum process to "stop the abuse of the broken system", and has recently praised the jailing of asylum seekers deemed to have steered boats, while the head of the taskforce tackling Channel crossings declared that anyone at the helm should "expect to be arrested" on arrival.
Campaigners have warned of the risk of "criminalising the persecuted" with the arrests. Suspected victims of modern slavery should legally be passed to the National Referral Mechanism for support, rather than arrested.
According to the NCA, there have been 87 arrests linked to Channel crossings, the majority of them relating to steering boats. Migrants are being identified by army-operated drones surveilling the Channel.
Steve Dann, the Home Office's deputy clandestine Channel threat commander, told a press conference on Wednesday that people who steered boats made up the bulk of 87 arrests linked to Channel crossings.
"There are a lot more of those cases coming through the courts," he added. "This is not just about waiting until they arrive here and launching an investigation, we are using aerial assets to identify the pilots of these vessels."
A Yemeni man, who did not want to be named for fear of reprisals, said he had been made to prepare boats for two weeks after paying a smuggler £3,000 for passage to the UK earlier this year. "They took our money, they used us to work for free, they threatened us," he said.
"[The smuggler] told me, 'I can kill you here, no one will identify me and I will escape.' He took videos of me and of my friends while we were preparing boats for other journeys. He said, 'I could now accuse you of being a smuggler, you could be in jail.'
"He made me work for him for free to prepare the boat, to prepare the engine.
"It was the most dangerous two weeks in my life, I couldn't sleep, I was crying day and night. I couldn't complain to others because he had video and photos of me and others and my friends."
Another asylum seeker, from Iran, described smugglers as like a "mafia" in the Dunkirk area. "Among the people [migrants], they get people working for them," he told The Independent.
Almost 7,000 asylum seekers are believed to have reached the UK on small boats so far this year and September was the busiest month yet, despite Priti Patel vowing to make crossings "unviable".
A spokesperson for the NCA – which is accountable to the home secretary – said the "relationship between facilitator and migrant can be exploitative", adding: "Migrants are sometimes coerced or controlled by criminal gangs, who treat them as a commodity to be profited from. Gangs will use tools like debt bondage and threats of violence to keep their customers under their control."
Altaib Mobarak, a 43-year-old Sudanese man, was jailed for two years in August for "facilitating illegal entry into the UK".
Priti Patel in Dover as government faces criticism over migrant crossing crisis
In September, Rebwar Ahmed, a 36-year-old Iraqi man, was jailed for two years and seven months for assisting unlawful immigration.
Both men had been filmed by drones while steering a dinghy carrying fellow asylum seekers, and admitted the offence. Dan O'Mahoney, the clandestine Channel threat commander, said: "These dangerous crossings are only possible if someone is willing to drive the boat.
"If you are prepared to take the helm, you can expect to be arrested when you arrive in the UK and prosecuted."
The Detention Action campaign group said the cases damaged the UK's "proud tradition of offering protection".
Acting campaigns manager Izzie McIntosh added: "We must guard against it becoming a shameful story of criminalising the persecuted. What are the safeguards for ensuring that people pursuing their legal right to claim asylum are not treated as people-smuggling criminals?
"If the Home Office is going to proudly advertise criminal convictions such as these, they must answer this question."
This week it also emerged that the Home Office was considering plans including barriers to stop dinghies in the Channel and even wave machines to push back boats. The department's permanent secretary, Matthew Rycroft, told MPs this week that "all options were on the table".
Speaking about the convictions, Ms Patel said: "These people are criminals and anyone people-smuggling should be in no doubt that we will ensure they face the consequences of their actions."
The NCA said it was leading a taskforce targeting people-smugglers, which includes immigration enforcement, the Border Force and police. A Home Office spokesperson said "the courts have already shown that individuals will be sentenced for facilitating a criminal trade", adding that a judge had dismissed a defence made on humanitarian grounds.
This article was funded by our supporters. If you would like to help fund more investigations, please make a contribution
Join our new commenting forum
Join thought-provoking conversations, follow other Independent readers and see their replies