The weird wedding of Charles Bronson, where trouser zips are allowed after 20 years – but no real honeymoon
The bride wore white, albeit covered by a purple cloak, as she entered the prison to marry a man deemed so dangerous he has spent nearly 40 years in solitary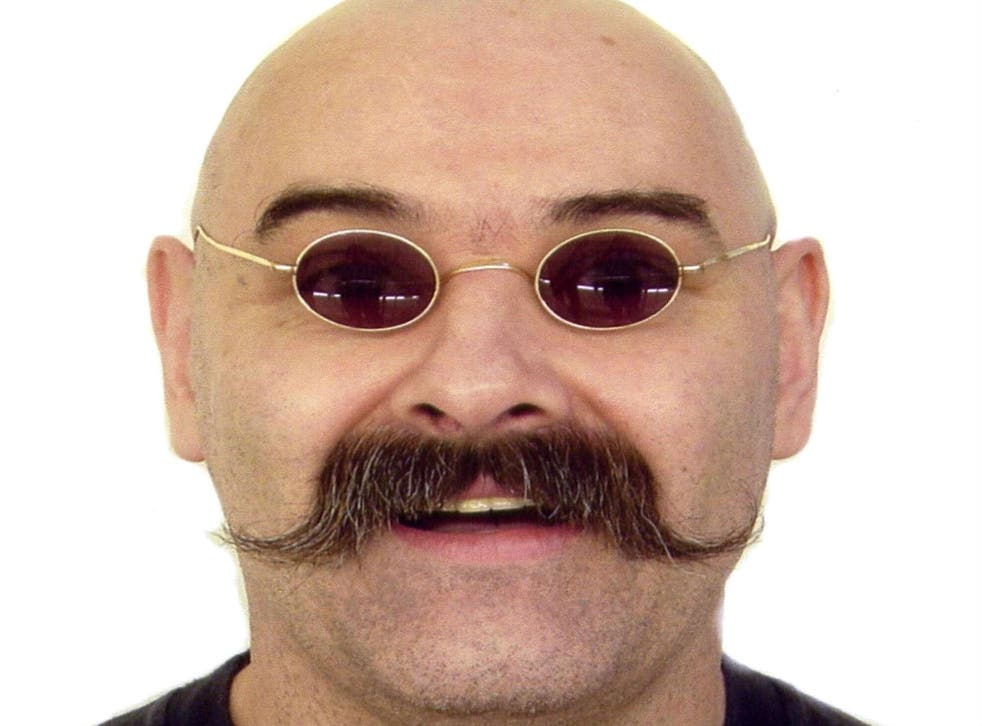 Tuesday November 14 2017 is shaping up to be a very special day for inmate number A8076AG: not only is Charles Bronson, 'Britain's most violent prisoner', marrying an actress 27 years his junior, he's also getting to wear a trouser with a zip for the first time in two decades.
"Security concerns" have long denied such sartorial luxuries to the convict who has spent nearly 40 years in solitary confinement, attacked at least 20 prison officers, and threatened to eat one fellow prisoner before saying he would settle for a cheese and pickle sandwich.
Today a suit bag has been seen entering the grounds of HMP Wakefield in West Yorkshire.
Tom Hardy plays Charles Bronson in 2014 biopic
Today it is thought that at 2pm Charles Bronson, 64, will have swapped a prison issue tracksuit for a wedding suit and taken Paula Williamson, 37, who has appeared in Coronation Street, Hollyoaks and as a stripper in Emmerdale, to be his lawfully wedded wife.
It is thought only five people will have been in the prison chapel to witness the wedding of Bronson, the armed robber who now prefers to style himself Charles Salvador, in honour of Dali, the surrealist artist, rather than Bronson, the hard-man Hollywood actor.
But the bride, who wanted to keep things traditional, arrived at the prison wearing a white, floor-length dress, albeit one covered by a purple cloak as she tried to hide herself from photographers.
Judging by what was spotted in a local hotel car park, it is possible she may have planned to be conveyed to the chapel in a vehicle with the words 'free Charles Salvador' on the side, leaving as a married woman in a silver Mercedes decorated with the words 'Just Married'.
Unless things go very badly for the prison governor, though, Charlie will not be with her.
Get out of jail free cards are hard to come by when you hold the unofficial record for the most rooftop protests by any UK inmate, (nine), when you have taken a total of seven prison officers hostage and, in Charlie's words, "thrown s*** over" and "chinned" a few others.
But Charlie will get to spend two hours in the prison with his new bride before he returns to his cell and she goes to the hotel reception, and then to a 'honeymoon' in Malta with her friends - because "He told me to go on honeymoon without him."
So there will be no joyous consummation - "We're allowed to touch through bars, so we kiss and hold hands," the bride-to-be told TV's Loose Women ahead of the big day, but that is about as far as it can go until Charlie's on the outside.
Even so, there will be a ring, reportedly engraved with the letters CPS. Not for Crown Prosecution Service – for Charlie and Paula Salvador, as the happy couple shall henceforth be known.
So perhaps not quite the complete fairytale, but at least a happy-ish ending for the actress who fell for the "soft, artist's hands" and "deep green eyes" of the "gentle, caring gentleman" who has spent all but 131 days of the last 43 years behind bars.
In Ms Williamson's account, as given to the Daily Mail in February, their first meeting, and the build-up to it, had something of the Mills and Boon about it.
Fate decreed that Ms Williamson should wander into Waterstones one day in 2013 and start leafing through Charlie's book about his time in Broadmoor.
She found herself drawn to the man's "phenomenal spirit". She felt moved to write to tell him how "inspiring" his book was, and yet she never intended to enter into a long correspondence.
"I'm not one of those women who write to men on Death Row or the like," she told the Mail, "But Charlie wrote back and thanked me, and our friendship went from there."
At first, it was friendship not love, especially after Bronson announced his engagement to Lorraine Etherington, secretary of the Charles Bronson Art Foundation in 2015.
For a man who has spent so long in solitary, Charlie has done rather well with the ladies.
There was a wife before he was ever jailed, Irene, whom he married aged 19, having a son before the marriage foundered after he was jailed for the first time, in 1974, for robbing a Post Office of £26.18.
Behind bars, there was a marriage to a pen pal that lasted four years.
But when the engagement to Ms Etherington ended, amicably enough for her to help him with his February 2016 parole bid, Charlie was a free man (romantically speaking).
Now, they could meet at last – once the police had visited Ms Williamson's semi in Stoke-on-Trent, Staffordshire.
And in November 2016, Charlie met Paula. In the segregation unit of HMP Wakefield.
"Shall we dance?" asked Charlie softly.
It mattered not that the radio was transmitting the football scores, they danced as if to a waltz.
He held her in his strong arms, arms so strong he has used them to bend metal cell doors with his bare hands, arms strengthened by years of doing 3,000 press-ups a day to while away jail time.
"They gazed into each other's eyes, oblivious to everything but one another," the Mail tells us. Their lips met, and the prison guard shouted "Charlie, time's up!"
He went back to solitary. She left a prison nicknamed 'Monster Mansion' as if walking on air.
"I have connected with Charlie", she would later tell Good Morning Britain, "In a soulful way".
Now, they have shared not just love, but laughter. There was the time they were discussing TV's Neighbours From Hell.
"They think they've got it bad," said Charlie to his beloved, "My neighbour's a cannibal!"
And when Charlie resolved to pop the question and buy the ring, he phoned her to get the right size.
"Charlie phoned to ask my ring size and he couldn't hear me," Ms Williamson reminisced to the Mail. "I kept saying: "K, it's K." And he said: "Oh, like our Ronnie Kray."
Bronson has fond memories of Ronnie – sometimes, when men spend time in Broadmoor together, they become friends.
Ring duly bought, Charlie proposed on Valentine's Day, serenading Ms Williamson over the prison phone with his own specially composed version of My Way:
"Regrets we have none…
"We planned this lovely day and I saved up for a diamond ring.
"But more, much more than this, this is our day."
She said yes, of course she did, to her "gentle giant".
Although she did admit her mum, a retired lab technician married to a postman, was a little "concerned" about the new fiance.
In fairness to the mother of the bride, it must be said that for all his soulful eyes and soft artist's hands, Charles Bronson might not be everyone's choice of perfect son-in-law.
UK news in pictures

Show all 50
Punishment for his bad behaviour inside has ensured that Bronson's first seven-year sentence, received for the Post Office armed robbery when he was 22, has snowballed somewhat.
He did get released in 1988, but spent just 69 days on the outside before being arrested for robbery.
He was released again in 1992, but 53 days later he was back in jail accused of conspiracy to rob.
Over the years Bronson has taken a total of 11 hostages – seven prison staff, four inmates.
In 1998, having returned to Belmarsh after taking a prison doctor hostage at Birmingham, he was most displeased when an Iraqi hijacker bumped into him in the canteen and did not muster the decency to apologise.
After contemplating this slight for a few days, he took two Iraqi hijackers and another inmate hostage, saying he would eat one of them unless the prison authorities granted his demands.
He entertained his new 'guests' by singing, laughing and forcing the Iraqis to tickle his feet and call him 'General'. Yes, he did hit one of the hostages with a metal tray, but he felt so guilty about it he insisted his captive hit him over the head four times so they could 'call it quits'.
After demanding a plane to Libya, two Uzi sub-machine guns, 5,000 bullets and an axe, he later appears to have been willing to settle for a helicopter to Cuba and a cheese and pickle sandwich.
The hostages were released uneaten, Charlie admitted he was "as guilty as Adolf Hitler", and five years were added to his sentence.
He got a life sentence for what he did in 1999. According to Bronson's account, the trouble started when at HMP Hull, Phil Danielson, a prison education worker, criticised his artwork.
According to later news reports, Bronson armed himself with a makeshift spear, tied a leather skipping rope into a noose and put it around Mr Danielson's neck, warned him to prepare to die and walked him round the jail for 44 hours, taking time out to wrench a washing machine from a wall.
He has been "a loose cannon" in the past, Ms Williamson has acknowledged, but now he is a reformed character.
"His artwork has saved him. It's his salvation as he's locked up for 22 hours a day.
"I wouldn't marry Charles Bronson. I'm marrying Charles Salvador, who hasn't done anything violent."
It is true that after his last court appearance, in July 2014, for clambering over a TV room table to grab the governor of HMP Woodhill by the neck, Bronson did tell the judge: "I've been locked up for 40 years, 37 of them in solitary confinement and I'm sick of it. I'm burying Bronson once and for all".
And as all true romantics know, love can conquer all, even parole boards.
Ms Williamson has spoken of her hope that one day Charlie will be free, and the newlyweds will be united in love.
They will buy a stone cottage in the countryside. Charlie will sketch. There will be lots of animals, because Charlie loves animals. He once wrote to a museum to tell staff "leave the birds and animals alone or I'll rip your head clean off your shoulders".
Ms Williamson has even spoken of her hope that one day they might have children and be a "normal couple".
To their country neighbours, the star-crossed lovers will surely seem charming – although it still might be advisable to avoid criticising the husband's artwork.
Register for free to continue reading
Registration is a free and easy way to support our truly independent journalism
By registering, you will also enjoy limited access to Premium articles, exclusive newsletters, commenting, and virtual events with our leading journalists
Already have an account? sign in
Register for free to continue reading
Registration is a free and easy way to support our truly independent journalism
By registering, you will also enjoy limited access to Premium articles, exclusive newsletters, commenting, and virtual events with our leading journalists
Already have an account? sign in
Join our new commenting forum
Join thought-provoking conversations, follow other Independent readers and see their replies