Charlie Gard medic hits out at 'soap opera' surrounding the court case and meddling of politicians
Health worker says they felt they were prolonging Charlie and his parents' suffering to placate politicians like Donald Trump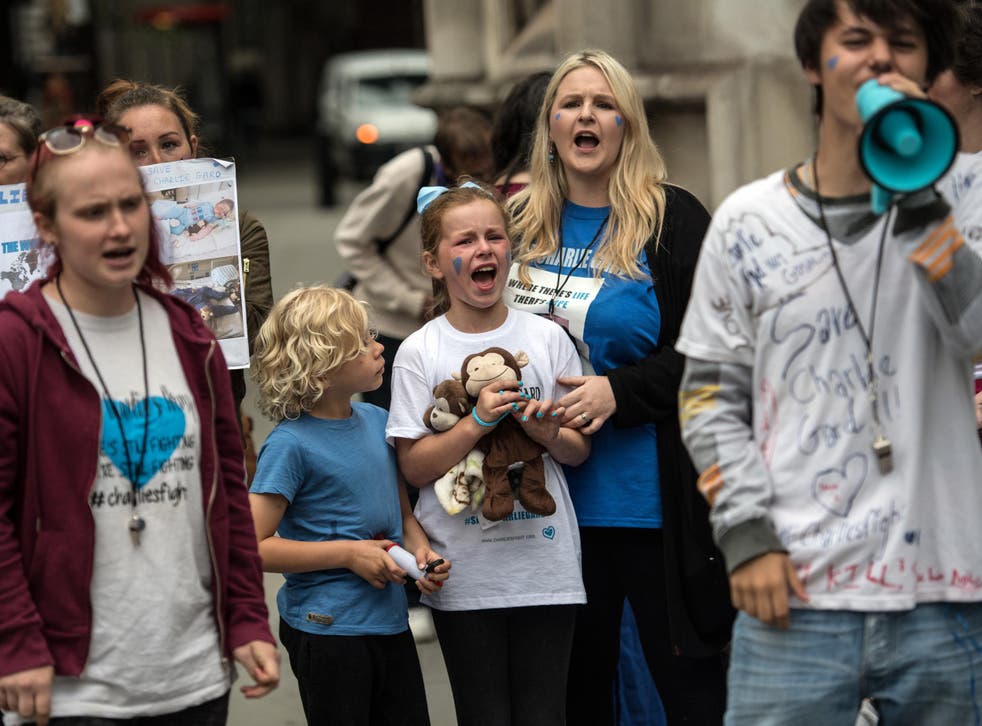 A member of the 200-strong team who helped treated terminally baby Charlie Gard at Great Ormond Street Hospital has criticised the political and religious leaders who stirred up emotions during the court battle.
Eleven-month-old Charlie Gard died just days before his first birthday last week after a five-month battle through the courts over his treatment.
Charlie was born with a rare genetic disorder called mitochondrial DNA depletion syndrome which causes progressive brain damage and muscle decay.
His parents fought a five-month legal battle with the hospital to take him to the US for an untested treatment that they said could help him but Great Ormond Street said was not likely to make any difference and may cause unnecessary suffering.
The courts agreed but the attention the case led to both Donald Trump and Pope Francis offering to intervene in the case, calling on the courts to let him have the treatment and granting Charlie residency and free treatment in the US.
This led to some of the parents' supporters, who called themselves "Charlie's Army", to launch a vicious campaign against the medical team culminating in some of them receiving death threats.
Now a health worker involved with the case has spoken out about the "soap opera" which they said prolonged the agony of Charlie's parents.
In an anonymous opinion piece for the Guardian they said they believed Charlie was effectively kept alive for longer because of people like Mr Trump and the Pope who were interfering with their own agendas and without any understanding of the science—"who suddenly knew more about mitochondrial diseases than our expert consultants".
UK news in pictures

Show all 50
They said: "We didn't want to lose him, and we didn't want his mum and dad to be without him, but it's our job, our legal and moral obligation, to stand up for Charlie and say when we think that enough is enough.
"My colleagues and I worked our hardest, tried everything, fought so hard for this family but there was nowhere else to go. It was obvious to all those people who treated him.
"We gave him drugs and fluids, we did everything that we could, even though we thought he should be allowed to slip away in his parents' arms, peacefully, loved."
They asked whether the "keyboard warriors" who attacked them had seriously "ever really met a nurse or doctor who wants a child to die?"
They said the case has had a knock on effect on morale at the hospital with other families becoming "nervous" about what would happen to their children in a similar situation.
"Parents are nervous, they worry that we might not do the right thing for their child. That worry is not based on the care we are giving; it's based on what you have been saying about medical staff you have never met", they explained.
They said that they used to be proud to say they worked at Great Ormond Street but now even their friends were asking "Why are you trying to kill this child?"
Doctors had previously urged social media users to refrain from commenting on the case and instead read in full the ruling of senior judges.
The nuance of their written judgments had been lost in the furore over Charlie's illness, they said.
Dr Ranj Singh, an NHS doctor, told The Independent: "These are not judgments that have been taken lightly, or reached easily. Their job is to provide an objective assessment and decision on complicated areas like this, when mutually agreeable decisions can't be reached.
"It will naturally get people's emotions and opinions up, and many people will take to social media to get their information and express themselves. Unfortunately that means it's jumping on a bandwagon.
"People have formed opinions already. There's a huge distrust of the medical profession around cases like this."
Register for free to continue reading
Registration is a free and easy way to support our truly independent journalism
By registering, you will also enjoy limited access to Premium articles, exclusive newsletters, commenting, and virtual events with our leading journalists
Already have an account? sign in
Register for free to continue reading
Registration is a free and easy way to support our truly independent journalism
By registering, you will also enjoy limited access to Premium articles, exclusive newsletters, commenting, and virtual events with our leading journalists
Already have an account? sign in
Join our new commenting forum
Join thought-provoking conversations, follow other Independent readers and see their replies