Great Ormond Street bombarded with negative reviews over Charlie Gard case
Some have accused the doctors of being 'murderers' and say the UK has 'lost three centuries of history and civilisation'
Caroline Mortimer
Wednesday 12 July 2017 22:16 Comments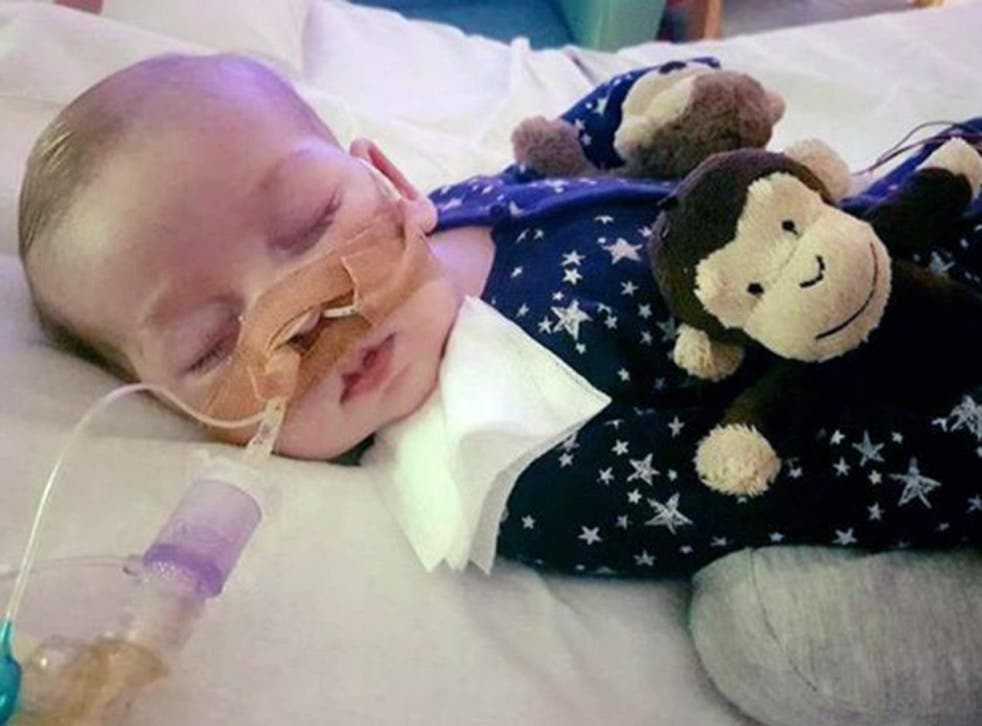 The London hospital treating Charlie Gard has been attacked by trolls angry about his treatment using Google reviews.
The High Court is due to hear fresh evidence on Thursday about experimental treatment in the US that the 11-month-old's parents want him to have.
Charlie suffers from a rare condition called mitochondrial DNA depletion syndrome, which means he is unable to move, speak or breathe on his own.
His parents want to take him to the US for the experimental deoxynucleoside therapy but doctors at Great Ormond Street petitioned the High Court to block the move and withdraw treatment, arguing it would cause him unnecessary suffering and make no significant improvement to his quality of life.
Although a similar therapy has reportedly shown improvement in other children, the proposed treatment for Charlie's strain of the condition has never been tested on humans.
The case was eventually referred to the Supreme Court, which ruled against the parents, but it has now been submitted to the High Court by the hospitals after a group of doctors said they had seen unpublished data which suggested it could help Charlie.
But trolls, angry that the hospital has been granted the power to withdraw life support without Charlie's parents consent, have vented their rage on Google reviews where they claim the doctors' are "murderers".
One wrote: "CENSORSHIP ALERT! People's Google reviews of this hospital are being deleted!
Charlie Gard's parents urge courts to give boy 'chance he needs' with treatment
"If you bring your child here, the staff might just let your child 'die with dignity' (be murdered)."
Another, written in Italian, from Giovanni Bovini said: "I am proud to be born in Tuscany, who is the first country in the world to abolish the death penalty in the distant 1786 (Grand Duchy of Tuscany), I can't believe that even today in Europe there may be doctors and a judge able to decide on the life of an innocent child.
"You have lost three centuries of history and civilization. Shame, hands off Charlie Gard."
Google refused to say how many comments it had deleted but did say any negative comments that did not honestly reflect a user's own experience would be deleted after it was flagged by another user.
UK news in pictures

Show all 50
A spokesman told The Independent: "We have clear guidelines which govern the reviews allowed on listings.
"If a user believes that a review violates these guidelines, we ask that they flag it as inappropriate. We will then take action as needed to remove the inappropriate reviews."
Hundreds more people have rallied to defend the hospital, which specialises in looking after children with life-threatening and life-limiting conditions, by posting positive reviews on Google instead.
One, Kamina Bubbles, said: "The reviews here say that doctors should not play god yet Charlie Gard is only still alive because these wonderful people are keeping him alive but at the cost of being so unwell and the poor child is just suffering.
"I can't imagine what the parents must be going through but the pro life people should maybe go back to their place of praying and ask why God decides its a good idea to create ill children and make their loved ones suffer."
Another, Daniel James, said: "It's amazing that you sickos leaving reviews don't care for a child suffering from such pain, with an incurable condition.
"Would you rather let him be in pain and prolong his misery? You all should be ashamed."
Register for free to continue reading
Registration is a free and easy way to support our truly independent journalism
By registering, you will also enjoy limited access to Premium articles, exclusive newsletters, commenting, and virtual events with our leading journalists
Already have an account? sign in
Join our new commenting forum
Join thought-provoking conversations, follow other Independent readers and see their replies