Charlie Gard campaign is being spearheaded by an evangelical pastor jailed for abortion clinic protest
Pro-life preacher says he is updating Donald Trump on baby's condition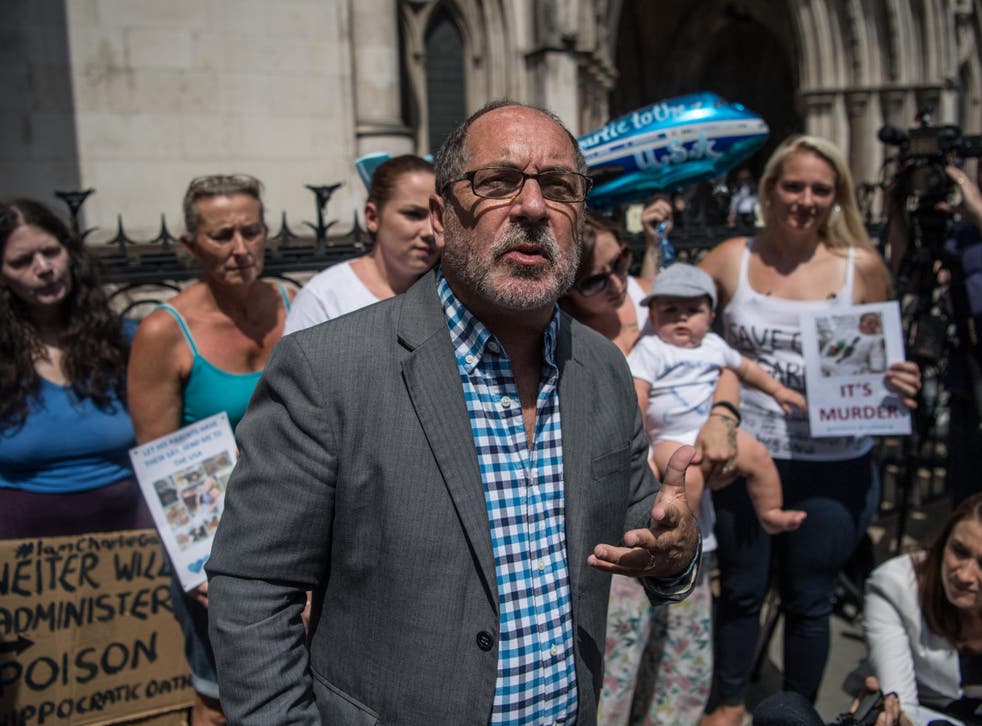 A pro-life evangelical preacher is leading a campaign to give an experimental treatment to terminally ill baby Charlie Gard.
The Reverend Patrick Mahoney flew to the UK from the US last week to act as a self-appointed spokesman for the Gard family, leading to concerns he is exploiting the case for political gain.
The 63-year-old, who is director of the Christian Defence Coalition and a pastor at the Church on the Hill in Washington DC, said he met with a senior White House official before leaving the US, The Telegraph reported.
Donald Trump has offered to help baby Charlie, saying he would be "delighted" to help him secure treatment in the US after courts ruled his life-support machine should be turned off.
Rev Mahoney said he was keeping the US President updated on events in London, The Telegraph reported.
The pro-life pastor has previously been jailed for violating an order banning him from demonstrating in front of abortion clinics in Texas.
Rev Mahoney claimed he was initially prevented from praying at Charlie's bedside. In a Facebook post he claimed it was a "victory" when he was allowed into the intensive care ward, saying: "Let's believe for a miracle and that Great Ormond Street Hospital would continue do the right thing".
The High Court ruled on Monday that Charlie's parents, Connie Yates and Chris Gard, should be given the chance to present new evidence their son should be given the treatment.
Charlie suffers from a rare mitochrondrial disease, which doctors at Great Ormond Street Hospital say has left him with severe brain damage and muscle weakness.
The European Court of Human Rights had previously rejected an appeal by the couple to take the baby to the US for treatment after doctors said it would not improve the quality of their son's life.
Charlie, who was born on 4 August 2016, inherited the defective RRM2B gene leaving him with severe brain damage and unable to open his eyes, move his limbs or breathe without a machine.
Ms Yates and Mr Gard want to try nucleoside therapy, a new treatment that has been used on around a dozen patients in the US with other mitochondial diseases.
UK news in pictures

Show all 50
Mr Justice Francis, who heard the case in the High Court, said he may not be able to make a final decision on Thursday.
Register for free to continue reading
Registration is a free and easy way to support our truly independent journalism
By registering, you will also enjoy limited access to Premium articles, exclusive newsletters, commenting, and virtual events with our leading journalists
Already have an account? sign in
Register for free to continue reading
Registration is a free and easy way to support our truly independent journalism
By registering, you will also enjoy limited access to Premium articles, exclusive newsletters, commenting, and virtual events with our leading journalists
Already have an account? sign in
Join our new commenting forum
Join thought-provoking conversations, follow other Independent readers and see their replies