Charlie Hebdo attack: MI5 chief reveals Britain faced four major terror plots in past year
And Andrew Parker stressed that the security service is lacking tools to tackle the rising danger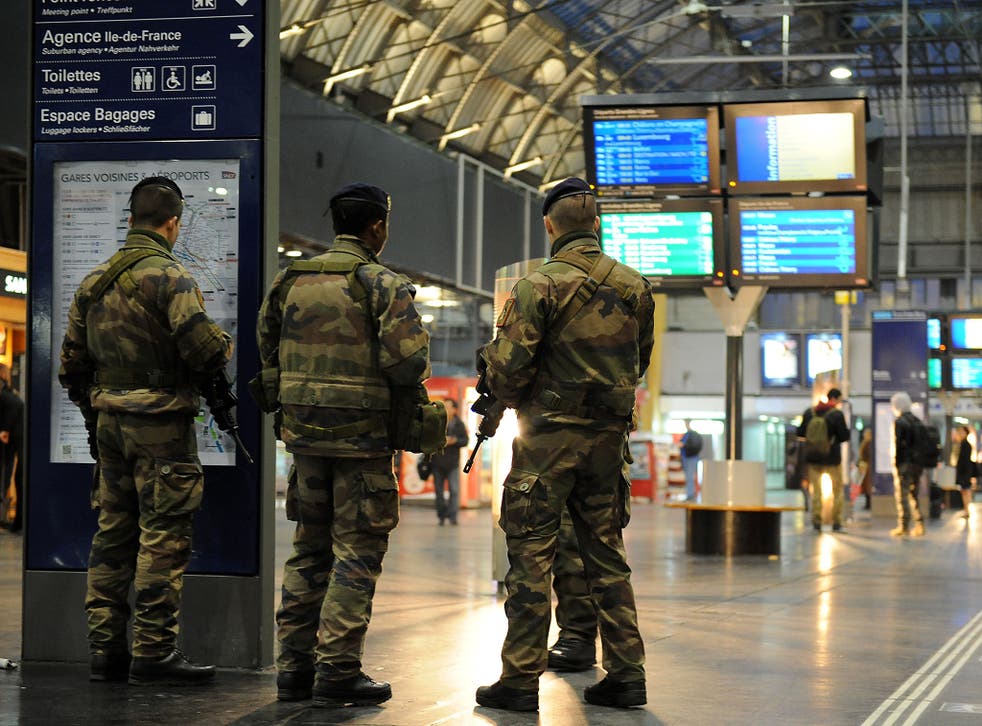 Britain has faced four major terrorist plots in the past year, three of them in the past few months alone, the head of MI5 has disclosed as he warned that the lethal threat from Islamist extremists, including those home-grown, has continued to grow at an unprecedented rate.
The security service is currently engaged in operations to counter ongoing attempts to stage atrocities, or "spectaculars": some of them involve jihadists from this country who have been trained in Syria and Iraq to carry out murderous attacks like those which have claimed 13 lives in France in the past 24 hours.
"We know, for example, that a group of core al-Qaeda terrorists in Syria is planning mass-casualty attacks against the West", said Andrew Parker. "It was primarily the rising threat from Syria that led the Joint Terrorism Analysis Centre to raise the threat level for international terrorism from 'substantial' to 'severe', an evidence-based judgment that an attack on the UK is highly likely."
Mr Parker wanted to stress that, increasingly, the security service is lacking tools to tackle the rising danger. "My sharpest concern as Director-General of MI5 is the growing gap between the increasingly challenging threat and the decreasing availability of capabilities to address it," he said.
The security-service chief got in touch with his opposite numbers in Paris immediately on hearing about the killings of the 10 journalists from Charlie Hebdo and two policemen on Wednesday. The law agencies here have not yet ascertained whether the two killers, brothers Cherif and Saif Kouachi, were connected with militant Muslim groups this side of the Channel. Mr Parker stated: "It is too early for us to come to judgment about the precise details... but it is a terrible reminder of the intentions of those who wish us harm. As you'd expect, we are offering our French colleagues our full support as they respond."
Security was increased across the UK following a meeting of Cobra, the Whitehall emergency committee, with tighter controls in Calais, British ports and UK passport checkpoints at Gare du Nord and other Eurostar terminals.
Isis and other Islamist groups, as well as being responsible for "the senseless and brutal murder of innocent Britons in the region, are trying to direct terrorist attacks in the UK and elsewhere from Syria, using violent extremists here. And they are seeking through propaganda to provoke individuals in the UK to carry out violent attacks here", he said. "Not all British extremists who have travelled to Syria will want to mount attacks in the UK when they return. But ... some have already tried to carry out acts of terrorism here and elsewhere. Outside Iraq and Syria, we believe that since October 2013 there have been more than 20 terrorist plots either directed or provoked by extremist groups in Syria."
The recent terrorist plots in the UK have been uncovered "working with our partners", said Mr Parker. But in Syria "there are no... partner agencies we can work with".
There have been persistent reports that Western intelligence agencies held meetings in Damascus last year as the Salafist terrorist threat grew in Syria. It is Jabhat al-Nusra, among hardline groups in Syria, which attempted "spectaculars", say intelligence officials, while Isis put more effort into instigating "lone wolves" and self-organised cells for bombings and shootings.
However, said Mr Parker during a speech at MI5 headquarters for members of Rusi (Royal United Services Institute): "Other Islamist threats persist. Al-Qaeda continues to provide a... significant driving force for extremists to plot terrorist attacks against the West. British Islamist extremists still travel to South Asia, the Arabian Peninsula and other theatres [for] terrorist training: and groups in parts of Africa also pose persistent threats."
Separately, law agencies must cope with violence by dissident republicans in Northern Ireland. There were 20 attacks this year, said Mr Parker, "and for every one ... we and our colleagues in the police have stopped three or four others".
MI5, MI6 and GCHQ want greater surveillance powers. The Government has brought in emergency legislation which, say critics, has serious implications for citizens' privacy.
But Mr Parker said that plots, including attempts to blow up transatlantic airliners and an attack on the London Stock Exchange, had been thwarted by electronic intercepts. "I don't want a situation where privacy is so... sacrosanct that terrorists can confidently operate from behind those walls without fear of detection", said the MI5 chief.
Join our new commenting forum
Join thought-provoking conversations, follow other Independent readers and see their replies