Widespread use of cheap car washes and nail bars is fuelling modern slavery, warns National Crime Agency
Exclusive: 'If you're paying a lot less than you would reasonably expect to pay for something, it's usually because someone is being exploited in the background,' says NCA director Will Kerr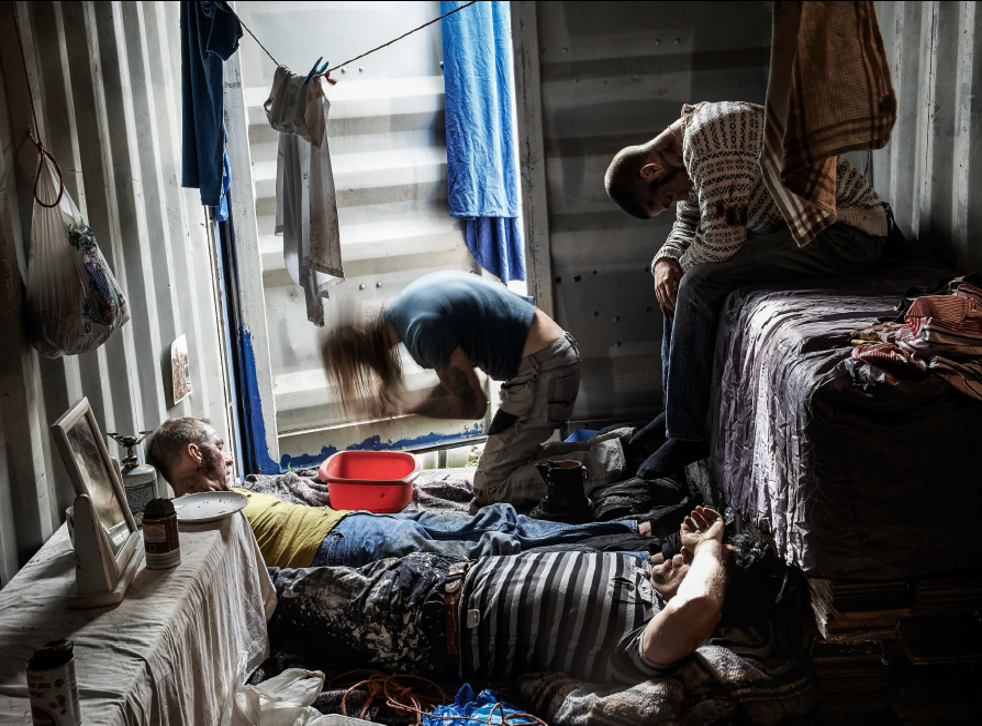 Widespread use of cheap car washes, nail bars and other low-cost services is fuelling modern slavery in Britain, the UK's law enforcement agency has warned.
Will Kerr, director of vulnerabilities at the National Crime Agency (NCA), told The Independent that a tendency to opt for low-price goods and services at a time of austerity is allowing criminal gangs who exploit vulnerable people to prosper.
A "significant gap" between public belief that slavery no longer exists, and the "terrible consequences" for victims of modern slavery, is seeing swathes of people used for labour and sex within our communities, he said.
Photographs released by the NCA on Friday as part of its "Invisible People" exhibition, posed by models, are designed to evoke the way in which modern slavery takes place within everyday services and inside normal houses, yet remains undetected by the authorities and members of the public.
One depicts a group of exploited workers in a room where they are all forced to live, eat, wash and sleep. Another portrays an exhausted-looking man using operating dangerous machinery in a food processing factory, despite wearing no protective gear.
Mr Kerr urged the public to be aware that when goods and services are offered to them at unusually low prices, there may be exploitation taking place behind the scenes.
"There is a significant gap between public belief that slavery was abolished 200 ago, and the very terrible consequences and impact on very vulnerable victims of modern slavery and human trafficking – whether they've been abused for labour exploitation, sexual exploitation or forced domestic servitude," he told The Independent.
"We're asking the public to be aware of what the signs and signals are, but also to question – and I know at times of austerity everyone wants a bargain and pay the cheapest price for goods and services – whether somebody is being exploited behind the cheap prices.
"If you happen to get a cheap service, you're getting a cheap service for a reason. If it's so much less than you would reasonably expect to pay for something, it's usually because – or could be because – someone is being exploited in the background to give you that public cheaply."
He said the public must also be more conscious of the physical signs of modern slavery, urging people to question the situation if they encounter people who appear distressed, inadequately dressed or apparently under the control of somebody else.
Modern Slavery in the UK

Show all 13
"If in your daily lives you see somebody working in any of those sectors and you notice they look distressed, traumatised, malnourished, not dressed appropriately for the weather or like they're under control of a third party who's with them – these could be signs," he said.
"Even if you're working in emergency rooms as a nurse or GP and you see someone but there's somebody else always hanging around in the background under that person's control, and their frightened and scared in their company, this could be a sign.
"It could be workers doing local renovation for you or somebody working in domestic servitude in a house next door to you – if they look as if they're being controlled, they're not being fed or dressed properly, or not allowed to leave the house frequently."
Mr Kerr urged the public to call the modern slavery helpline on 08000 121 700 or contact local police.
His warning comes days after The Independent reported that members of one of the most sophisticated modern slavery gangs ever caught in Britain were jailed for forcing teenage girls to work without pay and in squalid conditions, in a case that used new laws against enforced labour for the first time.
Following the conviction, police warned other trafficked victims are being "hidden in plain sight" in nail bars across the country, with money from unsuspecting customers funding organised crime.
Despite a recent political drive by Theresa May to "consign slavery to the history books", which has seen improved efforts from authorities and agencies to tackle the issue, the Government was last month accused of failing in its bid to tackle modern slavery.
A damning report by the National Audit Office (NAO) found Ms May's strategy was both "unclear" and "inadequate", warning that there remains "much more to do" to ensure victims in the UK are protected.
A previous report by Her Majesty's Inspectorate of Constabulary (HMIC) found that police forces were guilty of "inconsistent and ineffective" identification of victims and had failed to investigate abuses quickly enough.
The Work and Pensions Committee revealed in April that "inexcusable" failures in the UK's system for dealing with modern slavery were leaving victims destitute while their abusers went free, because they were not adequately supported to testify against them.
UK news in pictures

Show all 50
Mr Kerr added: "Over the course of the last few of years we've had the Modern Slavery Act of 2015; there was a big political drive behind the need to do a lot more about modern slavery and human trafficking, so there is a lot more joined up and coordinated effort.
"But some of this still comes down to the basics of supply and demand. We need to address the public demand for some of these cheap services and goods that are leading to a supply by ruthless individuals and organised crime gangs who are exploiting people.
"They pay their victims less than they should be, abusing them to make sure they can provide a cheaper service for that demand."
If you have information that could lead to the identification, discovery and recovery of slavery or trafficking victims in the UK, you can contact the Modern Slavery Helpline 08000 121 700, visit www.unseenuk.org or make call Crimestoppers anonymously on 0800 555 111
Join our new commenting forum
Join thought-provoking conversations, follow other Independent readers and see their replies