Child sex abuse referrals soar by nearly a third in a year, warns NSPCC
Ninety referrals made to police and children's services each week as local authorities face growing funding pressures – raising concerns child victims are being 'let down by the system'
May Bulman
Social Affairs Correspondent
Monday 18 December 2017 01:48 Comments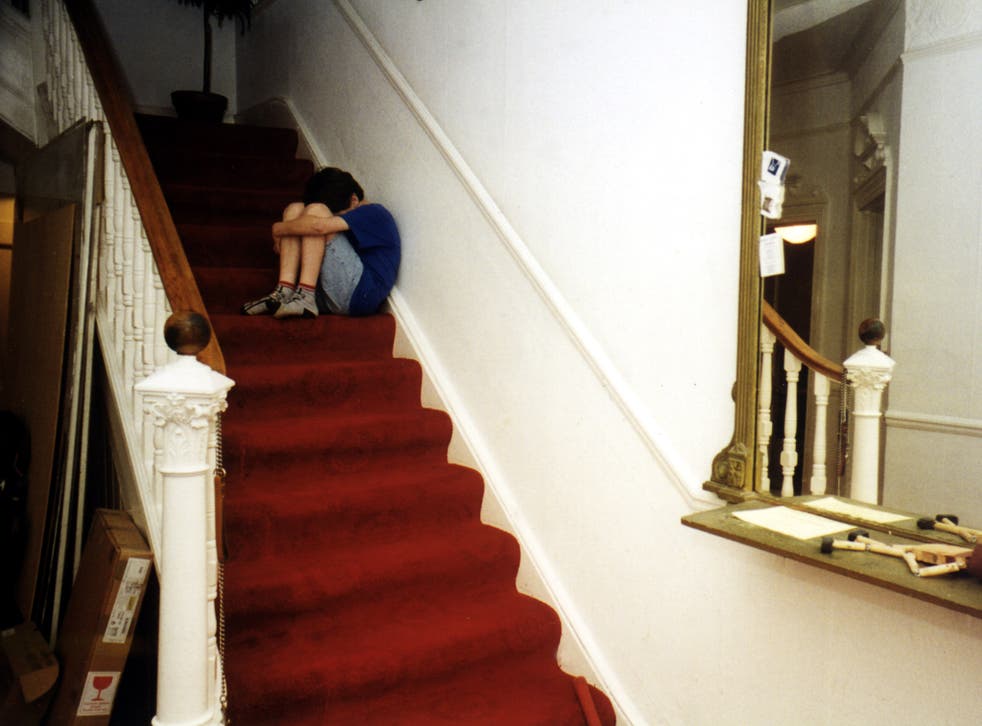 Child sexual abuse referrals have soared by nearly a third in the past year, the UK's leading children's charity has revealed.
The NSPCC said it is making on average 90 referrals to police and children's services each week from members of the public reporting concerns that a child is being sexually abused.
The charity's free and confidential helpline referred 4,677 calls and emails to local agencies in 2016/17 – an increase of 31 per cent on the previous year. There were also a further 3,912 contacts where helpline staff gave advice about sexual abuse against young people.
Campaigners and politicians said it was "deeply worrying" that so many children were potentially being exposed to sexual abuse, and warned that while there is optimism in the fact that the society is now more alert to the crime, many victims are still being "let down by the system".
An estimated one in 20 children aged between 11 and 17 in the UK have experienced sexual abuse, according to previous research by the NSPCC. Child sexual abuse is defined by a child being forced or persuaded to take part in sexual activities – either through physical contact or online.
The latest figures come after councils warned that children's services were reaching "tipping point", with more than 500 child protection inquiries launched each day last year – a 60 per cent increase on 10 years ago.
Figures obtained through Freedom of Information requests in the summer meanwhile revealed that as many as 140,000 vulnerable children at risk of abuse and neglect might not be getting help because cash-strapped local authorities had been forced to shrink or abandon family support.
Compounding the concerns is the calculation that by 2020, children's services departments will face a funding gap of £2bn. Local authorities expressed disappointment at the fact that last month's Budget provided no additional funding for these services.
John Cameron, head of helplines at the NSPCC, said: "It is deeply worrying that so many children are potentially being exposed to such a devastating experience, but at the same time it also suggests that as a society we are much more alert to the risks and much more willing to come forward and share our concerns.
"Sexual abuse can do huge damage to a child's life and left untreated will often haunt them long into adulthood. It is therefore vital that anyone who suspects a young person is in danger contacts the authorities or gets in touch with us through our dedicated Helpline."
Anne Longfield, the Children's Commissioner for England, warned more needed to be done to support child victims, saying: "My own research in 2015 found that only one in eight incidences of child sexual abuse linked to the family were coming to the attention of the authorities.
"These numbers suggest there is a growing awareness of the need to protect children at risk of or suffering from sexual abuse. It is also clear that the lives of many children continue to be blighted by abuse.
"Many child sexual abuse victims continue to be let down by the system. More needs to be done to help the dedicated professionals who support victims and to make sure that abuse is easier to prevent, to identify, to report and to prosecute."
The National Police Chiefs' Council (NPCC) said it has had to deal with an "unprecedented" year on year increase in reports of child sexual abuse and exploitation, which is placing an incredible strain upon officers and staff who are having to cope with these increases.
The NPCC's lead for child protection, Chief Constable Simon Bailey, said: "Whilst greater victim confidence has led to increased reporting, we also have to start considering the fact that more children are being abused.
"My great concern is that by the time the police service are made aware of the abuse it is often too late and the damage has been done.
"As a society we must start to have a very different conversation, whereby parents, teachers and those with responsibility for safeguarding children, along with technology companies that provide the platforms where much of the abuse takes place, all play a role in preventing child sexual abuse."
Emma Lewell-Buck MP, Shadow Education Minister for Children and Families, said the figures were the latest evidence that demand for child protection services is going up, just as funding is being cut.
She continued: "The Government's own figures show that spending on children's services has already fallen by a tenth under the Tories, and we are heading for a £2bn shortfall by 2020.
"Ministers should cancel their latest multibillion-pound tax break for bankers and start protecting the most vulnerable children instead."
UK news in pictures

Show all 50
Liberal Democrat Home Affairs spokesperson Ed Davey said the increase in referrals from the NSPCC was "alarming", but was another sign that society as a whole had become more aware of the risks and of the greater willingness people have to come forward.
"Alongside properly resourcing our police services to help end the horror of the sexual abuse of children, we have to make sure that survivors are properly supported once they have coming forward," he added.
Children and Families Minister Robert Goodwill said: "No child should suffer abuse of any kind, and anyone with concerns about a young person's wellbeing should contact their local authority children's services.
"The NSPCC plays a vital role in raising awareness and making sure that concerns raised through the helpline are passed on to the right services to be investigated. We are supporting the NSPCC by investing £8 million in Childline until 2020 to ensure children receive the support they need.
"Alongside this, we are helping to make sure people feel confident about reporting abuse and neglect through our national awareness campaign and are improving the way the police, social services and other agencies work together to keep children safe."
Register for free to continue reading
Registration is a free and easy way to support our truly independent journalism
By registering, you will also enjoy limited access to Premium articles, exclusive newsletters, commenting, and virtual events with our leading journalists
Already have an account? sign in
Join our new commenting forum
Join thought-provoking conversations, follow other Independent readers and see their replies