Choir stages mass singalong on tram in solidarity with victims of homophobic attack
Volunteers handed out rainbow cupcakes as singers belted out show tunes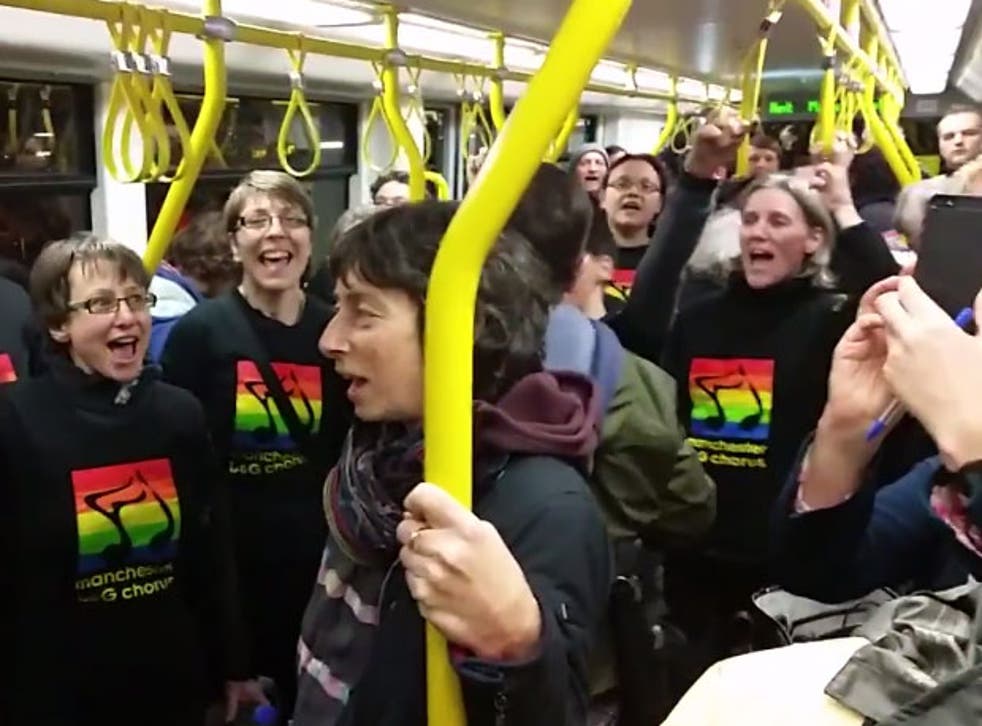 An LGBT choir took to Manchester's tram network yesterday, for a mass sing-along in solidarity with two young men who were allegedly attacked by a homophobic gang for singing songs from the musical Wicked.
Some 80 singers from the Manchester Lesbian and Gay Chorus (MLGC) boarded trams in the city centre yesterday evening as part of Safe to Sing, and were joined by hundreds more later on.
The group's repertoire for the event was selected to celebrate freedom and community spirit, and included tracks from the musical West Side Story, and the main refrain from Petula Clark's Downtown changed to "Canal Street" – the heart of Manchester's gay scene.
As the choir belted out the show tunes, volunteers handed passengers cupcakes decorated with rainbows, the Guardian reported.
The choir's final stop on the tram was Piccadilly Gardens, where Jean-Claude Manseau, 25, also known as Jo, and Jake Heaton, 19, were attacked by a gang of men a fortnight ago.
On Monday, MLGC was joined at the stop by fellow singers from the Hallé ensemble, as well as Manchester Community choir, Blackburn People's choir, the Manchester Bach choir and other groups from the north west.
There, hundreds of people sang in support of Manseau and Heaton, and ended their singalong with a rendition of 'Defying Gravity', the highly popular theme from Wicked.
Before the attack on 1 November, the pair were "having a laugh" and singing songs from Wicked as they made their way to Canal Street on the network, when a fellow passenger began hurling homophobic abuse at them.
The man was described to police as slim, white, in his early 20s, with very short hair and scruffy clothes. He was with a woman who is described as slim, with long dark hair, also in her 20s.
When the victims got off the tram at Piccadilly Gardens, they were allegedly beaten by a mob of 15 men who also yelled homophobic abuse, and were described to police as black or mixed race.
Inspector Phil Spurgeon said Greater Manchester police (GMP) are treating the attack as a homophobic hate crime.
Rainbow List 2014

Show all 101
Manseau, a shop worker, was knocked unconscious and suffered black eyes, a split lip and broken nose. He said he cannot remember anything about the attack, which "destroyed" his confidence.
While neither victim attended the event after their ordeal, Jo's mother Jacqueline Neild praised his supporters, but said her son was still "in a bad way".
Kath Fox, MLGC co-chair told the Guardian that the event was "a way for us to reach out to Jo and Jake and to assure them we will defend the right to safe passage on public transport for all people, especially those from the LGBT community".
She added: "Out of the ugliest circumstances, the most meaningful and powerful messages emerge and that is what we hope to achieve with Safe to Sing."
In a statement, the producers of Wicked said their thoughts are with Manseau and Heaton, as well as their families, and wished them a speedy recovery.
"Despite the giant leaps forward in attitudes toward, and tolerance of, homosexuality, we have all been profoundly shocked by the stark reminder that homophobia is still prevalent, and continues to claim its innocent victims," it added.
Join our new commenting forum
Join thought-provoking conversations, follow other Independent readers and see their replies