Chris Norman: British hero who stopped French terrorist on train said 'OK, I'm probably going to die anyway so let's go'
Middle-aged IT consultant showed stiff upper lip as he helped US servicemen take down a suspected terrorist
David Trayner
Sunday 23 August 2015 13:33 Comments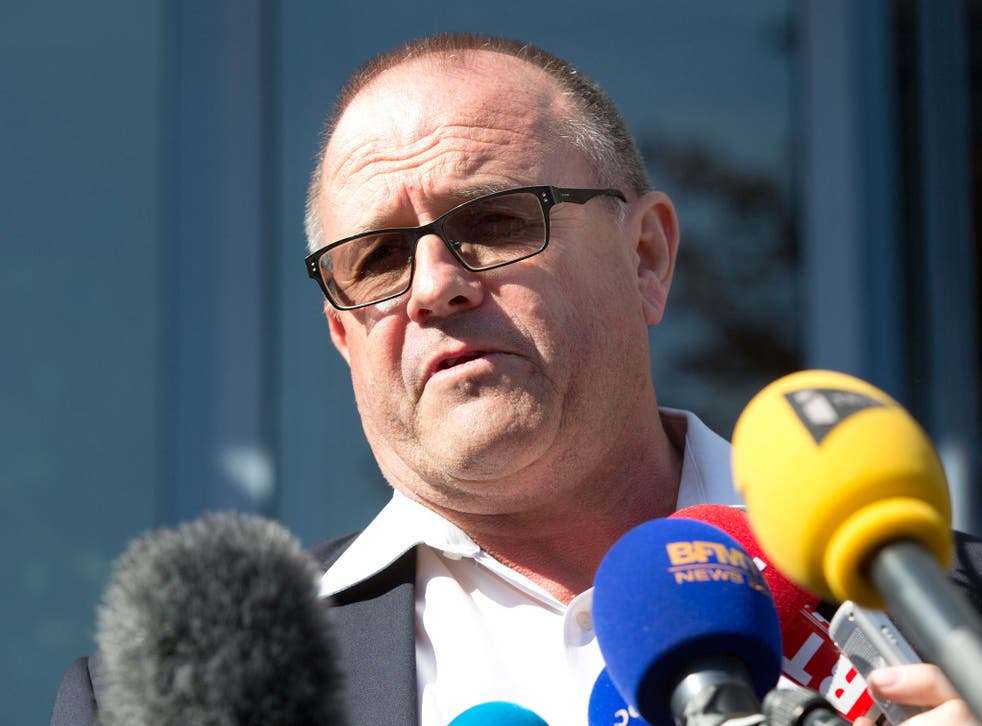 A British grandfather who emerged as the unlikely hero of a foiled gun attack has described the moment he chose to "get angry and do something".
IT consultant Chris Norman, 62, helped two off-duty US servicemen and their friend overpower suspected terrorist Ayoub El-Khazzani after he burst into a packed train carriage armed with an AK47, pistol and boxcutter.
Airman Spencer Stone, who was first to jump on the gunman, and National Guard specialist Alek Skarlatos were trained to deal with lethal situations and college student Anthony Sadler, who piled in with Mr Norman afterwards, was perhaps reinforced by the bravery of youth.
But Mr Norman, who looked slightly embarrassed as he held up a bravery medal from the mayor of the French town of Arras, where the drama unfolded, blood stains still visible on his shirt, drew on different reserves.
At a press conference - at which he spoke both English and fluent French - the grandfather-of-three, said: "I was sitting in the coach. I heard a shot, I heard some glass breaking then I saw somebody running down the aisle to the front of the train.
"I was facing towards the back and then a stood up to see what was happening. I saw a man with what I think was an AK-47 or something like a machine gun.
"My first reaction was to sit down and hide. Then I heard one guy, an American, say, 'Go get him.'
"I heard another American say, 'Don't you do that, buddy.'
"I decided then perhaps it was really the only time or chance to act as a team and try to take the terrorist."
Mr Norman, who lives in the south of France, added: "It was rapid reasoning. He had a Kalashnikov, he had a magazine full and I didn't know how many magazines he had.
"My thought was: 'OK, I'm probably going to die anyway so let's go.'
"I would rather die being active trying to get him down than simply sit in the corner and be shot."
It turned out El-Khazzani, who had been known to French security forces for at least 18 months, had almost 300 rounds of ammunition in nine full magazines.
Mr Norman's actions contrasted sharply with those of the French train staff, whom French actor Jean-Hugues Anglade, also on the train, accused of locking themselves in their staffroom.
The star of Betty Blue and Nikita told Paris Match: "We heard screaming passengers in English: 'He shoots! He shoots! He has a Kalashnikov!''
The actor, who was travelling with his two children and his girlfriend, said: "Suddenly, members of the crew ran into the hallway and their faces were pale."
He said the staff hurried towards their own car on the train and opened it 'with a special key' before they locked themselves inside.
Mr Norman, who was born in Uganda and raised in South Africa, rang his wife, Martine Leonardy, after the ordeal.
The 59-year-old told The Mail on Sunday: "I am very proud of him. He said he helped rugby-tackle the terrorist and he did the right thing.
"He said either you sit there and wait for the guy to shoot and you will be dead or you get angry and say enough of this.
"He said it was only afterwards that he realised what he did."
The paper reported Mr Norman studied at the University of Reading and set up his own business in 2012 as an IT consultant to firms in Africa.
Prime Minister David Cameron has praised Mr Norman's 'extraordinary courage'.
A Number 10 spokesman said: "The Prime Minister praised the extraordinary courage of the passengers who intervened and helped disarm the gunman, including the British consultant Chris Norman.
"The bravery of Mr Norman and the other passengers helped to prevent a terrible incident."
Register for free to continue reading
Registration is a free and easy way to support our truly independent journalism
By registering, you will also enjoy limited access to Premium articles, exclusive newsletters, commenting, and virtual events with our leading journalists
Already have an account? sign in
Join our new commenting forum
Join thought-provoking conversations, follow other Independent readers and see their replies