Outrage after 'victim-blaming' Christmas tree by Suffolk police is spotted in church
'Being drunk makes you vulnerable,' says one decorative message
Zoe Tidman
Sunday 01 December 2019 16:27 Comments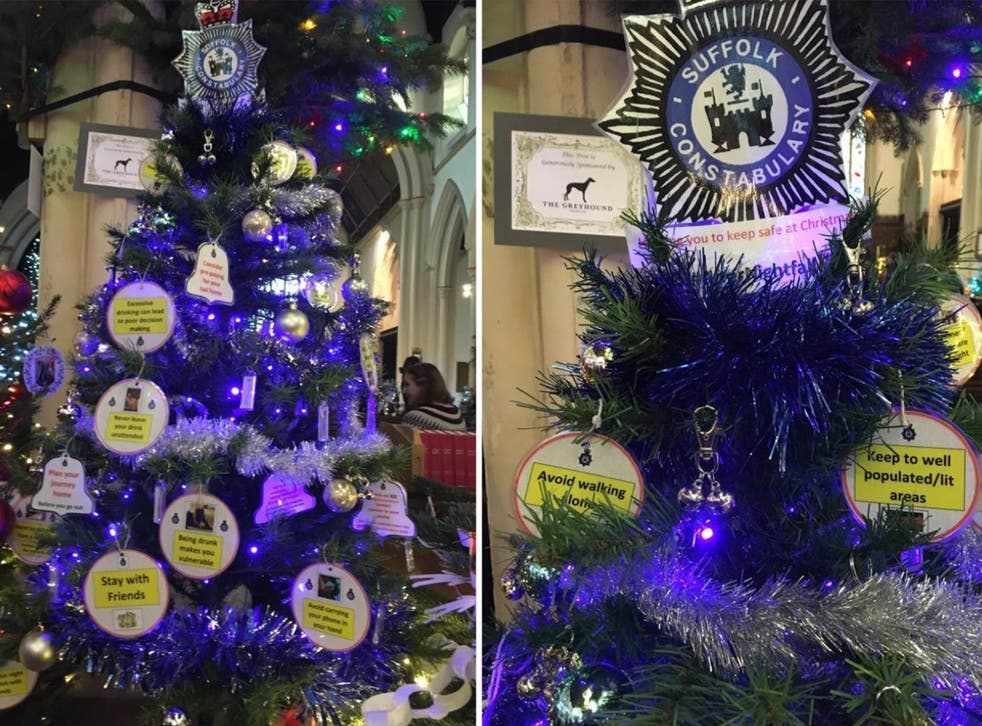 Police have been accused of hanging "victim-blaming" baubles on a Christmas tree in a church.
"Don't drink to excess" and "being drunk makes you vulnerable" are printed messages serving as decorations for Suffolk Constabulary's festive tree, according to images posted on social media.
Amy Roch, from Suffolk Rape Crisis centre, told The Independent the messages are "totally wrong" as they are "focussing attention in the wrong place".
"It's curtailing women's freedom and their ability to go about their everyday lives, which is entirely unacceptable."
Campaign group Reclaim The Night Ipswich, who shared the pictures on Twitter, said: "Excessive drinking doesn't cause sexual violence. Perpetrators do."
The best placards from the Women's March 2019

Show all 27
The tree, which is part of St Mary-le-Tower church's Christmas tree festival, also reminds people to "avoid walking alone", "never leave your drink unattended" and to "stay with friends".
Ms Roch said these type of messages could reduce the chance that women who experience sexual violence, after drinking alcohol or walking alone for example, would report the incident to police.
"There is so much victim blaming in society," she said. "If this is what the police are saying, [these women] are going to think how am I possibly going to report this, or what's the point, because the police are already saying it's my fault."
She also claimed these type of messages "don't work" as "women are more likely to experience sexual violence in their own homes".
A Suffolk Constabulary spokesman said: "Our Safer Suffolk Christmas campaign is aimed at raising awareness of a variety of issues which affect the whole community.
"However, we accept that to suggest any of our messaging was aimed specifically at women by linking it to a photograph of a female was wrong. We apologise for any offence caused and are taking down the relevant messaging from the Christmas Tree.
"The safety of people when out enjoying the night-time economy is particularly important to us.
"Campaigns such as this form part of our year-round work to provide crime prevention advice and to target those who may be considering breaking the law through opportunistic criminality."

Charles Jenkin, the vicar for the church holding the Christmas tree festival, said: "St Mary-le-Tower church welcomes the 'Suffolk Police Safety at Christmas' tree in our festival.
"It is full of sensible advice, although taken altogether it is a rather sad reflection of how careful people have to be these days to stay safe."
Reclaim The Night Ipswich, which falls under by Suffolk Rape Crisis Centre, has also criticised Suffolk Police's wider After Nightfall campaign, which "highlight[s] the potential problems people may encounter if they drink too much, don't plan ahead or don't take care of their valuables".
Earlier this month, in response to criticism of the overall campaign, Suffolk Police said: "It is our duty as police to protect people and prevent crime, and we would be failing in this responsibility if we did not do this.
"This campaign, along with many others during the year, helps us to keep communities across Suffolk safer."
Last week, a Nottinghamshire police force was criticised for offering "sexist and condescending" advice to women by discouraging them from walking alone at night.
"Women who walk alone especially at night are at risk of harassment, or even physical assault," a now-deleted Facebook post said.
Broxtowe North Police said: "Taking a risk when it comes to walking alone at night is not one of those things we should be doing."
A Nottinghamshire Police spokesperson said it was a "clumsy attempt" to offer advice to help people stay safe and "apologise[d] unreservedly for any offence caused".
Women took to the streets during November for UK-wide Reclaim the Night marches to protest violence against women, street harassment and victim blaming.
Register for free to continue reading
Registration is a free and easy way to support our truly independent journalism
By registering, you will also enjoy limited access to Premium articles, exclusive newsletters, commenting, and virtual events with our leading journalists
Already have an account? sign in
Join our new commenting forum
Join thought-provoking conversations, follow other Independent readers and see their replies