Church approval needed for gay marriage, says Archbishop of York
John Sentamu says C of E rules define marriage as all churches declare opinions in the debate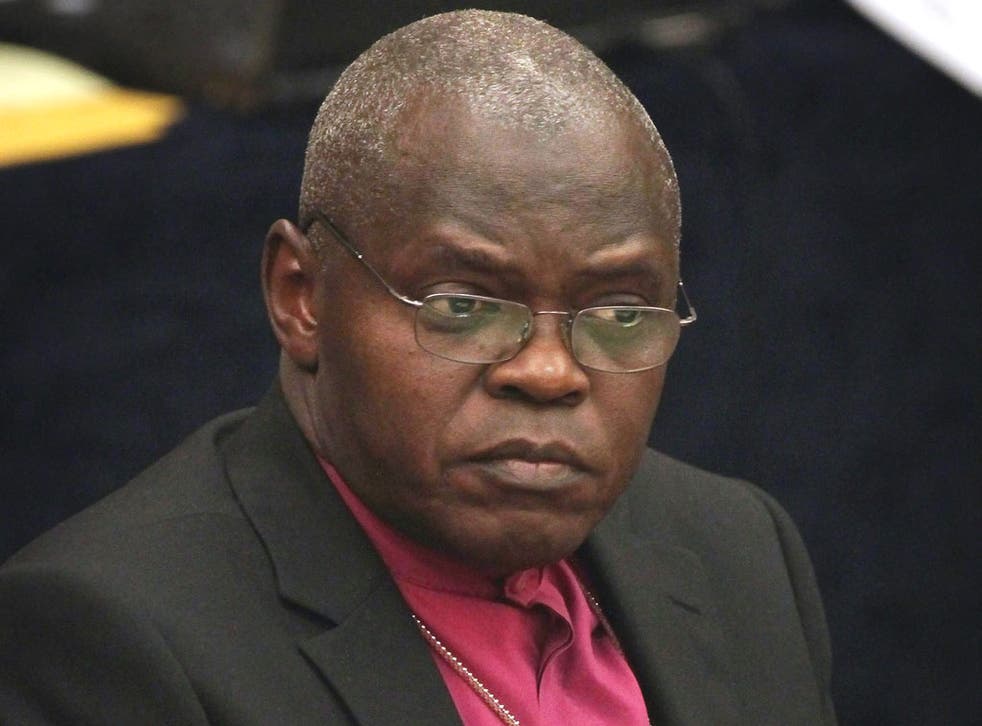 The Archbishop of York has warned the Government it may need approval from the Church of England's legislative body if it decides to bring in gay marriages.
In his latest broadside against plans to allow gay couples the same marriage rights as heterosexuals, John Sentamu said the church's General Synod would have to be consulted on any changes to the legal definition of marriage.
"They have got a problem because the definition of marriage is in the 1662 Prayer Book and Article 30 of the Church of England, which are both Acts of Parliament," he told the BBC's Andrew Marr Show.
However, legal experts questioned the Archbishop's claim. "I can't see why Parliament would need anyone's approval to change the definition of marriage," said Adam Wagner, a barrister and editor of the UK Human Rights Blog. "Parliament is sovereign, it can legislate what it likes."
This is the second time the Archbishop has waded into the row over gay marriages in the past month. Earlier in the year he said David Cameron would be acting "like a dictator" if he forced through legislation.
However, according to an ICM poll published in The Sunday Telegraph, 45 per cent of Britons now support same-sex marriage in principle with 35 per cent against and the rest saying they are unsure. The poll suggested most people did not believe legislative change was a priority, with 78 per cent thinking it is wrong to fast-track new laws ahead of 2015.
This week, the Government will begin a consultation on the issue, inviting the public to submit their views.
Some church leaders, led most vocally by the Catholic Church and the former Archbishop of Canterbury, George Carey, are hastily trying to build an effective opposition movement.
Last weekend, Cardinal Keith O'Brien, the head of Catholics in Scotland, caused outrage when he described gay |marriage as "grotesque" and compared attempts to change the definition of marriage to bringing back slavery.
His counterpart in England and Wales, the Archbishop of Westminster, Vincent Nichols, crafted a carefully worded pastoral letter restating the
church's opposition, which was read to Catholics at mass yesterday.
Within the Anglican Church there is significantly more division, with some senior bishops such as the Archbishop of York adamant that gay marriage should be stopped while others have signalled their support.
Other religions, such as Liberal Judaism, the Quakers and the Unitarians have said they'd like to be able to conduct gay marriages.
The pro-gay marriage lobby also received backing last week from the Reform Judaism movement. It accounts for 20 per cent of Jewish congregations in the country.
However, the Government has insisted no religious community theologically opposed to gay marriages would be forced to conduct them.
Gay marriage: who's for it – and who's against
Religion
For:
A small but growing number of religious congregations have stated that they would like to be able to conduct gay weddings. Unitarians, Quakers and the Metropolitan Church of
North London are all in favour, along with Liberal and Reform Judaism, the latter of which came out in support last week.
Within the Church of England there are divisions. Bishops, such as Nicholas Holtam of Salisbury, have indicated their support for same-sex marriage.
The issue of homosexuality divides the Church of England even more sharply than women bishops but there are nonetheless plenty of Anglican laity who would like to see same-sex marriages.
Against:
Leading the charge against equal marriage rights are the former Archbishop of Canterbury, George Carey, the current Archbishop of York, John Sentamu, and the Catholic hierarchy. Cardinal Keith O'Brien, Archbishop Vincent Nichols and Archbishop Peter Smith have been most vocal.
Evangelical congregations, especially those with ties to America, are also lobbying hard. Jonathan Sacks, the Chief Rabbi, is against, along with Conservative, Orthodox and Ultra-Orthodox Jews.
All the major schools of Sharia law preach against homosexuality and would not recognise a same-sex marriage.
Politics
For:
The leaderships of all three political parties are now in favour of same-sex marriages. Nick Clegg was the first to declare his support, stealing a march on his rivals at the last general election. David Cameron, who once voted against Section 28, famously U-turned on gay marriage and declared: "I don't support gay marriage despite being a Conservative; I support gay marriage because I'm a Conservative." Cabinet minister Frances Maude also told Tories that they would become unelectable if they failed to unite behind plans to approve same-sex weddings. Last week, after initially appearing reluctant to throw his hat into the ring, Ed Miliband gave his backing to gay marriages.
Against:
Of all the leaders, David Cameron looks set to have the toughest time persuading his party to follow him on gay marriages. The Tories have a vocal socially conservative wing that is motivated by Christian conviction, with MPs like Nadine Dorries, David Burrowes and Peter Bone speaking out against same-sex marriages.
Culture
For:
Unsurprisingly, a number of prominent, openly gay celebrities are in favour of same-sex marriages. Writing in The Independent last month, Ian McKellen said: "Why not celebrate those who want to marry and bring up a family? Why not change the law so more can do so?"
Will Young and Boy George have also publicly stated their support. Speaking at Question Time last week, Young described how he had been appalled by Cardinal Keith O'Brien's description of gay marriage as "abhorrent".
"Gay marriage was not the top of my agenda for gay rights," the singer said. "But since I've heard these disgusting, repellent, archaic words from various people, particularly that awful man from Scotland, I've got more and more riled about it."
Against:
Most of the recent statements against gay marriage have come from church leaders. Few, if any, well-known celebrities have publicly come out against legislation to allow same-sex couples to marry.
Outside of the church, the anti-lobby has been led by prominent Catholic columnists such as Cristina Odone and Milo Yiannopoulos.
In a recent piece, Odone wrote: "Traditional marriage is not simply a popular social institution; it is also a spiritual ideal. The state can tinker with the former. Indeed, it has already done so, by introducing civil marriages and, later, civil partnerships. But spiritual ideals fall outside the Government's remit."
Join our new commenting forum
Join thought-provoking conversations, follow other Independent readers and see their replies