Church of England General Synod votes against women bishops despite late plea from next Archbishop of Canterbury
Draft measure falls at last hurdle, failing to gain majority among lay members of the General Synod
Jerome Taylor
Tuesday 20 November 2012 20:05 Comments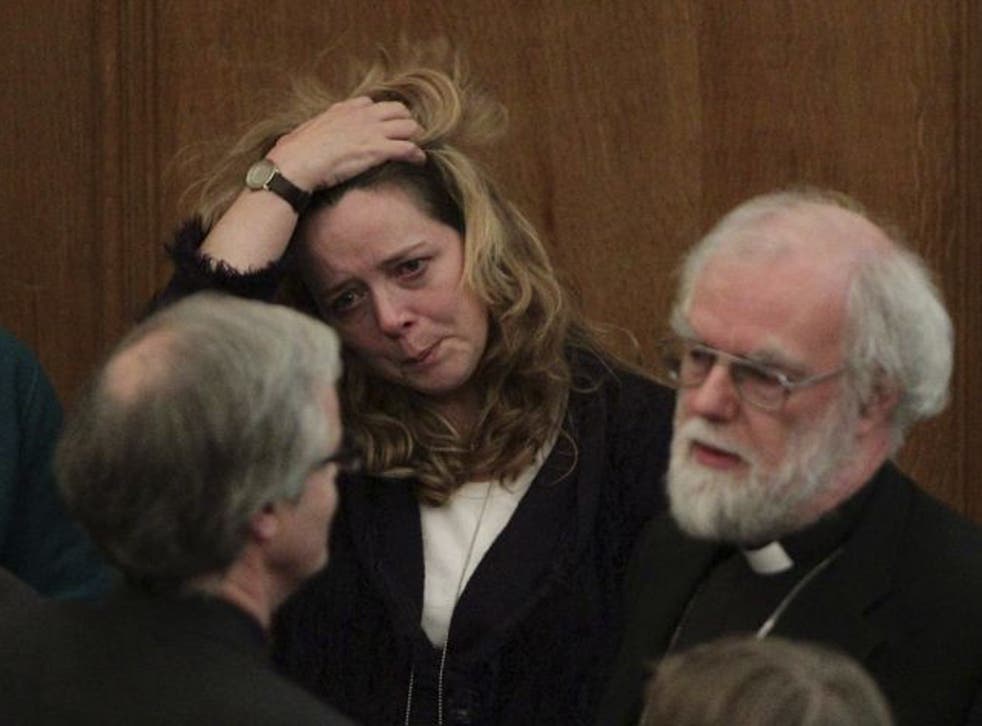 The Church of England has been plunged into one of its worst crises in living memory after legislation to allow women to become bishops was dramatically defeated by just six votes.
The decision has left supporters of women clergy reeling and is a devastating moment for them after three decades of campaigning to rid the established church of institutional and theological sexism.
The defeat is the result of dogged lobbying by a small but vocal minority of conservative evangelicals and Anglo-Catholics who are opposed to female leadership in the church and comes twenty years after women were first allowed to become priests. The church's legislative body – the General Synod – has voted to approve women bishops with limited protections for dissenters every time it has come before them in the last seven years and 42 of England's 44 dioceses have voted in favour. But in the end the legislation stumbled at its final hurdle.
Under synod's rules, changes to canon law have to be approved by all three houses of synod with a two thirds majority. Tonight the house of bishops and clergy both voted overwhelmingly in favour of the legislation but it was narrowly defeated in the house of laity by 132 votes in favour, 74 against and nine abstentions.
The result means that Britain's established church is more divided than ever and plunges its soon to be new leader, the Right Reverend Justin Welby, into the midst of a crisis when he takes over from Rowan Williams early next year. Synod cannot attempt to vote on women bishops for at least another four years which means the prospect of women shattering the stained glass ceiling could be at least a decade away.
For many of those who have spent years campaigning to rid the Church of sexism, today's vote was a major shock given that it comes more than twenty years after women were first allowed to become priests following an equally fraught debate in 1992 that was won by just two votes.
A statement from Women and the Church (WATCH), which campaigns for women in the episcopate, called the decision and "devastating" and remarked that 74% of synod had in fact voted for the legislation.
"Today's vote is a devastating blow for the Church of England and the people of this country," the statement read. "This vote is a missed opportunity for a whole generation to see women and men sharing fully in the mission, ministry and leadership of the Church of England."
Christine Allsopp, the archdeacon of Northampton and one of the first women to be ordained as a priest, expressed her dismay at the decision.
"It's a very sad day for the Church of England," she told The Independent. "Ordinary members of the Church of England will not understand what has happened here today. They have voted overwhelmingly in favour of women bishops. There's a real feeling of anger and frustration."
Throughout the day the large circular chamber behind Westminster Abbey where General Synod met echoed to the sound of more than 100 impassioned speeches from both sides of the theological divide. Bishop Welby received a sustained applause as he called on synod to vote for women bishops, stating that the current legislation was "as good as it gets."
"It is time to finish the job and vote for this measure," he said. "But also the Church of England needs to show how to develop the mission of the church in a way that demonstrates that we can manage diversity of view without division; diversity in amity, not diversity in enmity."
The man he is to replace, Rowan Williams, made a similar plea but both their cries ultimately fell on deaf ears.
Opponents of women bishops made equally passionate pleas to have their views catered for in a Church which prides itself of being a "big tent". Many evangelicals and Anglo-Catholics feel they have been ignored by a majority who have refused to hear their pleas for compromise.
"This draft legislation is not fit for purpose," said Canon Simon Killwick from Manchester. "It will not deliver the clear and lasting settlement which will enable us to move on together."
Jane Patterson, a conservative evangelical from Sheffield, warned that many clergy with her theological outlook would be tempted to leave the church altogether.
"England cannot afford this loss if we are serious about sharing the gospel with the nation," she warned. "I dare to challenge you not to bow to cultural pressure but pull us back from the brink of disunity."
Ironically the speaker who received the liudest applause was Hannah Page, a 21-year-old youth representative from Derby, who said she was just a baby when women were first allowed to become priests.
"It seems to me we have been discussing this issue my entire life," she said. "Please don't make me wait until I'm 30 for this to pass."
That now looks like a very real possibility.
Register for free to continue reading
Registration is a free and easy way to support our truly independent journalism
By registering, you will also enjoy limited access to Premium articles, exclusive newsletters, commenting, and virtual events with our leading journalists
Already have an account? sign in
Join our new commenting forum
Join thought-provoking conversations, follow other Independent readers and see their replies