Edward Colston's name removed from Bristol tower as slaver's statue pulled from river Avon
Name removed from tower just hours after slaver's likeness was pulled from River Avon to be memorialised in museum
Vincent Wood
Friday 12 June 2020 02:03 Comments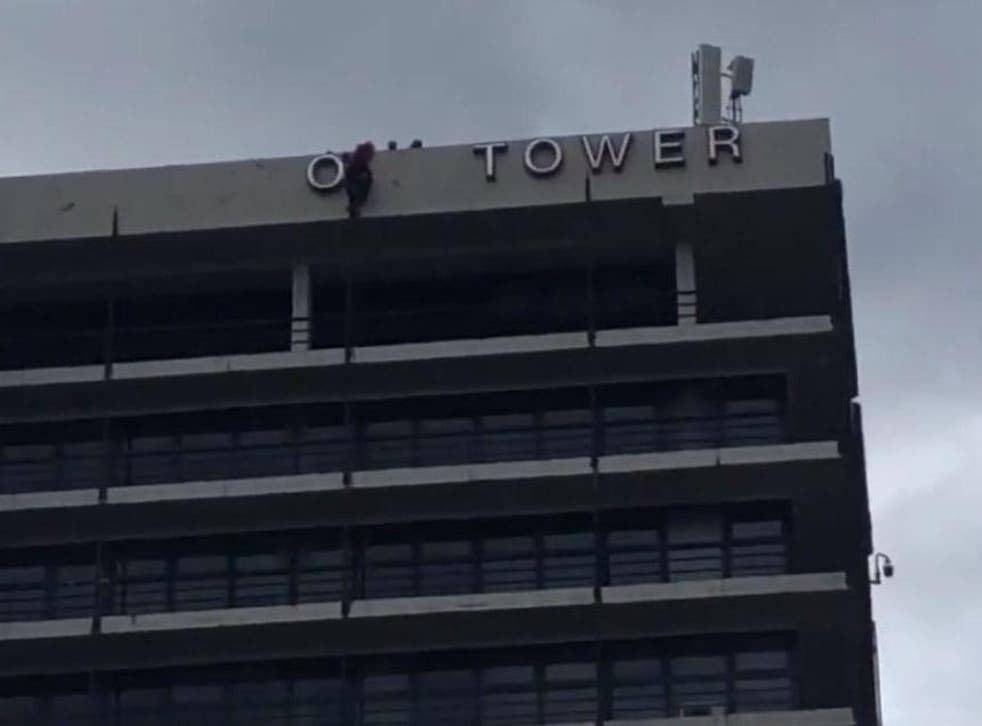 Bristol's Colston Tower has become the latest of the city's institutions to rid itself of the 17th century slave trader's legacy after a statue of the merchant was thrown into the river Avon by anti-racism protestors on Sunday.
Edward Colston, who profited from the west African slave trade before donating his wealth to the city, became part of an international conversation about the legacies of racism in modern society when protestors pulled a statue commemorating him from its plinth and rolled it through the city's streets.
The figure, which was dropped into the city's harbour, has since been retrieved by officials. It is set to be displayed in one of Bristol's museums alongside the placards of the Black Lives Matter protestors in the crowd when it was torn down.
Now in an apparent reaction to calls for his name to be further scrubbed from the city, the signage spelling out the name of Colston Tower - which stands across the road from the statue's former resting place - has been removed.
The building, which contains 15 floors of office space, shares a name with nearby concert venue Colston Hall - which has vowed to change its name by the autumn - and the road on which both buildings stand, Colston Street.
Slave trader statue pulled down and thrown in river at Bristol protest

Show all 16
It comes as institutions across the country confront the legacies of slavery, racism and imperialism that have darkened the nation's past.
In London Guy's and St Thomas' NHS Foundation Trust confirmed two figures depicting Robert Clayton and Thomas Guy will be taken out of public view due to their association with the slave trade.
Clayton, a former Lord Mayor of London, had ties to the Royal African Company, which transported slaves to the Americas, while Guy invested in the South Sea Company, which was also involved in the trade.
Memorials to Sir Robert Peel, founder of the Met Police in London have also been challenged, while in the past week graffiti has been left on statues of Queen Victoria in Leeds and Winston Churchill in London.
On Tuesday evening, a statue of slave owner Robert Milligan in London's Docklands was removed following local authority approval.
Despite concern from some that looking at past figures through a modern lens would purge the nation of its history, the great-great-grandson of William Gladstone has suggested the 19th century prime minister would not have stood in the way if there was "democratic will" to remove statues of him.
Charlie Gladstone made the comments after online petitions called for Gladstone's Library in Hawarden, North Wales, to be renamed due to the family's links to the slave trade.
Additional reporting by PA
Register for free to continue reading
Registration is a free and easy way to support our truly independent journalism
By registering, you will also enjoy limited access to Premium articles, exclusive newsletters, commenting, and virtual events with our leading journalists
Already have an account? sign in
Join our new commenting forum
Join thought-provoking conversations, follow other Independent readers and see their replies