Conservative council set to fine homeless people £50 for begging
'I don't care whether they are part of a street community or millionaires with money stashed away in Panama... I could not give a toss,' said council leader Daniel Humphreys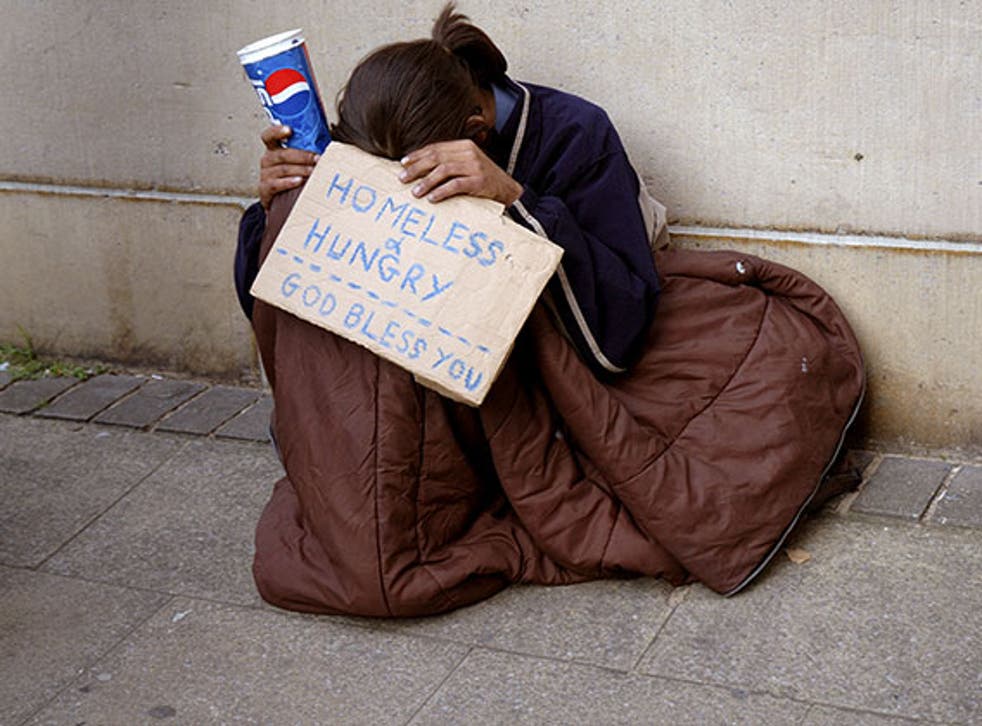 Worthing Council is set to fine homeless people £50 if they beg for money in the street, using controversial legislation introduced in 2014.
A council committee has recommended the Public Space Protection Order (PSPO) for approval at a council meeting later this month, in a move branded "disgusting" by local campaigners.
Introduced in 2014, PSPOs are commonly described as "ASBOs for public places". They enable councils to criminalise normally legal actions within a given area.
The Conservative-run council is also set to introduce PSPOs against public drinking and camping in the town centre at the meeting on 19 April, following the recommendation of its own committee.
Homeless man's opinion on spikes
A petition against the PSPO, started by the Worthing People's Assembly, has been signed by 5,000 people.
A spokesperson for the People's Assembly told The Independent: "When we presented facts, the fact that more than 5,000 oppose these plans, they were swiped away. It's disgusting.
"We are all just a few events away from homelessness. PSPOs will not help homeless people, but give them a criminal record, making it harder to find jobs and rental accommodation."
Hackney Council was forced to scrap a similar PSPO in June last year after a public outcry. Pop star Ellie Goulding joined the campaign, saying: "Some councils in England have decided to treat homeless people as though they are criminals."
In pictures: Anti-austerity protest outside Downing Street

Show all 7
However, as many as one in 10 local authorities still target rough sleepers and people begging for money using PSPOs.
John Mitchell, Director for Communities at Adur & Worthing Councils, said: "This is a proposal which tackles anti-social begging behaviour by anyone, regardless of their domestic status. Begging is a criminal activity."
Speaking at the meeting where the Worthing PSPO was recommended for approval, Council Leader Daniel Humphreys said:
"I don't care, frankly, whether they are part of a street community or they are millionaires with money stashed in Panama who went to Eton.
"I could not give a toss," he added to laughter. "I do not want them getting drunk, acting in foul ways putting people off in our town, making people like me with young daughters thinking 'my God, should I be going into Worthing'?
"On behalf of the businesses and the residents of Worthing, when people are getting drunk and acting in an appalling way in our town, we say 'no' to it... you are not doing this in our town."
Register for free to continue reading
Registration is a free and easy way to support our truly independent journalism
By registering, you will also enjoy limited access to Premium articles, exclusive newsletters, commenting, and virtual events with our leading journalists
Already have an account? sign in
Register for free to continue reading
Registration is a free and easy way to support our truly independent journalism
By registering, you will also enjoy limited access to Premium articles, exclusive newsletters, commenting, and virtual events with our leading journalists
Already have an account? sign in
Join our new commenting forum
Join thought-provoking conversations, follow other Independent readers and see their replies