Around three in 10 school-aged children are on free school meals, research claims
'This is a pandemic that could leave longer-term devastation than Covid-19,' Marcus Rashford says
Zoe Tidman
Monday 12 October 2020 11:50 Comments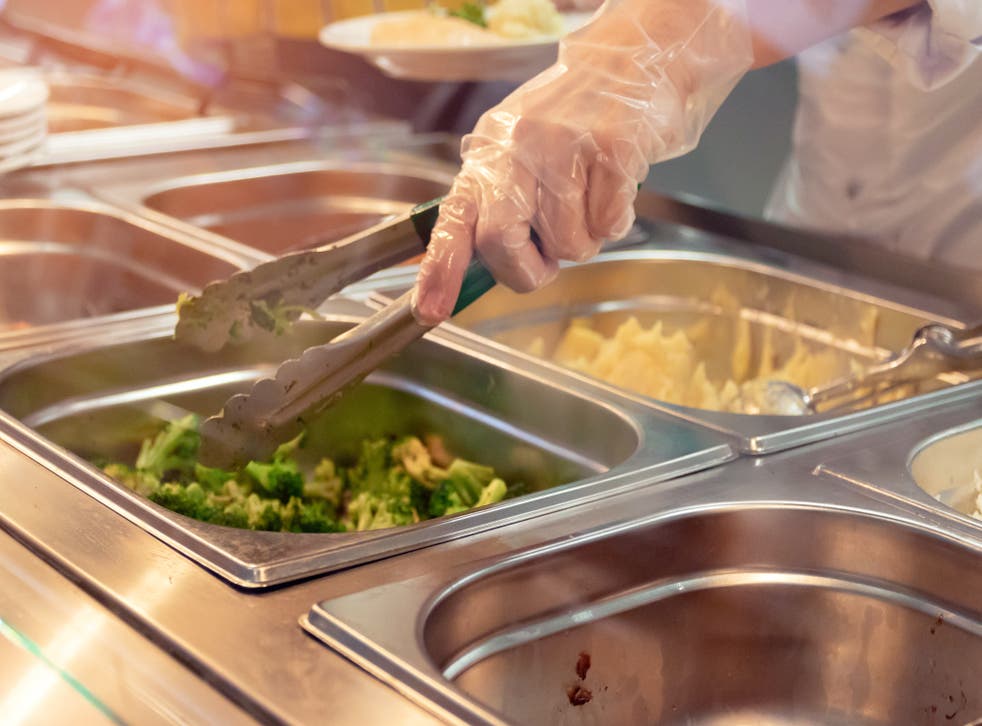 Around three in 10 school-aged children have signed up for free school meals this term amid the coronavirus pandemic, according to a new survey. 
Out of these children aged between eight and 17 on the scheme in autumn, more than 40 per cent were newly registered, the research by food poverty campaigners showed.
The findings show "the hard-hitting socio-economic consequences of the Covid-19 crisis", the Food Foundation said.
Its survey found nearly two thirds of new subscribers to free school meals came from families with higher income occupations.
Extrapolated to reflect the UK population, this suggests two million children aged between eight and 17 are registered for the scheme, of which 900,000 are newly signed up.
Manchester United footballer Marcus Rashford said: "The numbers recorded here just reinforce the need for urgency in stabilising households."
The 22-year-old, who succesfully campaigned for food vouchers for children on free school meals to be continued over the summer, added: "This is a pandemic that could leave longer-term devastation than Covid-19. 
"We must act now to protect the next generation and the most vulnerable across the UK."
Earlier this year, Rashford called on the government to extend a scheme offering supermarket vouchers for eligible children - introduced while students were out of school due to coronavirus - over the summer period, sharing an emotional letter on how he relied on free school meals as a boy. 
In new research into the scheme, the Food Foundation analysed responses from 1,064 children aged seven to 17 in the UK surveyed by Childwise between 8 and 20 September, and 2,309 parents or guardians with children under 18 surveyed in the last week of August. 
The charity found 29 per cent of respondents were registered this autumn term.
Data published in September by the Department for Education shows 17.3 per cent of pupils in England were eligible for free school meals as of January.
The Food Foundation is calling for free school meals eligibility to be extended to include every child up to 16 years whose parent or guardian is receiving Universal Credit or the equivalent in benefits.
It also wants an increase in the value of Healthy Start vouchers to £4.25 per week and expansion of the scheme to pregnant women and households in receipt of Universal Credit with children under four.
Speaking about the charity's findings, Stephanie Slater, the founder of School Food Matters, said: "This spike in registration for free school meals is alarming and shows us just how many families are struggling as a result of Covid-19."
A government spokeswoman said: "We have taken substantial action to make sure children and their families do not go hungry during this pandemic, extending free school meals support to those eligible when schools were partially closed during lockdown, increasing Universal Credit by up to £20 a week, funding councils to provide emergency assistance to families with food, essentials and meals and allocating £63m to councils who are distributing it to those in need."
She added: "With the vast majority of schools now open across the country, many schools have also been providing weekly or daily food boxes to those on free school meals who are self-isolating due to Covid.
"But we know that many families are struggling, which is why we have increased the safety net available to them with more than £9.3bn extra welfare support, and have supported thousands of young people through our summer Holiday Activities and Food programme."
Additional reporting by Press Association
Register for free to continue reading
Registration is a free and easy way to support our truly independent journalism
By registering, you will also enjoy limited access to Premium articles, exclusive newsletters, commenting, and virtual events with our leading journalists
Already have an account? sign in
Join our new commenting forum
Join thought-provoking conversations, follow other Independent readers and see their replies