Government warned of spike in homelessness unless special pandemic measures extended
Charities and MPs call for urgent action to prevent people being turned out onto streets in coming weeks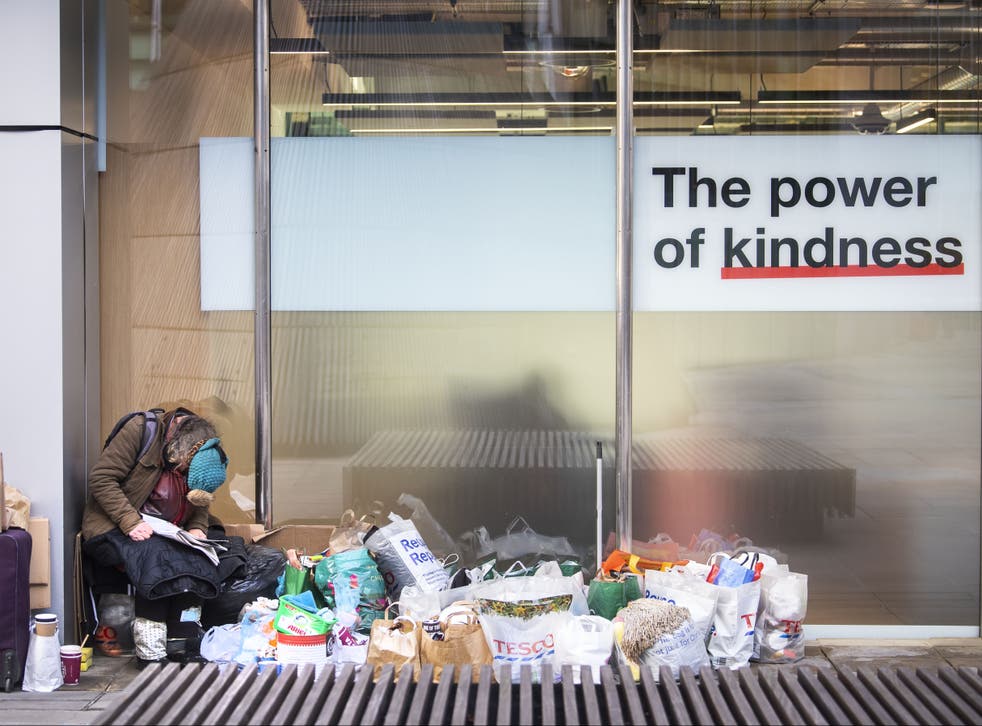 The government has been urged to extend measures introduced early in the pandemic to prevent homelessness, as councils across England warned of the prospect of an increase in rough sleeping if support ends.
Research by homeless charity Crisis, led by Heriot-Watt University, found that more than eight in 10 (82 per cent) councils said making housing benefit available to more people living in poverty has been important in tackling homelessness.
The temporary ban on evictions, which has been extended several times and is due to end on 31 March, has also been important in preventing and minimising homelessness, said 87 per cent of councils.
The report found 76 per cent of councils said the same of the 'Everyone In' scheme, which provided emergency accommodation to 33,000 people sleeping rough or at risk of rough sleeping between March and November.
It comes after the Ministry of Housing, Communities and Local Government (MHCLG) published its annual rough sleeping snapshot, which showed that rough sleeping has fallen by 43 per cent since 2018.
According to government data published last week, there were an estimated 2,688 people sleeping rough on a single night in autumn 2020, compared to 4,677 in 2018.
Robert Jenrick, the housing secretary, attributed the fall in the number of rough sleepers to the "combined effort of councils, charities, faith groups and other partners", as well as the 'Everyone In' scheme.
But despite the progress, the coronavirus pandemic further exposed England's severe shortage of affordable homes, said the Crisis report. Rents are so high in some regions that even with the Local Housing Allowance rate raised, the benefit cap has meant people are still locked out of the private rented sector.
The report quoted one local authority in the south of England as saying: "We are one of the most expensive rental markets in the county, yet do not benefit from London weighting for the cap.
"This means in practice anyone not working will still struggle to access the private rented sector, even with the increase in LHA, due to the cap limiting their benefit income."
Crisis warns that the poorest households in England could again be locked out of the private rented sector and forced into homelessness when Local Housing Allowance rates are re-frozen again in April.
Looking beyond lockdown, 94 per cent of councils said they expect to see an increase in homelessness, with some reporting that the eviction ban has made it harder to place people who are homeless in private rental housing because fewer homes were becoming available.
The report also found that on any given night, 200,000 people in England are experiencing the "worst forms of homelessness", and warned that this could rise by 27 per cent over the next 10 years without sufficient government intervention.
A cross-party group of MPs is also calling for "urgent" action to prevent a spike in homelessness, and have said thousands of renters with six months of debt risk ending up on the streets.
The group, comprised of Labour, Green and Lib Den MPs and three peers, have written to Mr Jenrick to urge him to do more to protect renters and address "widespread financial insecurity".
Jon Sparkes, chief executive of Crisis, praised the government for its "bold action" and cooperation with "the tireless work of councils across the country" in stopping thousands of people from being forced onto the street amid the pandemic.
However, he added: "But ending policies like the evictions ban and the raising of the Local Housing Allowance rate prematurely could force devastating numbers of people to the brink.
"In this week's budget, we desperately need a one-off package of financial support for the hundreds of thousands of renters in arrears.
"But to make real, lasting change, we need the Westminster government to ensure the urgency and commitment to tackling homelessness this last year becomes permanent.
"Removing barriers to accessing help must not be just emergency measures, but part of our long term strategy to ensuring everyone has a secure home."
A spokesperson for MHCLG said in response: "We are pleased councils recognise the unprecedented action we have taken to support the most vulnerable people in our society during the pandemic, backed by over £700 million to tackle homelessness and rough sleeping this year alone and a further £750 million next year.
"We've put households at the heart of our decision-making throughout the pandemic, with a £280 billion package keeping millions in work, temporarily bolstering the welfare safety net by more than £1,000 a year for families, and longer notice periods and a ban on evictions to help renters.
"We're also investing over £12 billion over five years, the largest investment in a decade, to provide up to 180,000 new homes - with half for affordable and social rent."
Register for free to continue reading
Registration is a free and easy way to support our truly independent journalism
By registering, you will also enjoy limited access to Premium articles, exclusive newsletters, commenting, and virtual events with our leading journalists
Already have an account? sign in
Register for free to continue reading
Registration is a free and easy way to support our truly independent journalism
By registering, you will also enjoy limited access to Premium articles, exclusive newsletters, commenting, and virtual events with our leading journalists
Already have an account? sign in
Join our new commenting forum
Join thought-provoking conversations, follow other Independent readers and see their replies