'There's tension in the air': How can rough sleepers cope with the coronavirus outbreak?
'If someone gets symptoms, what will they do? They'll suffer it, sit in a park, quietly. It's an awful thought,' says Streets Kitchen founder Jon Glackin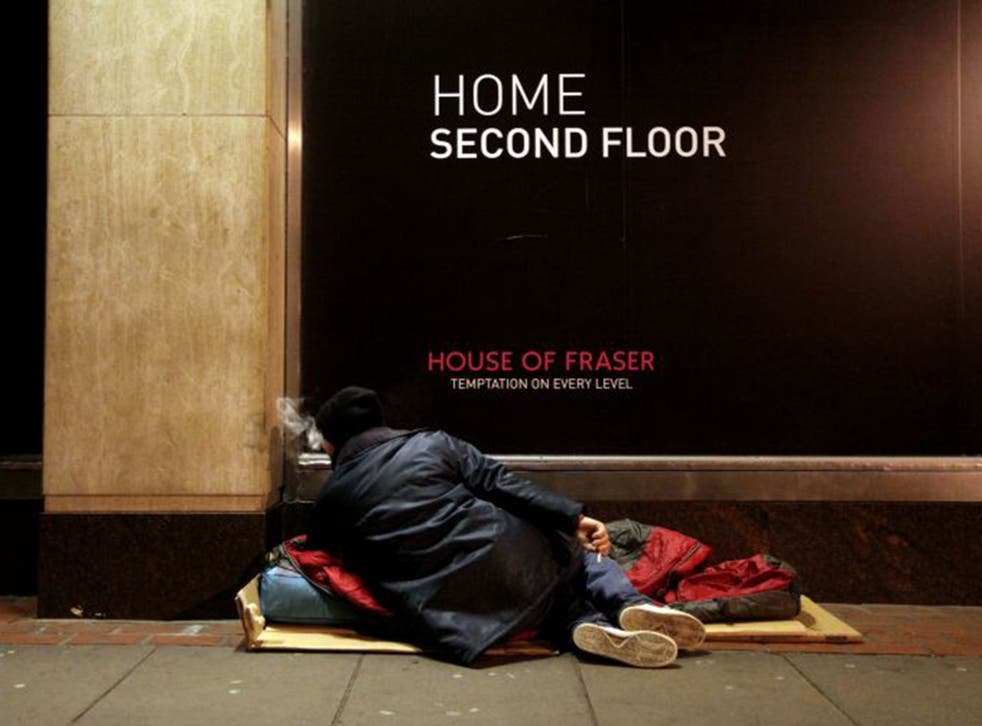 As the government admits a "significant spread" of Covid-19 in the UK has become inevitable, people across the country are speculating about the effect it will have on their lives. While stockpiling toilet roll and canned soups may seem a bit over the top, the prospect of self-isolation is becoming increasingly likely.
But rough sleepers do not have the means to do any of this. For them, the potential impact of this outbreak could be far more devastating.
With local authority data showing that nearly 28,000 people were recorded sleeping rough in 12 months, protecting this group will be no small feat, and charities are worried. With much of the support offered in spaces that place people within close proximity to one another, the providers say this will lead to anyone showing symptoms of the virus having to be turned away — leaving rough sleepers with no alternative accommodation.
"The risks of the virus reaching our shelters is increasing in likelihood by the day," said Lucy Abraham, chief operating officer at Glass Door, which runs England's largest network of winter night shelters. "Turning people away from shelters without an alternative safe space to retreat seems inhumane and potentially risky for public health.
"I think all of us in the homeless sector are keen to share ideas and come up with a solution to support those who have nowhere to self-isolate."
Turning people away from night shelters will, of course, leave more people out on the streets with limited access to sanitation. Indeed, even finding a place to wash one's hands can be a real challenge for rough sleepers, with many public toilets having closed in recent years and places like fast-food restaurants blocking rough sleepers from using their facilities. Crucially, these individuals are also likely to struggle to access healthcare — a serious concern if they are showing symptoms of coronavirus.
Coronavirus: Streets around world left empty

Show all 10
Jon Glackin, founder of grassroots organisation Streets Kitchen, said there was "tension in the air" among rough sleepers, many of whom he said felt they weren't able to adequately protect themselves due to barriers to sanitation. Emphasising the current difficulties for homeless people to see a doctor, he warned that the UK could witness a "third world scenario" if urgent action isn't taken to prevent it.
"There are going to be a lot of sick people on the streets suffering badly with no comforts," he said. "If someone gets symptoms, what will they do? They'll suffer it, sit in a park, quietly. It's an awful thought. It needs to be better known that anyone can go to their GP and register. It's a very genuine worry. People are concerned, and justifiably so."
Just last week a report revealed serious barriers to healthcare for people living on the streets, with the number of rough sleepers being admitted to hospital surging by 130 per cent in five years. The King's Fund, which published the findings, said this cohort often struggles to access services due to practical barriers such as not owning a phone, as well as the belief among some staff that patients need a home address to register for GP services. This can lead to health issues not being picked up until they are much harder to treat. Campaigners warn that these obstacles, and the fact that rough sleepers often suffer from underlying conditions, could be fatal in the case of Covid-19.
And if rough sleepers do indeed end up suffering from the illness on the streets and are left untreated, this of course creates a risk to the wider population. The "social distancing" measures expected to be introduced by ministers in response to the outbreak will be considerably more difficult to implement across the board if homeless people are left with no option but to suffer the impact of the virus out in public.
Mr Glackin, who used to be a rough sleeper himself, said he feared the authorities might use it as an excuse to disperse homeless people from the streets: "This is a perfect excuse for them to get rid of us. We need to be on our game here."
Expressing concern over an apparent lack of foresight by the authorities of what will happen to rough sleepers, Mr Glackin added: "The winter shelters will be closing soon, so there will be possibly thousands of people back on to the streets.
"There is no information coming from central, but here and now we have an immediate problem. Smaller grassroots groups may not have the funding to afford very simple preventative things like hand sanitiser. We need to work out a way of doing this."​
Homeless Link, which represents charities across the UK, said rough sleepers were a "high risk group" with long-term conditions that lead to "severe consequences" for homelessness services — including for staff and volunteers. The organisation called on all services to establish a screening protocol for staff, volunteers and others in regular contact with services, and for outreach teams to be given guidance on what to look for and training in what to do should they suspect the presence of Covid-19.
The Stats: Homelessness in the UK

Show all 10
"Individuals living and sleeping in shared spaces such as hostels, night shelters, and day centres are at particular risk as they are unable to self-isolate, and services cannot close down as the people they support are then forced back to the streets, where they are at even greater risk," said Caroline Bernard, head of policy and communications at the charity.
In a series of recommendations for central and local government published on its website, the charity said a "homelessness and Covid-19" taskforce should be created in each area of the country to deal with the issue.
Ms Bernard also called on local authorities to use section 189 of the Housing Act to prioritise accommodation for rough sleepers suspected of contracting Covid-19, in order for them to be isolated. Where a rough sleeper is found to have or is suspected of having the virus, she said a multi-agency approach should be taken to urgently identify and commission suitable self-contained accommodation.
Local councils said they were working with central government and local agencies to support homeless people in the face of the outbreak. A spokesperson for the Local Government Association said: "Protecting and supporting communities, including our most vulnerable, remains councils' top priority as the nation contains and delays coronavirus. This includes working to protect people sleeping rough and in emergency shared accommodation, and we will continue working with government and other partners in the health and charity sector to ensure they get the support they need."
A government spokesperson said: "We're well prepared to deal with the impacts of Covid-19. We are already working closely with local authorities to support vulnerable groups including homeless people. We're working closely with the sector and will publish further guidance shortly."
Join our new commenting forum
Join thought-provoking conversations, follow other Independent readers and see their replies