Pregnancy support helplines report dramatic spike in urgent enquiries as coronavirus turmoil puts mothers at risk
Leading maternity care charity finds enquiries to its advice line in March experienced more than a fourfold increase in comparison to the same month last year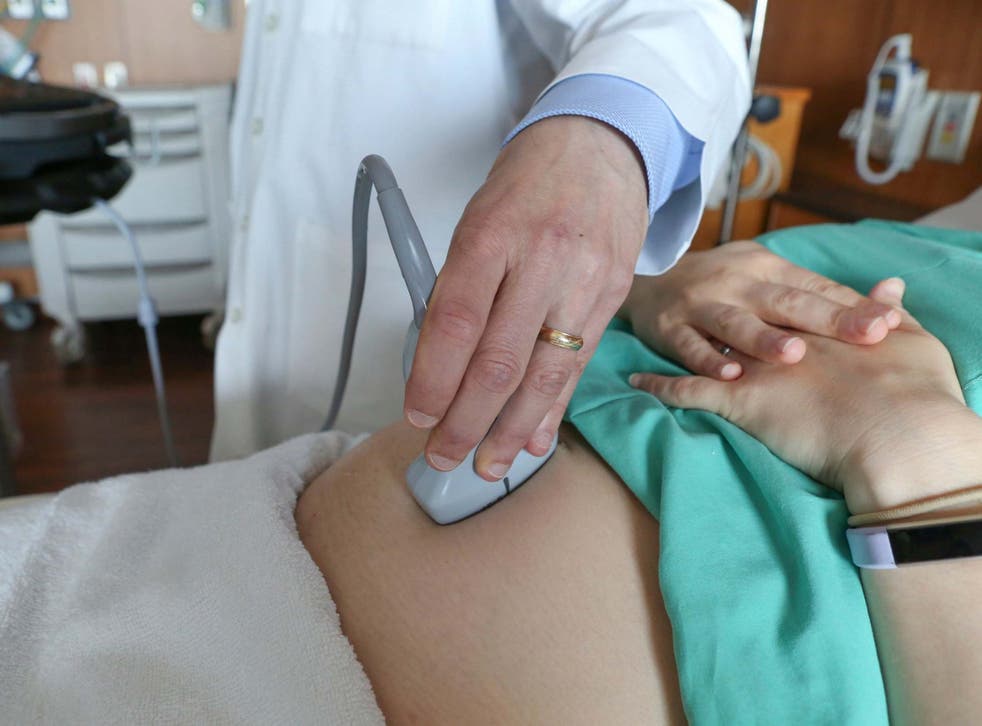 Pregnancy support helplines are experiencing a massive spike in distressed pregnant women asking for urgent help as charities warn coronavirus upheaval is placing pregnant women at risk.
Frontline service providers warn mothers-to-be are anxious about whether they will be denied pain relief options such as water and be separated from their newborn babies due to them being put in neonatal units.
The chief medical officer has said all women expecting babies are in a vulnerable group and the NHS states pregnant women could be at higher risk from coronavirus and should only be leaving home for very limited reasons.
Birthrights, a maternity care charity, found enquiries to its advice line in March were up by 464 per cent in comparison to March last year.
Maria Booker, of Birthrights, told The Independent: "Now that we are past the first peak, trusts need to consider how they can do better at communicating with women about the changes that have been made to services and how individuals should raise any concerns, which will help to allay fears.
Inside US hospital: A day fighting the coronavirus

Show all 13
"Some trusts had little or no information on their websites, weeks into the pandemic. In addition, we have written to NHS England urging them to increase transparency around why changes to maternity services are being made and when they will be reviewed."
Ms Booker said women contacting them are concerned about whether a birth partner will be able to be there during labour and the actual birth, partners not being able to join scans by video calls, and limits on having visitors at other times.
The latter is especially acute when women have additional physical or mental health issues or can't speak English, Ms Booker added.
Women getting in touch also raised concerns about home birth services being withdrawn, midwifery-led birth centres shutting their doors and elective caesareans being discontinued due to the Covid-19 crisis.
Baby charity Tommy's experienced a 71 per cent surge in demand for advice from midwives on its pregnancy helpline last month – citing the fact the pandemic has made it difficult for pregnant women to get proper advice as being behind the rise.
The organisation warned coronavirus turmoil is placing pregnant women at risk after their midwives answered 514 urgent calls for help in April which is a sizeable rise from the 300 enquiries they would generally get.
Women expecting babies frequently reported they were not able to get in touch with their local GP, midwife or Early Pregnancy Unit (EPU) due to health services struggling under coronavirus – as well as also feeling hesitant about overburdening them and scared to attend important appointments.
The charity called for pregnant women to pursue healthcare advice if they experience symptoms such as changes in their baby's movements or severe pain or heavy bleeding.
Jane Brewin, the charity's chief executive, said: "Antenatal care is vital for the wellbeing of mother and baby – but the coronavirus outbreak means that many don't know who they can ask for help, or don't want to bother our busy and beloved NHS.
"Although services are adapting, they are still running, so pregnant women should not hesitate to raise concerns with their midwife and go to appointments when invited. The large increase in people contacting us demonstrates that coronavirus is creating extra confusion and anxiety for parents-to-be, making midwives' expert advice and support even more important at this time."
The Royal College of Obstetricians and Gynaecologists and the Royal College of Midwives has told women there is no evidence to suggest pregnant women are at greater risk from coronavirus.
"[This self-isolation for 12 weeks] is a precautionary measure to reduce the theoretical risk to the baby's growth and risk of preterm if the mother becomes unwell," the organisations said.
Rosalind Bragg, director of Maternity Action, told The Independent their advice lines have been "swamped by calls from distressed pregnant women" having problems in the workplace.
She added: "The government has not issued guidance on health and safety for pregnant women at work, leading many employers to wrongly insist on pregnant women working in unsafe, public-facing roles. From our advice lines, we are aware that employers have refused to place pregnant women on furlough, and instead directed women to take sick leave or unpaid leave, which is unlawful.
"We are very concerned that poor health and safety protections for pregnant workers are impacting on the physical and mental health of women during pregnancy and the postnatal period. This is a time when women should be able to relax and focus on their family, rather than worrying that their working conditions are putting their health and their baby's health at risk.
"It is important that women contact their midwife if they have any concerns about their pregnancy."
The warnings come after The Independent reported that senior lawyers are warning that pregnant women are at risk of being fired from their jobs if they follow the government's social-distancing advice.
Employers may be breaking the law by making women expecting babies work in public-facing roles, which range from supermarket checkouts to busy office environments and health and care sectors where keeping away from other members of the public isn't possible.
Register for free to continue reading
Registration is a free and easy way to support our truly independent journalism
By registering, you will also enjoy limited access to Premium articles, exclusive newsletters, commenting, and virtual events with our leading journalists
Already have an account? sign in
Register for free to continue reading
Registration is a free and easy way to support our truly independent journalism
By registering, you will also enjoy limited access to Premium articles, exclusive newsletters, commenting, and virtual events with our leading journalists
Already have an account? sign in
Join our new commenting forum
Join thought-provoking conversations, follow other Independent readers and see their replies