Coronavirus: Nearly half of Scots want ban on English tourists unless they quarantine, poll suggests
SNP voters most keen on restrictions to stop English tourists crossing border freely, survey finds
Adam Forrest
Friday 14 August 2020 16:00 Comments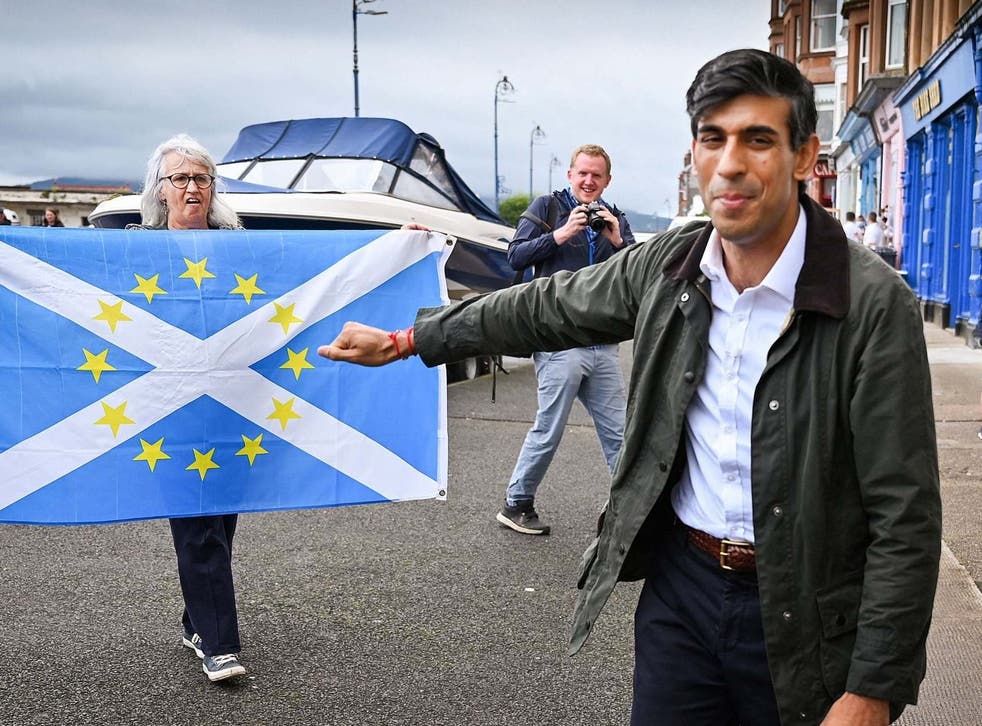 Nearly half of Scots believe that English tourists should not be allowed over the border unless they go into quarantine, according to a YouGov poll.
The survey found 47 per cent of people in Scotland wanted travellers from England only to be allowed to enter the country if they undergo a period of self-isolation.
The research revealed significant differences in attitudes about tourists coming into the country during the coronavirus pandemic, depending on political persuasion.
More than half (54 per cent) of SNP voters surveyed said they did not want English tourists to be able cross the border freely, compared to 37 per cent of Scottish Labour voters, and 19 per cent of those who voted for the Conservatives at the 2019 election.
Just over one-third (34 per cent) of SNP voters supported the current system of allowing English tourists in without requiring them to quarantine, as opposed to 49 per cent of Labour voters and 65 per cent of Tory voters.
The poll was carried out a week after a small group of Scottish independence campaigners staged a protest at the border calling for people from England to be banned from entering or for a mandatory quarantine period to be imposed.
Independence-supporting Yes voters from the 2014 referendum opposed letting in English tourists by 52 per cent to 36 per cent, while No voters support allowing English tourists into Scotland by 55 per cent to 30 per cent.
First minister Nicola Sturgeon has stopped short of bringing in any quarantine policy for England visitors, but she advised Scots not to travel to parts of northern England placed under restrictions by the UK government on 31 July following local spikes in Covid-19 infections.
Her Holyrood administration said only "essential travel" to those areas should take place.
Scots were less likely to object to visitors from other parts of the UK, with 29 per cent opposed to people coming from Wales and 28 per cent of respondents wanting to block tourists from Northern Ireland.
Support for tourists from the Republic of Ireland also outweighed opposition, by 53 per cent to 31 per cent. Just 10 per cent of Scots supported allowing US tourists into Scotland without having to quarantine, contrasted with 81 per cent against the idea.
Welsh people were slightly more willing than Scots to accept travellers from England, with 37 per cent wanting them to stay away compared to 50 per cent who would welcome them.
Register for free to continue reading
Registration is a free and easy way to support our truly independent journalism
By registering, you will also enjoy limited access to Premium articles, exclusive newsletters, commenting, and virtual events with our leading journalists
Already have an account? sign in
Join our new commenting forum
Join thought-provoking conversations, follow other Independent readers and see their replies