'There will be consequences': Christmas coronavirus easing a 'mistake' as fears of new year death toll grow
'We are heading towards disaster,' one scientist says, as NHS leaders raise alarm about third wave of infections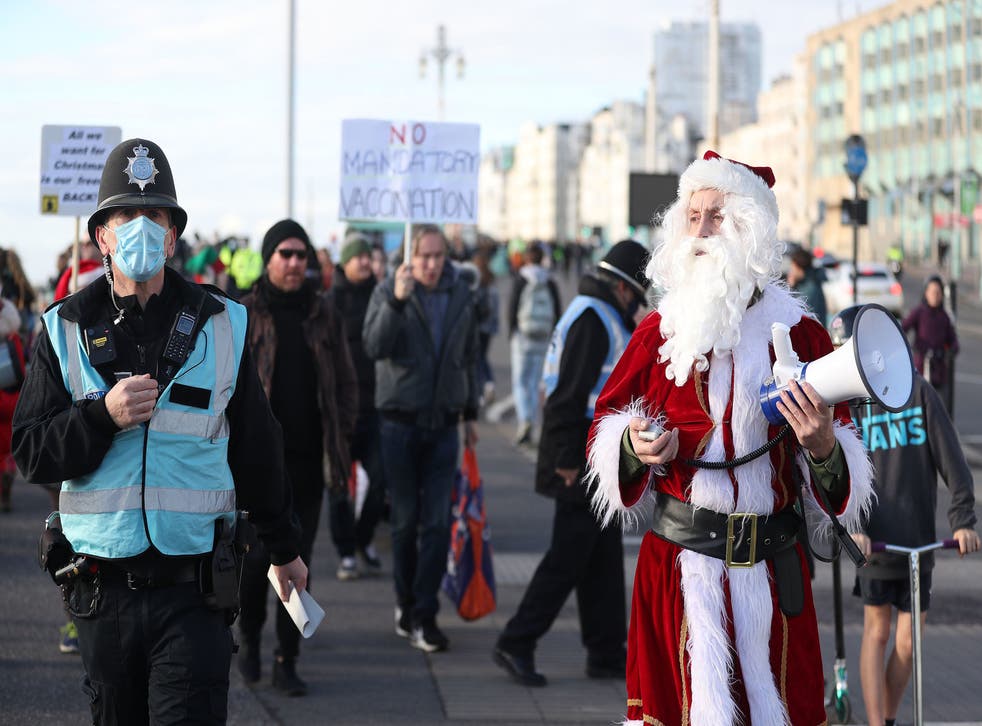 Relaxing coronavirus restrictions over Christmas a "mistake" which pull put lives at risk, a leading public health expert has said, as NHS leaders warned Boris Johnson they feared a third wave of infections.
Linda Bauld, professor of public health at the University of Edinburgh, added her voice to growing calls among scientists for the UK governments to rethink an easing of Covid-19 rules over the festive period.
"From a public health perspective, I have to be perfectly honest, I think this is a mistake," she said. "I think it's going to have consequences."
She spoke out on Saturday as the UK recorded another 519 deaths within 28 days of a positive test.
The new government figures also include 21,502 new positive cases in the UK, taking the total number in the past seven days to 124,988.
Talking about the Christmas relaxation, Prof Bauld said: "If you're meeting people indoors from other households, there's poor ventilation, maybe older family members are in those bubbles, unfortunately because the virus hasn't been eliminated... I think that means the Christmas period is a risk."
She told the BBC: "I think people have to think very carefully whether they can see loved ones outside, or do it in a very modest way. I'm also concerned about the travel, people going from high to low-prevalence areas."
Current guidelines say three households will be allowed to stay together between 23 and 27 December.
But Prof Bauld's intervention will add further to a growing sense that the period could result in rising case numbers – and deaths – in the new year.
Her words followed a day after Professor Stephen Reicher, a member of the Independent Sage group, warned: "We are heading towards disaster."
The professor of psychology at the University of St Andrews said: "Given high levels of infection across the country and the increasing levels in some areas, such as London, it is inevitable that if we all do choose to meet up over Christmas then we will pay the price in the new year."
Meanwhile, NHS leaders have written to Boris Johnson to warn the relaxation of restrictions could trigger a third wave of infections  during the busiest time of year for hospitals.
NHS Providers, the membership organisation for NHS trusts in England, has written to Boris Johnson to raise concerns about pressure on the health service this winter as ministers prepare for a review of England's three-tier system on Wednesday.
Chris Hopson, the organisation's chief executive, told the BBC there were strong fears that the NHS would not be able to cope over the coming months if cases rise again.
"We're about to hit our busiest time of year so people are really worried that if we relax the restrictions now the NHS simply won't be able to cope with all of the work that it needs to do in late December, January and February," he said.
The warning came after the government announced on Saturday that councils in the toughest tier 3 level would be allowed to roll out community programmes for rapid turnaround lateral flow tests.
Mass testing is begin across a range of tier 3 areas in England on Monday.
A total of 67 local authorities will start implementing the scheme after receiving the first of some 1.6 million lateral flow tests from the government over the weekend.
Join our new commenting forum
Join thought-provoking conversations, follow other Independent readers and see their replies