Cuts in milk prices will cause rise to consumers, say farming leaders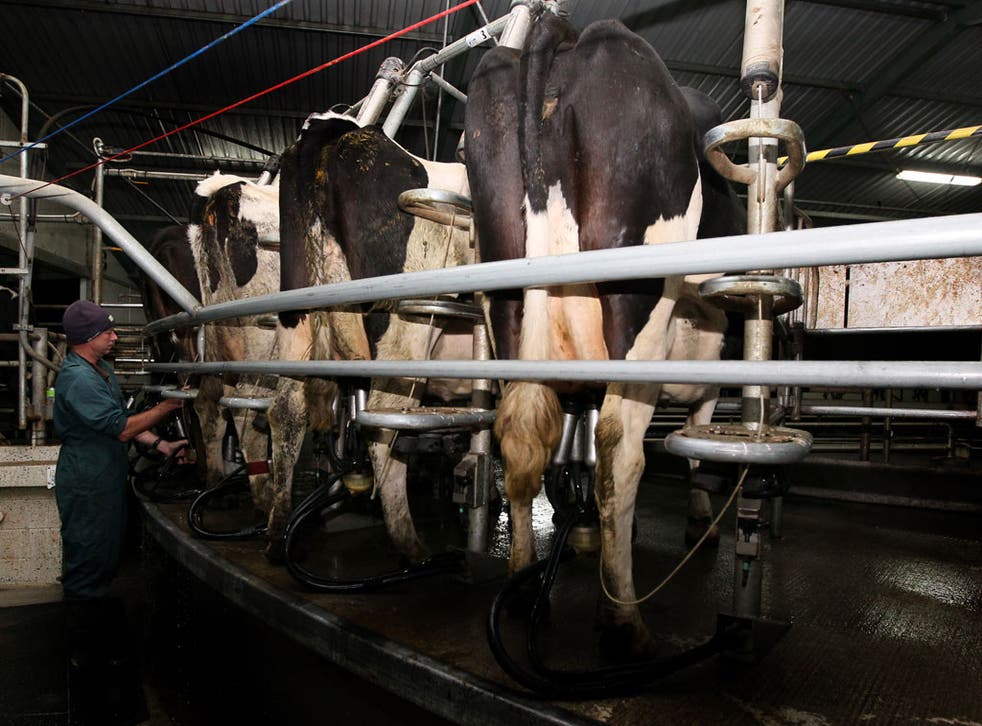 Dairy farmers are being pushed to the brink by the latest cuts to the price they are paid for their milk, farming leaders warned as more than 2,500 farmers gathered in London to protest against the reductions.
The farmers are angry at the latest round of cuts of up to 2p per litre, which come on top of similar cuts in the spring, recently announced by major milk processors.
They say the cuts will force many farmers out of business, pushing up the price of milk for consumers in the long term.
At a summit in Westminster, National Farmers' Union deputy president Meurig Raymond issued a stark warning that dairy farmers "have been pushed to the brink" by the latest cuts.
He told the farmers and supply chain representatives that someone had thought the previous round of cuts had not been enough, and that the farmers could take more reductions.
But he said: "These latest cuts are the feed bills, the wages, the housekeeping and will take us well into loss-making territory, with many farmers losing up to 6p per litre.
"Society has to recognise what these dairy farmers have been put through by a market place that doesn't work and is not fair."
He called for price cuts to be reversed by August 1.
And he was given a standing ovation as he ended an impassioned speech to the gathered farmers with: "My final message is to retailers, processors, Government and loyal consumers: It's time to back our dairy industry."
Farmers are warning the cuts would see them losing tens of thousands of pounds at a time when they are also facing rising feed costs and the impacts of having to keep cows inside in the bad weather.
Mark Backhouse, a dairy farmer from Uttoxeter, Staffordshire, who has a herd of 160 cows, said the price for his milk had to go up as soon as possible.
Without a reversal of the latest price cuts, "we'd have to pack it in. There's nothing there at all for us."
His wife Wendy added: "The profits are gone, we're working for nothing."
Mr Backhouse said that before the latest cuts, they were just covering their costs.
"The price needed to go up, not down, it's ridiculous.
"It was my father's farm, I've got my son at home, he's worried to death.
"We need something to make a living, we're not expecting miracles, just 30p (per litre) so we can reinvest in the farm."
Ian Mudd, 56, who has 135 cows in North Yorkshire, said he will lose £50,000 a year because of the cuts which were "crucifying" farmers.
"I said I would carry on as a dairy farmer until I am 60 but this might bring retirement forward.
"We are an endangered species. What is so sad is there is no hope for the next generation of dairy farmers."
A number of the major supermarkets, including Tesco, Waitrose, Sainsbury's and Marks & Spencer, have contracts with farmers that pay a fair price for milk.
But farmers say some of the biggest retailers and processors do not pay a price that reflects production costs.
Many farmers are locked into contracts for long periods but only get a few days' notice of price changes.
Farmers for Action chairman David Handley said dairy producers needed their money back before talks about the future of the industry "because it's no future with no money".
If the cuts were not reversed by the end of the month, "we will have no option but to show them what we are capable of," he warned.
Farming Minister Jim Paice said it was not the Government's job to fix milk prices.
But following a meeting he brokered of both sides of the dispute this morning, Mr Paice said they were close to agreeing a voluntary code for the industry.
He said: "What we are determined to do is do everything we can to make the market work more fairly and rebalance the power in the market place.
"I will continue to use my position to bang heads together, to encourage and cajole the whole of the supply chain to take responsibility for this situation and find a better way for this industry to flourish."
The Government has also announced an extra £5 million from the rural economy grant scheme to help dairy farmers be more efficient.
But Mr Paice drew loud angry boos and heckling from the crowd of farmers when he asked them if they were sure they had done everything they could to drive down production costs.
The latest cuts will see farmers being paid around 25p a litre for milk, compared to more than 30p it costs to produce.
Mr Paice faced boos at the beginning and end of his speech and jibes from farming leaders that he did not know the price of milk, after admitting yesterday he did not know how much it cost "because my wife buys most of it".
Mr Paice today said he had been shopping, holding up a pint of milk and saying it cost 49p, less than a bottle of water despite being better value.
Shadow environment secretary Mary Creagh said: "This race to the bottom on farm gate prices is bad for farmers, bad for the dairy industry and bad for consumers.
"Consumers need affordable milk but the three biggest processors are cutting prices which hits dairy farmers' livelihoods and could ultimately force them out of business.
"The Government now needs to broker a deal between farmers and processors on dairy contracts to avoid further damage to this vital sector."
PA
Register for free to continue reading
Registration is a free and easy way to support our truly independent journalism
By registering, you will also enjoy limited access to Premium articles, exclusive newsletters, commenting, and virtual events with our leading journalists
Already have an account? sign in
Register for free to continue reading
Registration is a free and easy way to support our truly independent journalism
By registering, you will also enjoy limited access to Premium articles, exclusive newsletters, commenting, and virtual events with our leading journalists
Already have an account? sign in
Join our new commenting forum
Join thought-provoking conversations, follow other Independent readers and see their replies