Dario Gradi to be interviewed by FA as part of investigation into child sexual abuse in football
Governing body to begin probe immediately and plan to speak to 75-year-old, who denies any wrongdoing
Ian Herbert
Chief Sports Writer
Tuesday 06 December 2016 21:50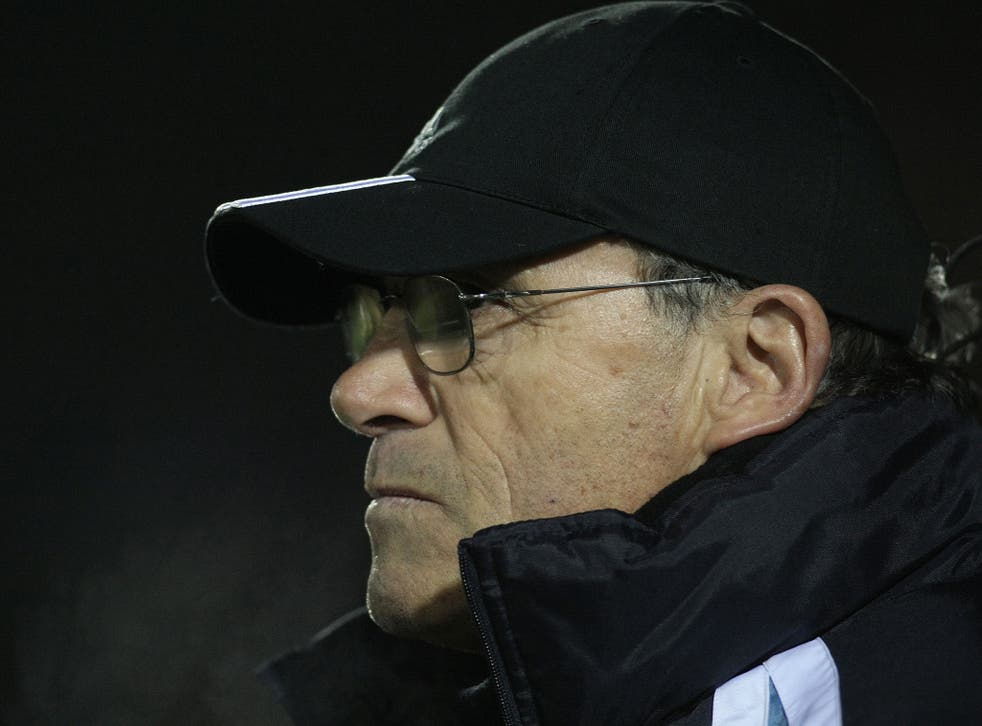 The Football Association will interview Dario Gradi, the Crewe Alexandra director of football and former Chelsea coach, as part of a widened investigation into child sexual abuse in football, it has been revealed.
It comes just days after The Independent revealed a former Chelsea youth player's claim that Mr Gradi visited him and his parents to "smooth things over", following their report of the boy's alleged abuse at the hands of former chief scout Eddie Heath in 1974.
The witness said that in the course of a one-hour meeting at the family home, Mr Gradi – who denies any wrongdoing – admitted Heath "gets a bit close to the boys. I'm sorry if he's overstepped the mark in his fondness this time."
The witness's detailed testimony included a description of Mr Gradi being given tea and cake by his parents and embarking on a long conversation, at times "at a tangent" to the main concern. Mr Gradi described his high hopes for the youth team and heard about Mr Heath allegedly repeatedly touching the young player inappropriately before sexually assaulting him.
With former Chelsea player Gary Johnson also having come forward to allege that he was sexually abused by the same scout, Mr Gradi's evidence may be key to an understanding of what and was not was known at the club about Mr Heath. Mr Johnson has revealed that Chelsea subsequently made a £50,000 payment to him, with a confidentiality agreement attached.
Mr Gradi's insight will also be valuable because he had moved to Crewe Alexandra at a time when alleged abuse of boys also took place there. He arrived at the Cheshire club as manager in 1983, nine years after leaving Chelsea, and was in charge of the team until 2011, since when he has become one of the club's directors. He has expressed "sympathy" for players who have alleged sexual abuse and said he had no knowledge of it at the time.
On Friday, in response to a letter posted through the door of his home detailing the former Chelsea youth player's allegations, Mr Gradi told The Independent that "aside from denying any wrongdoing, it would be inappropriate and unfair on all parties to comment piecemeal through the media at this time in connection with historic allegations. I will do everything within my power to assist all investigatory authorities."
Dario Gradi career timeline

Show all 7
A spokesman for Crewe Alexandra reiterated on Tuesday night that Mr Gradi "will fully cooperate with the FA".
The governing body announced early on Tuesday that it had replaced plans for an internal review of sexual abuse with a wider-ranging investigation headed by Clive Sheldon QC, who has experience in several investigatory reviews. It is thought that Mr Sheldon, who has replaced Kate Gallafent QC in heading the review, will assemble a team of specialists to interview possible witnesses and gather information. The focus is likely to be on individuals throughout the game who can shed light on the alleged crimes and what was known about them.
Ms Gallafent had been replaced "with respect to her other professional commitments", the governing body said. It had indicated when appointing her that a wide-ranging inquiry may be required in time, though it had not been expected that the broader scope would be announced so quickly.
The escalating awareness of the scale of the problem has a contributing factor, with Chris Gieler, QPR's former chief scout, the latest individual to be named as an alleged abuser on Tuesday. Gieler was head of youth recruitment for 30 years at Loftus Road before suddenly leaving the club in 2003 without warning or any recognition of his long service. He died a year later, although the club did not recognise the fact in any way. QPR said it had been "made aware of the historical allegations".
The FA said in a statement that its review would commence "immediately" and the findings reported to the FA board.
"It is accepted that no final date can be agreed at this stage given the passage of time and the time it will take to recall files for review and to locate all those relevant people to interview who no longer work for the FA," the statement said.
"The precise number of players, alleged abusers and clubs as yet is unknown. The FA has determined that it is necessary to instruct external leading counsel to conduct a review into what if anything the FA and clubs knew about these allegations at the relevant time, what action was taken or should have taken place."