David Cameron says British aid has prevented 'hundreds of thousands' of refugees from trying to reach Europe - but aid agencies reject claim
The Prime Minister is in Lebanon to 'see for himself what Syrian refugees need'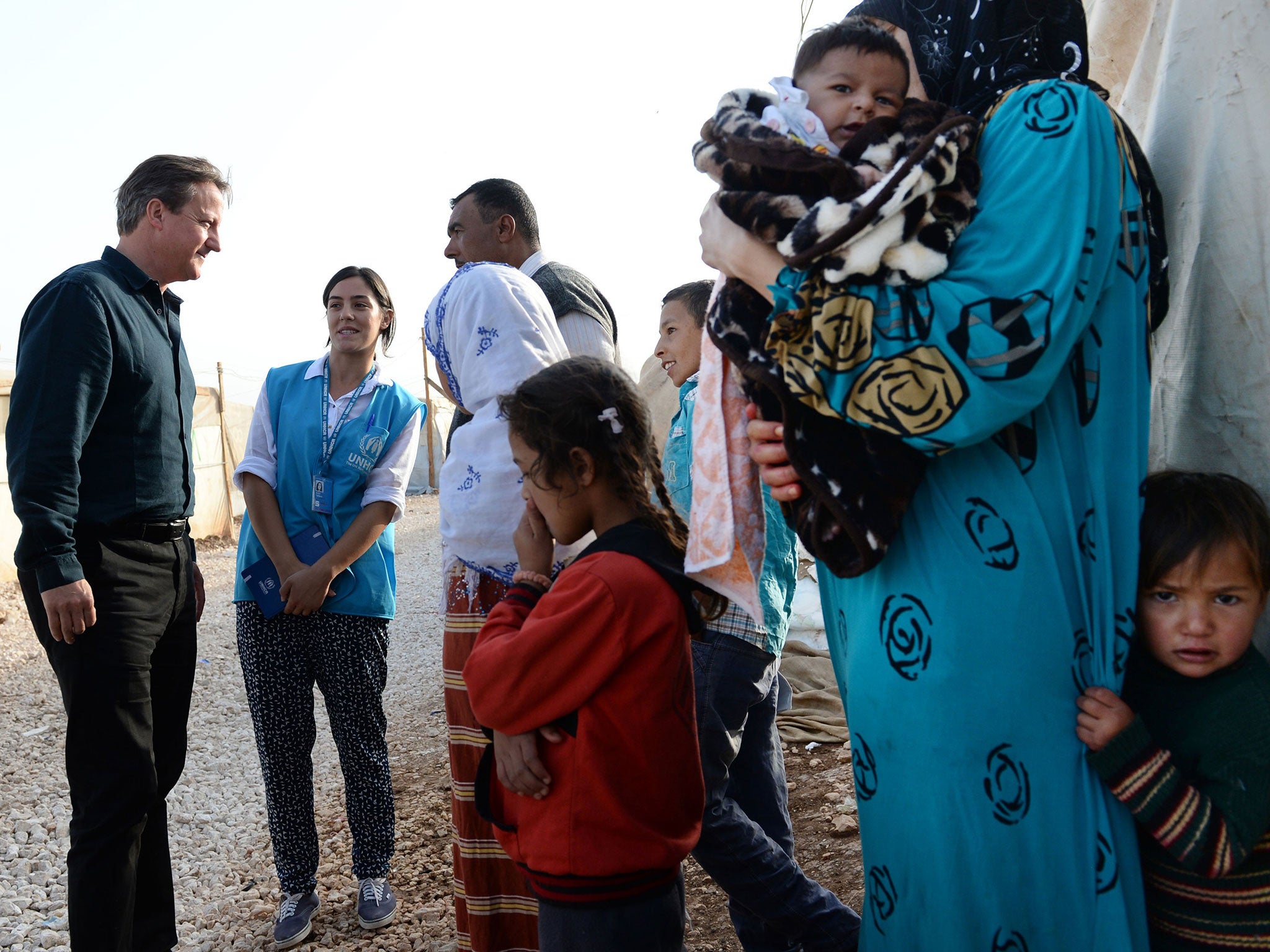 Hundreds of thousands more Syrian refugees would have "risked their lives to get to Europe" if it were not for British aid, David Cameron claimed, as he arrived in Lebanon to witness first hand the humanitarian crisis engulfing the region.
Mr Cameron travelled by army helicopter to the Bekaa Valley, which is now home to 400,000 of the million Syrian refugees in the country who live in unofficial make-shift camps near the Syrian border. There are now almost as many Syrians living in Bekaa as Lebonese.
At a UNHCR-operated camp, less than a mile from the Syrian border, some 500 people, including many children, were crowded into 90 tents laid out in ranks behind a breeze-block wall.
Mr Cameron said he "wanted to come here to see for myself and to hear for myself stories of refugees and what they need".
But aid agencies expressed deep scepticism that the latest British help in the crisis was any more than a "drop in the ocean".
He met a mother of 10 who told him that since a reduction in support from the World Food Programme, she had just five dollars a month for her entire family.
During the visit Mr Cameron announced the appointment of a new Home Office minister, Richard Harrington, with responsibility for co-ordinating the Government's plan to accept 20,000 refugees from Lebanon, Jordan and Turkey over the next five years and highlighted an extra £29 million in additional resources for Lebanon.
"We will make sure there are homes for them to go to, schools for their children, a warm welcome in Britain. I want that to be done well, I want it to be something the whole country can be proud of.
But aid agencies working in the country have expressed deep scepticism about the Prime Minister's claim that the £29 million additional aid pledge could make any real difference to exodus.
"It is the right strategy but it is a drop in the ocean compared to the need," said Tom Thorogood of the United Nations Development Programme "Much, much more needs to be done."
"People are living in desperate situation," added Lisa Khaled of the UNHCR. "They came with their savings but now have nothing left. They have heard stories about life in Europe and as the situation deteriorates here the draw is greater.
"All we have money for at the moment are people's most very basic needs - nothing more than life-saving interventions. You can understand why people are seeking just normal opportunities in Europe that are impossible here."
The refugee crisis - in pictures
Show all 70
Agencies say 2000 refugees a day are transiting through Lebanon on their way to Turkey and Europe - a fifteen-fold increase on last year.
But so far appeals for additional international aid are falling short. Only 35 per cent of UN targets have been met.
But Mr Cameron claimed that the UK contribution was making a positive difference.
"Around three per cent of the eleven million Syrians forced from their homes have sought asylum in Europe, and without British aid hundreds of thousands more could be risking thier lives seeking to get to Europe," he said.
"These funds are part of our comprehensive approach to tackle migration from the region."
Join our commenting forum
Join thought-provoking conversations, follow other Independent readers and see their replies