Grenfell fire: David Lammy MP breaks down in tears speaking about his friend who died
'This is a tale of two cities, this is what Dickens was writing about the century before last'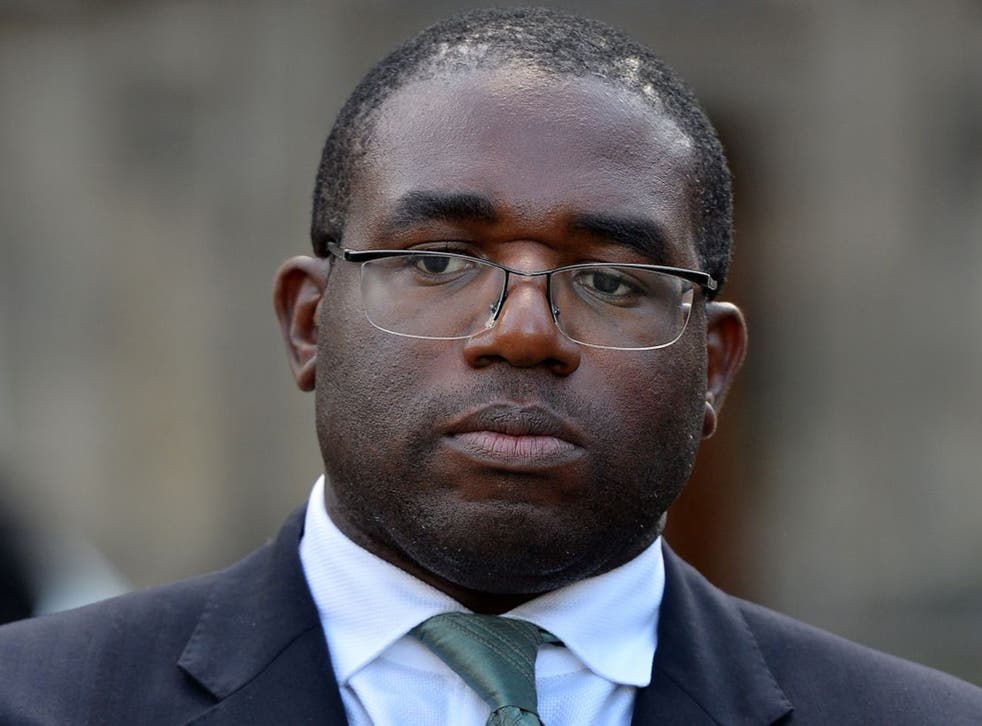 MP David Lammy broke down in tears during a television interview talking about the loss of his friend who died in the Grenfell fire.
Mr Lammy, the Labour MP for Tottenham, became emotional as he recalled his friend Khadija Saye, a 24-year-old woman who is presumed to have died in the blaze which engulfed the tower, where she lived with her mother.
"My friend who lost her life was a talented artist, but she was a young, black woman making her way in this country and she absolutely had no power, or locus, or agency. She had not yet achieved that in her life.
"She'd done amazing things: gone to university, the best in her life. But she's died with her mother on the 22nd floor of a building. And it breaks my heart that that's happening in Britain in 2017. Breaks my heart.
"This is a tale of two cities. This is what Dickens was writing about in the century before last, and it's still here in 2017."
Mr Lammy, a barrister by profession who grew up on a council estate and became the first black Briton to go to Harvard University, said the tragedy was about more than the fire itself.
Speaking on Channel 4, he said: "For your middle-class viewers, this is about whether the welfare state is just schools and hospitals or whether it's about having a safety net. I get quite emotional as I say that.
"We need to live in a society where we care for the poorest and the vulnerable. And that means housing. It means somewhere decent to live. It was a noble idea that we built… and it's falling apart around our eyes. That's what it's about.
"And if it's taken this tragedy to bring that reality home to people, who are lucky enough to live in very different circumstances, then thank God.
"It's about the welfare state. Do we believe in a safety net or not?"
The council owned block was built in the 1970s during the "skyrise" era when the solution to the housing crisis in cities was considered to be building "upwards". Some of the 120 flats were sold off from the 1980s as part of Margaret Thatcher's "right to buy" policy, leaving a mixture of council tenants, private tenants and owner occupiers in the building – the exact mix of which is not known.
A mixture of one and two bedroom flats, some of the two bedroom flats on the Lancaster West estate in North Kensington were being rented out for more than £2,200 a month. While Kensington has been named the wealthiest borough in the country, the fire has thrown into focus the stark divide between the rich and the poor who live side by side in very different conditions.
Mr Lammy, who represents a deprived constituency and has regularly spoken out on the need for more social housing and genuinely affordable homes in the capital, said: "You can't contract out everything to the private sector; the private sector do some wonderful things, but they have for-profit motives, they cut corners. If you haven't got the officers to check on the enforcement of buildings, don't expect it to be done."
Amid growing anger, it has emerged there were no sprinklers in the flats despite the recommendations of a coroner following a 2009 tower block fire in Southwark which killed six people, including three children.
Mr Lammy said there were many issues around fire safety that need to be addressed following the fire at the building which was owned by Kensington and Chelsea council but managed by KCTMO.
"Where are the fire extinguishers on every corridor? Where are the hoses? Are the fire doors really working? Where are the sprinklers? If you want to build these buildings, then let them at least be as good as the luxury penthouse buildings that are also being built," Mr Lammy said.
"But these buildings aren't, is the question. So you either demolish them and house people in a different way, or you absolutely refurbish them to the best quality that we can do."
Mr Lammy branded the fire "corporate manslaughter" and called for those ultimately found responsible to be brought to book.
A public inquiry has been announced by Theresa May, but there is a growing clamour for an inquest instead amid fears a goverment-led inquiry could be a "whitewash".
Anger over the fire and the wider social issues of inequality and the housing market threatened to boil over on the streets of London tonight, as angry protesters took to the streets in Kensington before marching on Downing Street and institutions including the BBC to demand justice for the hundreds who are feared to have perished in the fire.
Join our new commenting forum
Join thought-provoking conversations, follow other Independent readers and see their replies