Derby Hippodrome fire: Latest blaze at landmark theatre 'was arson attack'
Firefighters confirm fire that swept through shell of the 'Hippo', which opened just before WWI, was started deliberately
Paul Peachey
Crime Correspondent
Monday 14 March 2016 00:14 Comments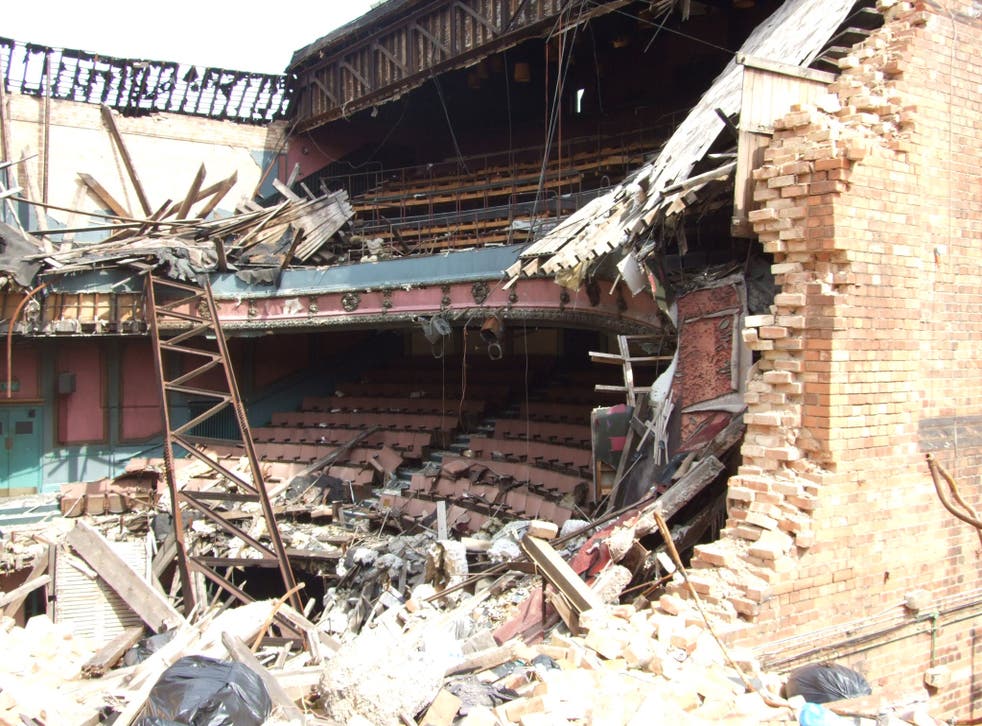 Before the "talkies" had taken hold of the public imagination and many decades before its decline from haunt of top talent to fading bingo hall, the Derby Hippodrome had already secured its claim to showbusiness fame.
Inside one of its dressing rooms, later to be retooled for use as a ladies' toilet, the celebrated music hall entertainer Bud Flanagan in 1927 wrote his best-known song "Underneath the Arches", about the wistful existence of homeless men dreaming unattainable dreams beneath the railway lines.
At least they had a roof. Little more than 100 years after it first opened, the Grade II listed Hippodrome has suffered yet another fire, adding to a list of vandalism and botched renovations that have blighted its appearance in the centre of the city and left its interior open to the elements.
Firefighters confirmed last week that the latest blaze was an arson attack on the scarred shell of the "Hippo" that once played host to the cream of British entertainers, including Morecambe and Wise, George Formby and Gracie Fields.
Opening just eight days before the outbreak of the First World War and boasting palatial interiors, the venue survived for nearly a century, changing its offerings from music hall to cinema to bingo to cater to the changing tastes of its customers.
Campaigners say the Hippodrome is significant as it illustrates a crossover period when buildings were designed for both live theatre and cinema. Only a handful of such venues survive but since its eventual closure as an entertainment venue in 2007, the former 2,300-seat music hall has been left rotting and redundant despite a vigorous campaign to return it to its former glory.
Large parts of the building were damaged by one developer, who now has an injunction against him from undertaking further work according to a 2013 feasibility study for Derby City Council.
Following his blocked effort to convert it into a multi-storey car park, campaigners and its new owners have failed to agree over plans to develop the site or turn it back into an entertainment venue at an estimated cost of up to £25m. The theatre had been hit by three suspected arson attacks in 2008, 2009 and 2011, which led to complaints by campaigners about poor security at the site. The arson attack last week, which started in the basement, has left the building with further damage.
Investigator Chris Smith said that a joint police and fire brigade examination had not been possible because of the dangerous condition of the building. "However, based on knowledge of the building and previous fires, the most probable cause of the fire has been determined as deliberate," he said in a statement.
The story of the Derby Hippodrome highlights the woes of the UK's heritage industry, particularly outside of the south of England.
The Independent highlighted the closure of a number of museums amid warnings that parts of Britain were becoming cultural wastelands as town hall leaders struggled with tighter budgets to pay for improvements.
Campaigners in Derby want the council to take over the site from developers. The council study found that a redeveloped theatre would fill a "significant gap in Derby's cultural offer" but that it was virtually impossible to find enough money to pay for it.
"Lack of such provision is a significant omission for any city that aspires to be treated seriously, although Derby is a relatively small city and expectations about what it can realistically provide have to be tempered accordingly," the study found.
The Derby Hippodrome Restoration Trust has been in discussion with the site's owners, Blake Finance, but has failed to negotiate a sale.
"Their plans are to try to claw back as much as they can," said Joan Travis of the trust. "We want to restore it to a complete working theatre again."
No one from Blake Finance was available for comment.
Register for free to continue reading
Registration is a free and easy way to support our truly independent journalism
By registering, you will also enjoy limited access to Premium articles, exclusive newsletters, commenting, and virtual events with our leading journalists
Already have an account? sign in
Join our new commenting forum
Join thought-provoking conversations, follow other Independent readers and see their replies