Developers who destroyed historic London pub without permission could be ordered to rebuild 'brick by brick'
The pub was being considered for Grade II heritage status
Roisin O'Connor
Thursday 30 April 2015 10:56 Comments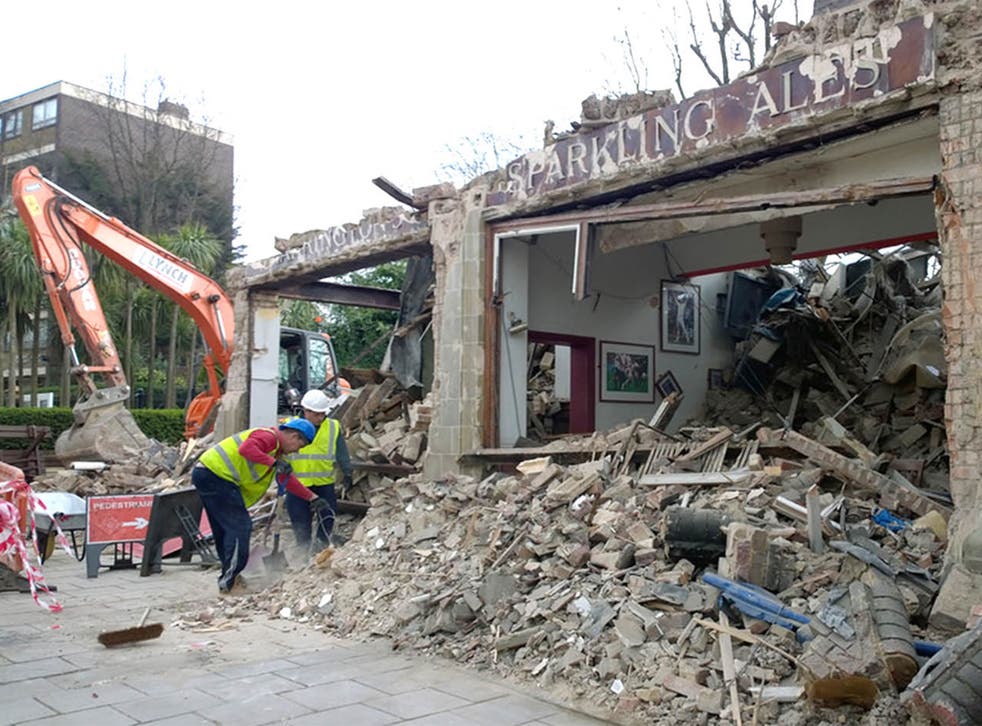 Developers who tore down a historic pub in London without permission from Westminster council could be ordered to rebuild it "brick by brick" following outcry from local residents.
The Carlton Tavern in Kilburn, north London, was torn apart and reduced to rubble by bulldozers to the horror of its manager, just as it was being considered for a listing at Grade II heritage status.
Historic England said the pub was "remarkably well-preserved externally and internally".
The owners, Tel Aviv-based development company CLTX, went ahead with the demolition after Westminster council did not approve its plan to replace the pub with a new pub and four floors of flats.
A report seen by The Independent found the demolition in breach of planning control which means the City Council is able to issue an Enforcement Notice which would require the Carlton Tavern to be rebuilt.
This may be the first instance of a local council ordering a building to be reconstructed from the ground up.
John Walker, Director of Planning at Westminster City Council, said: "There is a paper going to planning committee next week.
"Obviously, we cannot preempt any decision, but this shows how important the issue is to local residents and the council, and officers have worked hard to bring this to the committee as quickly as possible.
"We are still liaising with Historic England and DCMS and the advice provided by them will help to determine the final course of action."
Tom Copley, City Hall housing spokesperson for Labour, told City Metric: We are losing good pubs in London at an alarming rate because developers want to make a profit out of the booming residential property market.
Cllr Robert Davis, deputy leader of Westminster City Council, spoke previously of his outrage at the destruction of the building.
"The actions of the owner border on the scandalous and the book should be thrown at them," he said.
The Independent has attempted to contact a CLTX representative for comment
Register for free to continue reading
Registration is a free and easy way to support our truly independent journalism
By registering, you will also enjoy limited access to Premium articles, exclusive newsletters, commenting, and virtual events with our leading journalists
Already have an account? sign in
Join our new commenting forum
Join thought-provoking conversations, follow other Independent readers and see their replies