Don't forget about my rights, says Julian Assange 'sex victim'
Lawyer tells of woman's suffering a year on from WikiLeaks founder's flight to embassy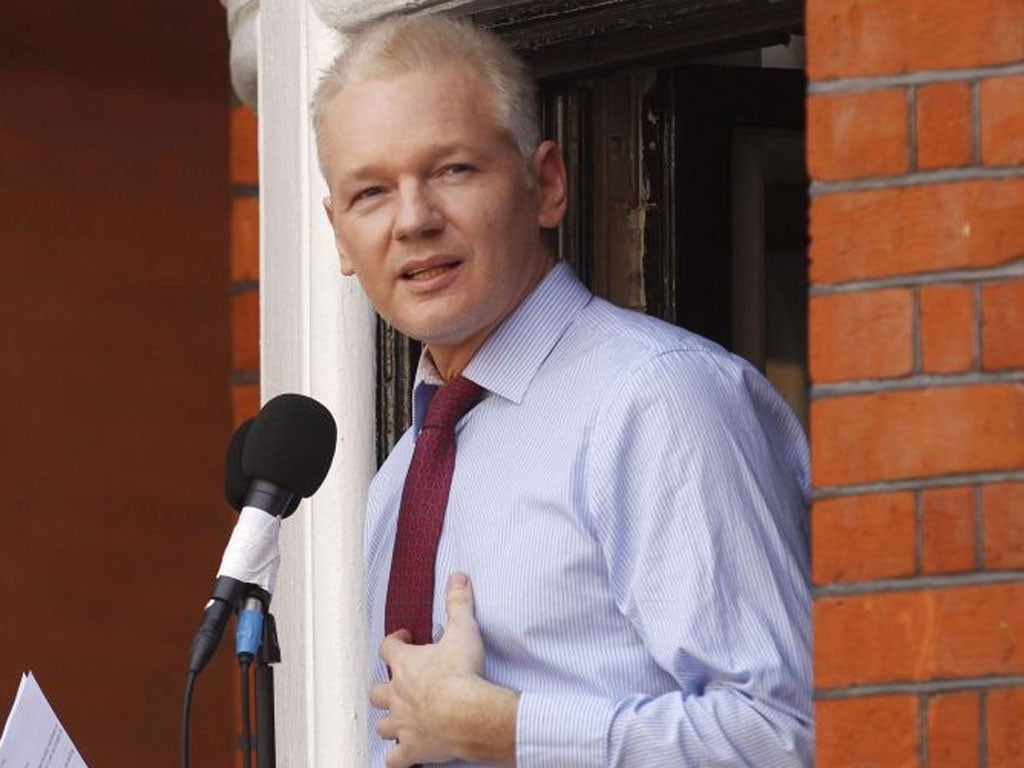 A lawyer for one of the women who have accused Julian Assange of sex crimes has called for more pressure to be placed on Ecuador to allow the WikiLeaks founder to face Swedish justice.
While Mr Assange remains in the Ecuadorean embassy in London after losing his court action against extradition to Sweden to face trial, a lawyer has told The Independent that his alleged victim's rights "should not be forgotten in this process". Mr Assange has spent almost a year in the embassy in Knightsbridge. Elisabeth Fritz, representing one of Mr Assange's two accusers, said that Sweden "should put pressure on Ecuador to get Assange to be sent to Sweden".
The women accuse the Australian whistle-blowing activist of sexual offences when he was in Stockholm in 2010. Mr Assange denies the accusations and has argued they are part of a wider smear campaign designed to discredit WikiLeaks.
The 41-year-old has said that if he is handed over to Sweden he will be passed on to the US for trial over WikiLeaks' release of diplomatic cables and claims he could face the death penalty. But Ms Fritz said her client's wait for a public hearing had been long and her "suffering big". She said Mr Assange's claims about extradition were "merely a way to circumvent various countries' systems and laws" to "evade responsibility".
Swedish authorities have said they are waiting for Britain to act on the arrest warrant issued for Mr Assange in November 2010. His final appeal against extradition to Sweden was rejected by the Supreme Court in June last year – four days before he took refuge in the embassy.
"Assange's behaviour and [the] procrastination of the investigation in this case complicates the suffering of my client when the preliminary investigation does not go forward," said Ms Fritz. "The investigation in Sweden must be conducted in a conventional manner and prompt way according to the Swedish legal system, even if the suspect [is] called Assange."
This week it emerged that GCHQ, the intelligence agency, had asked staff to behave more professionally after Mr Assange obtained internal emails saying he may have been framed over the sexual assault charges. "It is definitely a fit-up … Their timings are too convenient right after Cablegate," wrote one GCHQ officer in an email to a colleague last September.
Mr Assange's lawyer, Per Samuelsson, told The Independent: "We have said the prosecutor should go to London to interrogate Mr Assange or do it via video link or sworn affidavit, but she has refused. The lawyer should argue with the prosecutor not Mr Assange."
Join our commenting forum
Join thought-provoking conversations, follow other Independent readers and see their replies