Dorset knob-throwing competition axed after growing too popular
Village committee rules against holding outsized event this year
Liam James
Tuesday 25 January 2022 17:43 Comments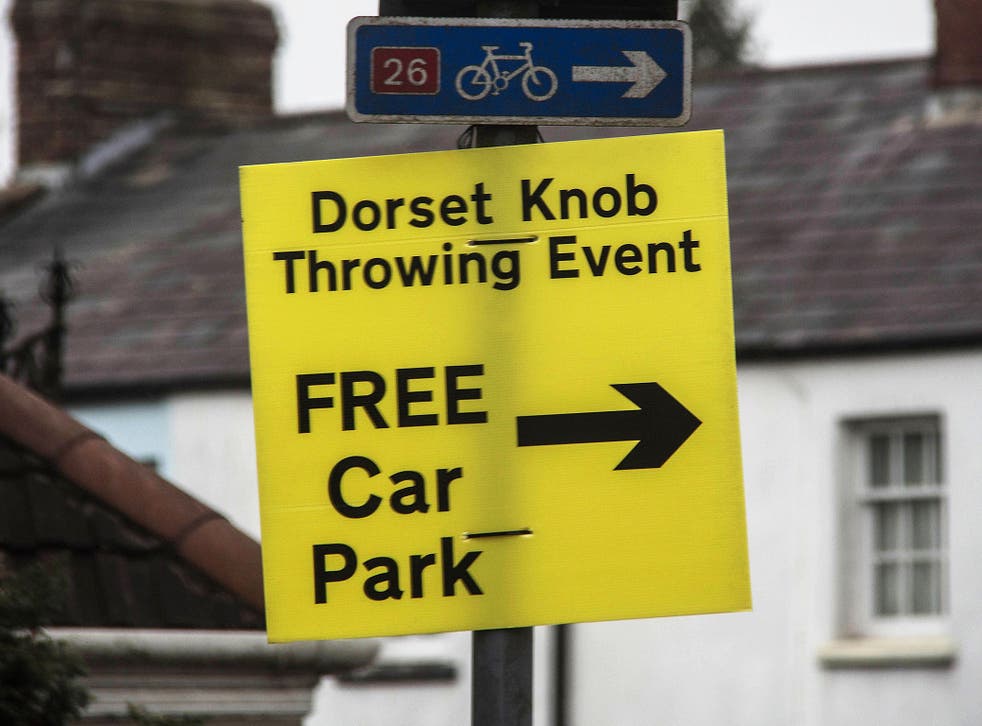 A "knob-throwing" festival has been cancelled because it has outgrown the capacity of organisers to run it.
Dorset Knob Throwing, held in the small village of Cattistock near Dorchester alongside the Frome Valley Food Festival, was set to go ahead on 1 May.
It was first held in 2008 and would see people compete to throw Dorset's traditional knob biscuits as far as they can down a field.
Side events would include knob-eating, knob-painting, a knob & spoon race, guess the weight of the big knob and knob darts.
Organisers said the 2019 event attracted over 8,000 people, meaning it had "reached such a size that it cannot be run by a small village committee."
They also had trouble with supply of knobs from Moores, the family bakers who have made the biscuits for more than 140 years.
This will be the third year in a row that the event has been cancelled. It did not run in 2020 as a venue could not be secured, nor in 2021 due to Covid.
Alexandra Watts, chair of the Dorset Knob Throwing committee said: "We've looked at various options but sadly couldn't make any of them work for this year for many reasons.
"We hope the event can return in years to come."
Organisers assured people that Moores were still making the biscuit and people were free to throw them at their own discretion.
The Dorset knob was first baked in Marshwood Vale, north of Bridport, sometime before 1860, according to the Moores'. It was customary to make the knobs by adding butter and sugar to leftover dough and leaving them to dry in the dying heat of the bread oven.
It is thought their name comes from the hand-sewn Dorset knob buttons that were also made locally.
They can be eaten with the local Blue Vinney cheese, dipped in tea or cider, or taken with honey and cream - known to Dorset folk as thunder and lightning.
Knob-throwing formally began in 2008. The record length of a throw is 29.4m (96ft), set by Dave Phillips in 2012.
Rules of the game
Contestants can throw three knobs per go, the furthest-thrown knob is measured.
Only the knobs provided can be used.
Only standing throws from the marked standing point will count.
Throws must be underarm.
One foot must remain on the ground during throwing.
Distances will only be measured within the designated throwing zone, which is 5m-wide by 32m-long.
Knobs will be measured where they come to rest.
If a knob breaks upon landing the umpire will decide what counts as the the resting place.
Register for free to continue reading
Registration is a free and easy way to support our truly independent journalism
By registering, you will also enjoy limited access to Premium articles, exclusive newsletters, commenting, and virtual events with our leading journalists
Already have an account? sign in
Join our new commenting forum
Join thought-provoking conversations, follow other Independent readers and see their replies