Dover traffic delays: MS sufferer endures 'horrendous' 20-hour ordeal on trip for life-changing treatment
Tanya Cudworth was travelling to Frankfurt for stem cell treatment after raising £5,000 for the trip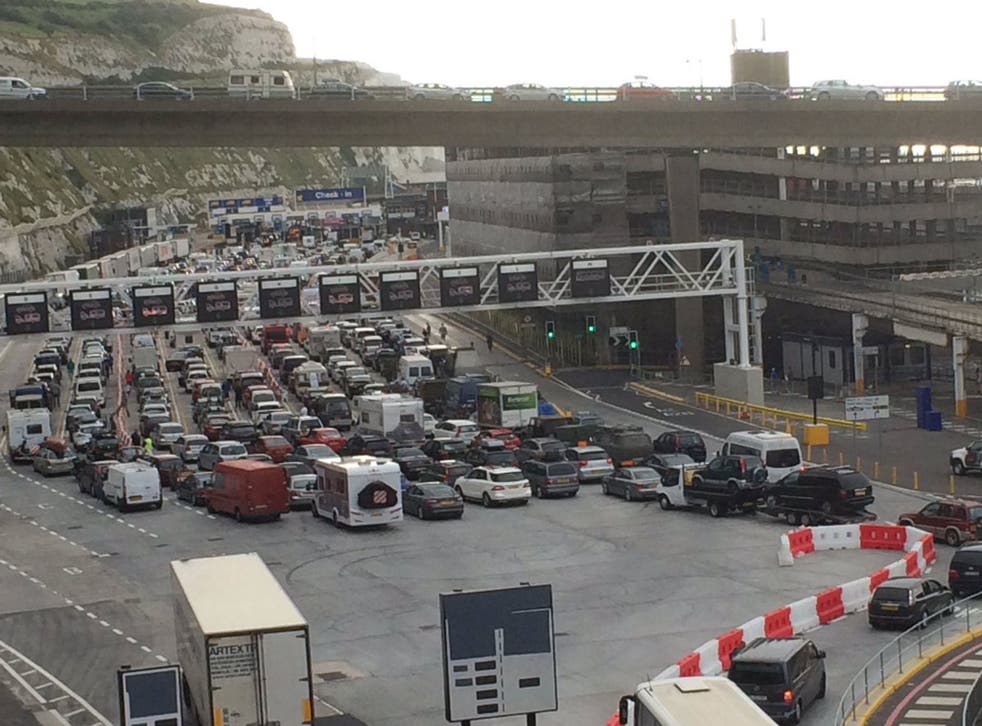 A multiple sclerosis sufferer travelling to Germany for potentially life-changing treatment saw her dash to Dover turn into a 20-hour ordeal.
Tanya Cudworth, 50, was travelling to a Frankfurt clinic to undergo stem cell treatment for her condition after raising £5,000 for the trip.
Along with her partner, Steve Deene, 53, she set off from Tunbridge Wells at 8.30am on Saturday after waking to news of increasing delays at Dover.
The couple, from Derby, did not make it onto a ferry until 4.20am on Sunday.
Speaking to the Press Association, Ms Cudworth described the experience as "absolutely horrendous".
She said: "I'm taking the trip to get this treatment that I hope will keep me from having to go in a wheelchair. It's not available on the NHS and we've done some fundraising. It's a good job I didn't have to be at the hospital sooner - 19 hours in the car has obviously aggravated my symptoms."
Because of her condition Ms Cudworth, who works for Marston's brewery, had to travel by road. She hoped to nip to Dover, take a short sail across the Channel and complete the final six-hour drive to Frankfurt on Saturday, ahead of her Monday appointment.
However, chances of them making the 10.30am ferry soon vanished as they found themselves stranded in a virtual car park on the A20.
She said: "During the day it was so hot and there was nowhere near enough water and at night it was pitch black so you didn't know what was going on around you. You couldn't sleep because you had to keep moving forward.
"We didn't get any water until 3am and I saw women with babies, young families and people with pets with no water. It's shocking that more wasn't done to get it to people, the authorities weren't anywhere to be seen.
"My partner has been a lorry driver since he got his licence and he has never seen anything like it here or abroad."
UK news in pictures

Show all 50
As the situation became desperate the couple decided to turn off the A20 and head for a hotel, but found everywhere was fully booked.
In the end they decided to grit their teeth and carry on crawling towards the port.
The Government said the "extraordinary" delays were down to a combination of high volumes of holiday traffic and extra security checks by French officials.
However Ms Cudworth suspected the official line may be hiding a different reason for the travel chaos.
"I don't know whether the French are just annoyed with us because of Brexit or we are blaming the French for the delays.
"There's a chance I will have to come back to Frankfurt for the treatment. If I do, I will just have to fly."
Register for free to continue reading
Registration is a free and easy way to support our truly independent journalism
By registering, you will also enjoy limited access to Premium articles, exclusive newsletters, commenting, and virtual events with our leading journalists
Already have an account? sign in
Register for free to continue reading
Registration is a free and easy way to support our truly independent journalism
By registering, you will also enjoy limited access to Premium articles, exclusive newsletters, commenting, and virtual events with our leading journalists
Already have an account? sign in
Join our new commenting forum
Join thought-provoking conversations, follow other Independent readers and see their replies