Dramatic video shows crowd lift double-decker bus to save life of trapped unicyclist
Incredible footage shows the moment people in Walthamstow, in east London, rushed to save the man's life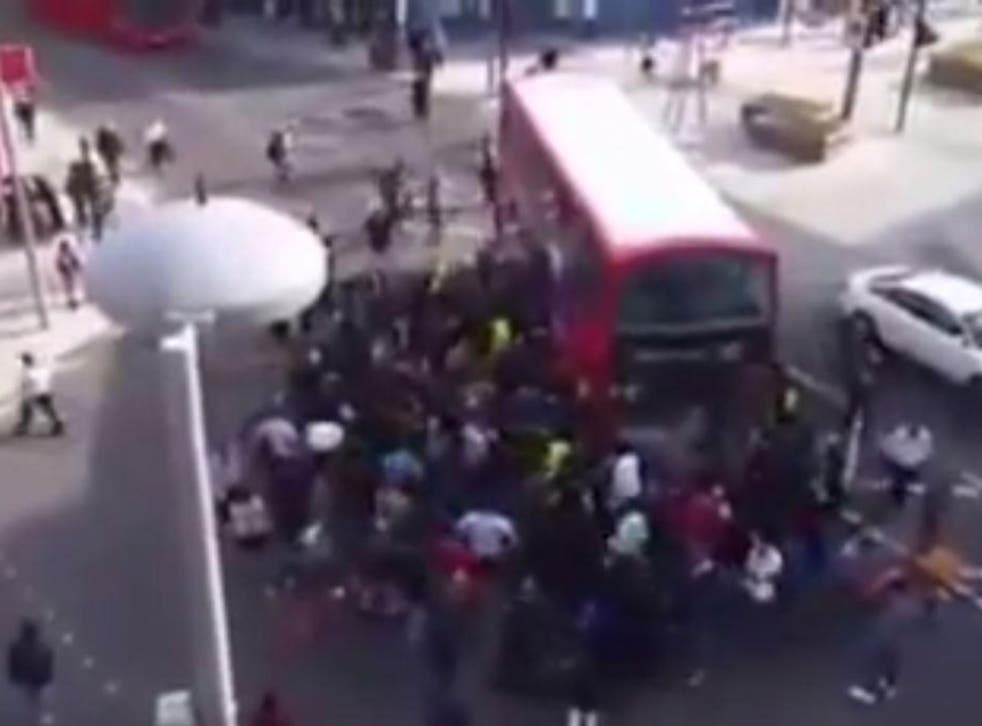 Incredible video footage has captured the moment up to 100 bystanders in London lifted a double-decker bus to save the life of a unicyclist trapped underneath its wheels.
The unicyclist collided with a route 212 bus in Walthamstow, north-east London, at about 6pm on Thursday.
Footage of the event shows people rushing to help dozens attempting to lift the vehicle off the man. Shouts and gasps of panic are then heard as the crowd moves the bus a few feet away.
Witnesses described people leaving their tables in restaurants and running out to help. Cafe owner Sami Ullah told London's Evening Standard up to 100 were involved in moving the bus.
Another witness, Kyra Sam, told the paper: "I'm really amazed at the strength of Walthamstow - no-one hesitated to push the bus off, I was in shock. Everyone really came together to help - it was really nice to see that in the face of something so awful."
The London Ambulance Service said off duty Paramedic Manager Stephen Hines was the first medic on scene and arrived within five minutes. He told The Independent the man had already been freed by the time he arrived there.
"When I got there the patient was already out from under the bus and members of public said they had freed him by lifting the bus. It was definitely a great help to me as it meant I could start treating him straight away.
"The patient was treated for serious leg injuries, given pain relief and taken to hospital as a priority."
A spokesperson for the Metropolitan Police said the man was in a serious but stable condition in hospital.
The force said in a statement: "Police were called at 5.50pm to a bus in collision with a unicyclist in Hoe Street, E17. The male unicyclist was taken by ambulance to an east London hospital where his condition is believed to be serious.
Register for free to continue reading
Registration is a free and easy way to support our truly independent journalism
By registering, you will also enjoy limited access to Premium articles, exclusive newsletters, commenting, and virtual events with our leading journalists
Already have an account? sign in
Register for free to continue reading
Registration is a free and easy way to support our truly independent journalism
By registering, you will also enjoy limited access to Premium articles, exclusive newsletters, commenting, and virtual events with our leading journalists
Already have an account? sign in
Join our new commenting forum
Join thought-provoking conversations, follow other Independent readers and see their replies