Drone reports to UK police soar 352% in a year amid urgent calls for regulation
Exclusive: Experts concerned for public safety as flying robotic machines are taken up by criminals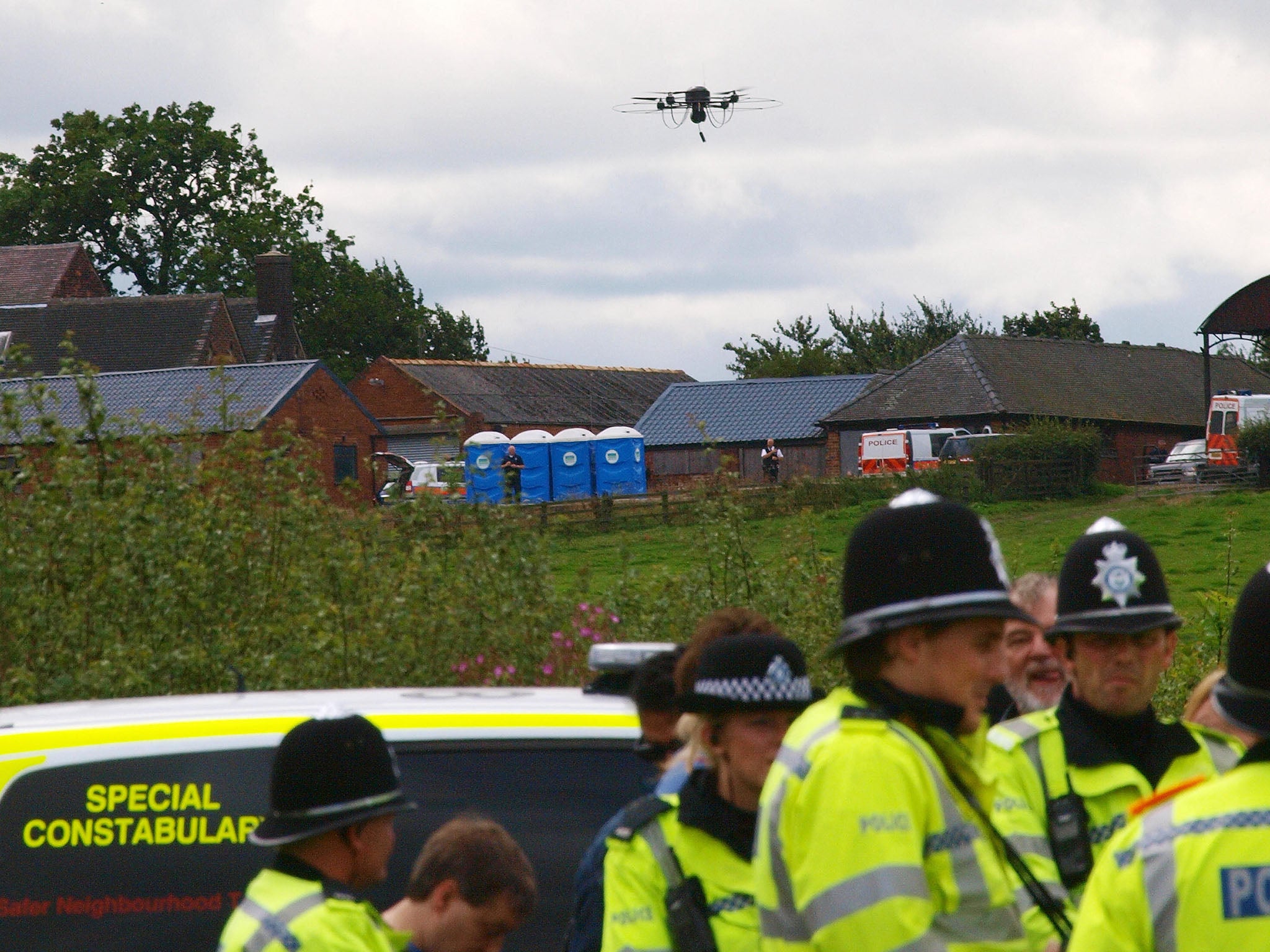 Police are having to investigate a fourfold rise in the number of crime reports involving shop bought drones – including allegations they are being used by paedophiles over children's playgrounds, peeping toms spying through bedroom windows, burglars scoping out people's properties, and even cash point scammers recording PIN numbers.
An investigation by The Independent has found that the number of incidents reported to the police involving drones surged by 352 per cent in a single year as the public became increasingly aware – and suspicious – of the machines.
Reflecting the rapid uptake of the flying robotic devices, which can be fitted with cameras, reports to police surged from 94 in 2014 to 425 in 2015. The projected figure for 2016 is set to be even higher, with 272 reports recorded up until May this year.
The figures were obtained from Freedom of Information requests, with 21 of the UK's 45 police forces responding.
The numbers also include reports of drones endangering commercial airliners of them causing fights between neighbours, and also of them being used by criminal gangs to transport drugs, often into prisons.
The majority of the reports, 257, were listed as a concern for public safety and under suspicious circumstances, but five cases involved acts of violence, 13 related to burglary, 14 to dangers posed to transport – largely related to air space – and seven made reference to drones in the vicinity of young children.
Everything you need to know to fly domestic drones legally
One remarkable incident recorded by the Police Service of Northern Ireland in June last year revealed a drone allegedly being used to film a cash point in Templepatrick as people entered their pin codes. The witness told the police that when the drone was spotted it flew off and crashed into a taxi. The police said a male suspect had been forced to pay compensation to the taxi driver, but officers had been unable to prove the footage was being taken with criminal intent.
Drones, quadcopters and multi-rotor helicopters already equipped with 360 degree 4K video cameras, more than twice the quality of HD, are currently available to buy without any registration or permit. Speeds range as high as 70 mph for mass produced drones, while potential altitudes up to 10,000 feet make them a threat to aircraft flying in or out of airports.
Many also offer image transmission to a handheld device, such as a mobile phone, and others include night vision.
Reports to UK police forces involving drones
Sexual offences involving a drone were reported in both London and South Wales, with the Metropolitan Police referring to case of "voyeurism" and the Welsh force revealing a drone had been used to record footage of a young woman undressed in her apartment.
In Leicester, a pedestrian claimed to have seen a drone falling from the sky, while in Sutton Coldfield another fell and damaged the roof of a BMW, as regulation of air space has become increasingly demanding with unprecedented new risks.
Reports of disturbances to flight paths around Birmingham, Stansted and Luton airports were also provided, raising wider concerns for public welfare and potentially the threat of terrorism. In April, Elstree Aerodrome Air Traffic Control noted that a drone had been seen five miles Northeast of Elstree by a pilot whose aircraft was at 6,000ft.
Drone footage of HM Prison Peterborough
Greater awareness of privacy concerns has also led to some direct confrontations. In South Wales, one homeowner threatened to a drone out of the sky. Dozens of other reports related to surveillance. A similar incident in Bedham, Sussex, saw one person firing a shotgun at a neighbour's drone. The pair were said to "loathe" each other.
In Spennymoor, County Durham, a fight broke out over a drone, with one disgruntled bystander pushing a man and throwing his remote controller into a bush.
Elsewhere, a drunken man was found to be "causing distress to livestock" after using a drone to fly close to cows in Plymouth.
There are also fears that drones could be used by paedophiles, with reports of drones flying over children's areas in Kingswinford, Dudley, and schools in Hemel Hempstead and Northumbria.
Reports to UK police involving drones (by type)
David Dunn, a professor at Birmingham University who has led research into UAVs, said there needed to be more regulation.
He told The Independent: "What you have is a massive proliferation of easy access to the air from machines that have the capacity to cause nuisance, to carry out surveillance, to cause potential injury and to frighten people and cause collisions with cars and airplanes.
"There needs to be regulation and there needs to be systematic attempts to educate the public. At the moment, you can buy one of these things in a supermarket without any safeguards. We are lacking accountability or a deterrence.
"The police are being forced to use laws that were designed before the invention of drones fit in terms of personal safety and privacy, but actually what we need is a Drone Bill through the House of Commons to address the technological challenges."
Map of reports involving drones (by police force)
Mr Dunn said the terror threat was a "massive concern" to law enforcement agencies, adding: "These machines have the ability to actually deliver drugs into prisons, to deliver sim cards into prisons."
Corroborating previous reports, the data reveals a significant number of sightings of drones around prisons. At HM Prison Leicester, legal highs and a mobile phone were caught in netting around the perimeter – a measure used across UK prisons to counteract smuggling devices such as drones – and drugs were also found attached to a machine by Sherwood Prison. The Mount prison in Bovingdon was the centre of a high number of interceptions, alongside institutions in Exeter, Bedford and Greyfriars.
Anyone found using drones to smuggle contraband into a prison can be given a sentence of up to two years.
A spokesman for the Prison Service said it was working to ensure the "right tools" are in place to tackle the problem of drones.
He added: "We take a zero tolerance approach to illicit material in prisons and work closely with the police and CPS to ensure those caught are prosecuted and face extra time behind bars."
Steve Barry, the National Police Chiefs' Council lead for Unmanned Aerial Systems, told The Independent: "Both the Police and Civil Aviation Authority (CAA) are aware of the ever increasing use of drones by members of the public and are keen to ensure that people are aware of the rules that apply to their use.
"We have issued guidance to all forces on how to respond to drone misuse by the public. Work is ongoing to better understand the threat posed by drones, and to develop an appropriate technical response.
"We are working with the Home Office on how drones might be used to enhance operational capability in law enforcement, including for support for emergency response or for public order events."
Sara Ogilvie, policy officer for Liberty, told The Independent: "As the use of drones by both individuals and the police continues to soar, the need for thorough public debate and robust regulation of this shadowy industry becomes all the more obvious and urgent. As these figures show, the public have serious concerns about drone use – but the safeguards are flimsy and obscure.
"Drones have the potential to serve as incredibly intrusive spying tools – and their capacity for violating people's privacy will only increase as the technology improves. Our authorities need to wake up fast to the stark implications for our privacy and safety."
The figures also reveal a large amount of investment in drones by some UK police forces as a new way of tackling crime and helping with other investigations.
Last year alone, Sussex and Surrey Police spent £413,000 in a joint initiative, training 38 officers to fly the remote controlled aerial cameras. They now have five drones – more than any other force in the country.
The drones are being used in missing person searches, forensic collision investigations and airport security, as well as patrol teams and neighbourhood response units.
Mr Barry, who is also assistant chief constable of Sussex Police, said in a statement: "Our drone operations will be overt, open and transparent, and we will use all outlets available to us to ensure the public are informed of our drone use."
Drone Photography Contest winners
Show all 9
Police forces in Devon, Cornwall and Dorset are also testing the use of drones for missing people searches and photographing of crime scenes.
In September, Nigel Wilson became the first person in England to be prosecuted by the CPS for illegally flying drones.
The 42-year-old from Bingham in Nottinghamshire admitted nine breaches of filming footage over football grounds and tourist attractions.
Amazon, the world's biggest online retailer, last month agreed a partnership with the Government to start using drones for deliveries by 2017.
Join our commenting forum
Join thought-provoking conversations, follow other Independent readers and see their replies