Government must 'accept responsibility' for record number of drug deaths as Tory policy fails, say experts
Campaigners condemn Government for ignoring advisory body's advice on how to protect vulnerable users
Lizzie Dearden
Home Affairs Correspondent
Wednesday 02 August 2017 14:27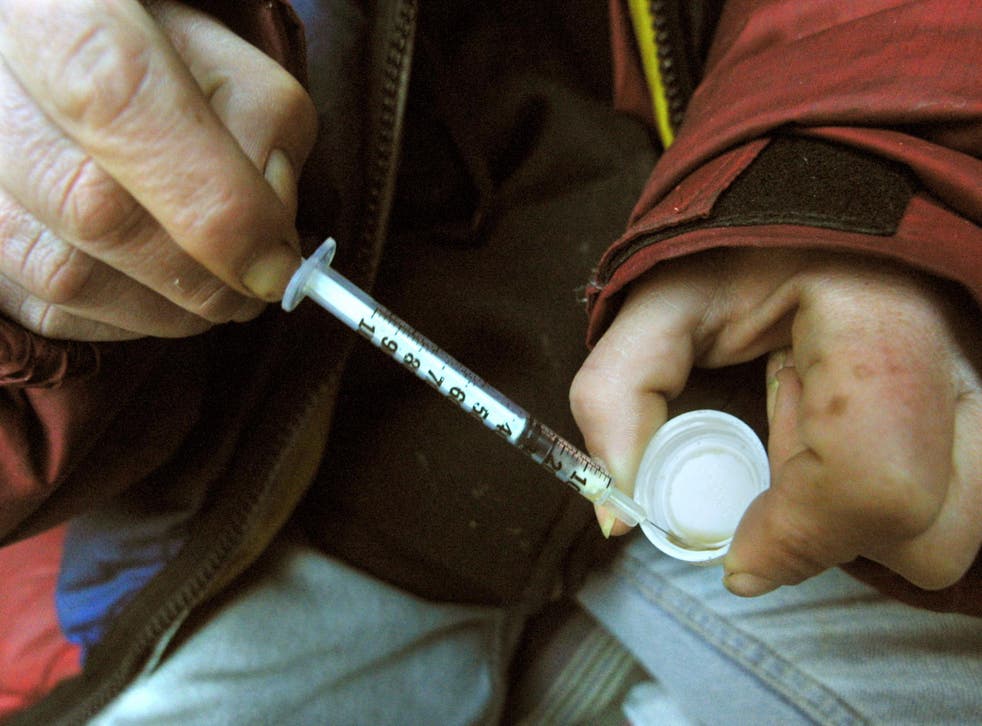 The Government must "accept responsibility" for rising drug deaths, campaigners have said, as it emerged more people are now being killed by both legal and illegal substances than ever before.
A total of 3,744 people died of drug overdoses in 2016, according to new figures released by the Office for National Statistics (ONS) that showed opiates, cocaine, amphetamines and substances formally known as "legal highs" were causing increasing numbers of deaths.
About 70 per cent of the deaths were a result of "drug misuse", with the highest rate coming in the 40 to 49 age category, and were predominantly accidental.
Experts accused the Government of ignoring its own advisers to continue to wage the "failed" war on drugs amid deepening deprivation in some of the UK's worst-affected areas.
The Royal Society for Public Health, which carried out extensive research into drug policy last year, said the national drug death rate is now almost three times higher than the European average.
"While the UK Government stubbornly refuses to make meaningful moves towards a more progressive, public health-based approach to drug policy, and while local authority treatment budgets continue to be cut, it should come as no surprise that drug deaths in England and Wales are continuing to rise," said Ed Morrow, the charity's drugs policy lead.
Global commission call for legalisation of drugs
He said the number of opiate users dying, making up 54 per cent of the total, could not solely be put down to an ageing group of increasingly vulnerable heroin users.
"Deaths related to other substances, such as cocaine, are continuing to rise," Mr Morrow added.
"This is a problem we will only ever be truly able to tackle within a decriminalised framework, and with an adequately funded drug treatment system."
A report published in December by the Government's own Advisory Council on the Misuse of Drugs (ACMD) found that "deepening of socio-economic deprivation since the financial crisis of 2008, changes to drug treatment and commissioning practices, and lack of access to mainstream mental and physical health services" was also driving deaths.
It said policy changes since the Coalition government came into power in 2010 had affected drug users, with the highest rate of deaths coming in areas of Britain that have also experienced the greatest reductions in funding for local authority services and benefits for working age adults.
Warning that treatment services were not providing the needed doses of opioid-substitution treatment, the ACMD recommended the provision of overdose antidote naloxone and medically supervised drug consumption clinics for heroin users if other schemes were ineffective.
Its report said injecting facilities abroad had reduced crime and saved more money than they cost, due to the reductions in deaths and HIV infections.
Martin Powell, head of campaigns at the Transform Drugs Policy Foundation, said the Government had "actively gone against" the advice despite warnings over rising deaths from street heroin being mixed with more potent synthetic opiates.
"The Government must accept responsibility for the record number of people dying from overdoses for four years in a row," he told The Independent.
"They're a direct result of the Home Office's policy on drugs."
Mr Powell also highlighted the increasing deaths linked to new psychoactive substances, which were known as "legal highs" until a blanket ban was imposed by the Government last May.
"All that's done is hand the market to criminals and what we're seeing is that use among prisoners and vulnerable people like the homeless has gone up," he added.
"Also they've got much stronger, the weaker variants are no longer on the market."
Mr Powell, whose organisation argues for the legalisation of drugs under strict regulation in accordance with medical advice, said the Liberal Democrats and Green Party currently had "by far the best policies on protecting vulnerable" drug users, while neither the Tories nor Labour have taken a progressive stance.
"How many more poor and vulnerable people need to die before both the Tories and Labour follow the evidence, and protect our communities by legally regulating drugs to steer people towards safer products, while fully funding drug services for all who need them?" he asked.
Jeff Smith, vice chair of the All-Party Parliamentary Group for Drug Law Reform said the statistics "paint a complex picture of the dangers of newer drugs such as fentanyl, paired with the stubborn rise of the misuse of established drugs".
"It's clear that drug use is becoming less safe as a result of both strong new drugs entering the market and the increased toxicity of established drugs," added the Labour MP for Manchester Withington.
"While these statistics will require in-depth analysis, I'm concerned that our drug policies clearly aren't working, and this Government's recent Drug Strategy doesn't have the long-term vision to halt this worrying rise."
Norman Lamb, the Liberal Democrats' Shadow Health Secretary, said the new statistics highlighted the "abject failure of the Government's drug strategy".
"Lives are being lost but the Conservatives seem wedded to this hard-line approach," he added.
"We have to accept the realities facing us and start taking action that works. Rather than locking up addicts we should be giving these individuals the help they need."
Over half of all deaths involved an opiate, mainly heroin or morphine, followed by antidepressants, benzodiazepine, cocaine, paracetamol and amphetamine, while 69 per cent of the cases involved illegal drugs.
The highest mortality rate was in the north east of England, where there were 77.4 drugs deaths per 1 million people – an increase of 13 per cent from 2015.
In a joint article for The Independent, health professors Ian Hamilton and Harry Sumnall questioned whether the rise in drugs death since a Government policy change to focus on abstinence in 2010 could be considered a coincidence.
World's 10 deadliest street drugs

Show all 10
"Whilst it has stated that it is up to local areas to determine how to respond to drug user's needs, the reality is that without central Government support and funding, local authorities are unlikely to introduce potentially life-saving measures on their own," they said.
"So with less people using drugs but more people dying than ever, there is an urgent need for action.
"The Government must act quickly – drug consumption rooms will save lives and that would be the right thing to do, even if it won't win votes."
Figures provided by Public Health England to helpline Addiction Helper show that the number of drug and alcohol addicts going into major full-time rehab has fallen by a quarter in the last five years.
Daniel Gerrard, the founder of Addiction Helper, said the figures showed the impact of "the Government's poor decision to remove the protected drug and alcohol treatment budget back in 2012" and putting the burden on stretched councils.
The Local Government Association stressed that nine in 10 councils now provide take-home naloxone to heroin users and their families to tackle overdoses but said about 100,000 drug users were not seeking help.
Izzi Seccombe, chairman of the LGA's community wellbeing board, claimed the "biggest challenger" was ageing addicts prone to an accumulation of chronic physical and mental health conditions that make them more susceptible to fatal overdose.
"Councils are committed to ensuring drug users get the right support and treatment, and spend more on drug and alcohol treatment than in any other area of public health," she added.
"This year alone, local authorities are budgeting to spend more than £700m on tackling substance misuse."
A Government spokesperson said: "Any death related to misuse of drugs is a tragedy.
"While drug misuse is lower than ten years ago, we are absolutely committed to reducing it and the harm it causes.
"That's why last month the Government released a comprehensive new drugs strategy, setting out a balanced approach which brings together police, health, community and global partners to tackle the illicit drug trade, protect the most vulnerable and help those with drug dependency to recover and turn their lives around."
Register for free to continue reading
Registration is a free and easy way to support our truly independent journalism
By registering, you will also enjoy limited access to Premium articles, exclusive newsletters, commenting, and virtual events with our leading journalists
Already have an account? sign in