Dutch-style bike lanes set for roll-out in Bristol - Britain's cycling capital
A network of segregated cycle lanes will be created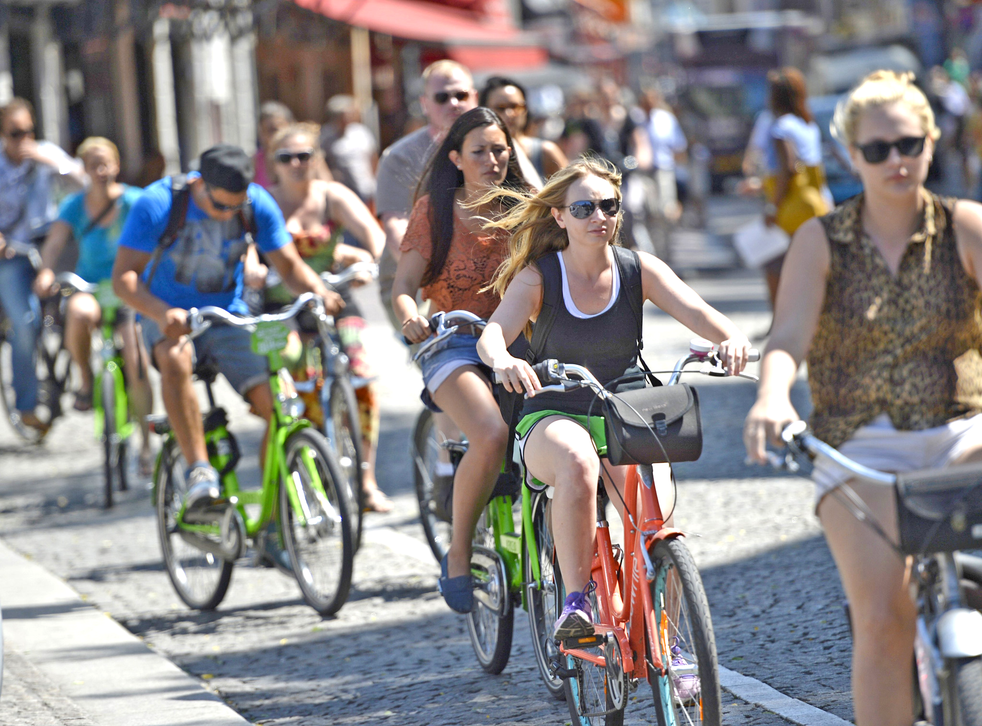 In a bid to save lives and reduce the fear factor preventing people from taking to two wheels, Bristol is to announce radical new proposals which will make it Britain's first city to adopt Dutch-style cycle lanes.
The plans, being announced later this year, will see a network of segregated cycle lanes created. Around 100 miles of cycle ways will be set aside for a "primary network" of major cycling routes, according to Martin McDonnell, secretary of the Bristol Cycling Campaign.
Attention will then turn to "secondary networks and then local networks" he added. "We want to bring cycling down to the level where everybody can cycle from their front door to wherever they want to get to."
The group has worked with councillors to come up with the plan. In a statement, a spokesperson for Bristol City Council said: "We are producing a new cycling strategy with plans for a Strategic Cycle Network for the city, some of which would include segregated cycling routes. We are aiming to consult on proposals later this year for a launch in Spring 2014. There are currently more than £10m of new cycling measures in the Council's cycling programme, including the new cycling ambition fund to improve cross city and river links."
Bristol already has the highest number of cyclists of any city in the UK at an estimated 16,000. Mayor George Ferguson aims to double that figure by 2020. But whether in Bristol or elsewhere, making roads safer for cyclists is vital if numbers are to increase. The national picture is bleak, with the number of cyclists killed or injured on Britain's roads at its highest in at least three years, with 118 deaths and 3,222 injuries recorded in 2012. The vast majority of victims were adults. Bristol's new network will "encourage more people to cycle in a safe environment, with freedom from fear of motor traffic," said Jon Usher, area manager for Sustrans.
And Martin Key, campaigns manager, British Cycling, commented: "It is great to see ambitious decisions being made on transforming the city into a Dutch-style cycling haven." He added: "Cities such as New York and Seville have shown that building a network of segregated lanes leads to massive increases in cycling while also cutting congestion and collisions – now is the time for us to do the same."
Cyclists are increasingly frustrated at sharing busy roads, and thousands staged a protest in London in September, demanding more road space. While Bristol is at the forefront in making more room for cyclists, similar moves are being looked at in London, Manchester, Birmingham, Cambridge, Leeds and Newcastle. And Dr Julian Huppert MP, chair of the All Party Parliamentary Cycling Group, said: "Cambridge, like Bristol, has also decided to follow the Dutch model and build segregated cycle lanes. The Dutch have an enviable record of cycling and if we are to increase the take-up of cycling in this country we need to follow their example to make it safer by giving cyclists greater protection from motor vehicles and particularly HGVs." Other places need to "follow Bristol's lead" in putting "badly needed" infrastructure in place, supported by government funding, he added.
Transport Minister Robert Goodwill said: "Bristol has a good track record of delivering infrastructure for cyclists – indeed, the strong case it made to the Department led to it receiving a share of the £77m announced to boost cycling in eight English cities announced by the Prime Minister in the summer."
Register for free to continue reading
Registration is a free and easy way to support our truly independent journalism
By registering, you will also enjoy limited access to Premium articles, exclusive newsletters, commenting, and virtual events with our leading journalists
Already have an account? sign in
Register for free to continue reading
Registration is a free and easy way to support our truly independent journalism
By registering, you will also enjoy limited access to Premium articles, exclusive newsletters, commenting, and virtual events with our leading journalists
Already have an account? sign in
Join our new commenting forum
Join thought-provoking conversations, follow other Independent readers and see their replies