Earls Court crowd bowled over by mesmeric healer-preacher
Morris Cerullo's 'Mission to London' may be controversial, but there's no doubt that money is flooding into the US  televangelist's organisation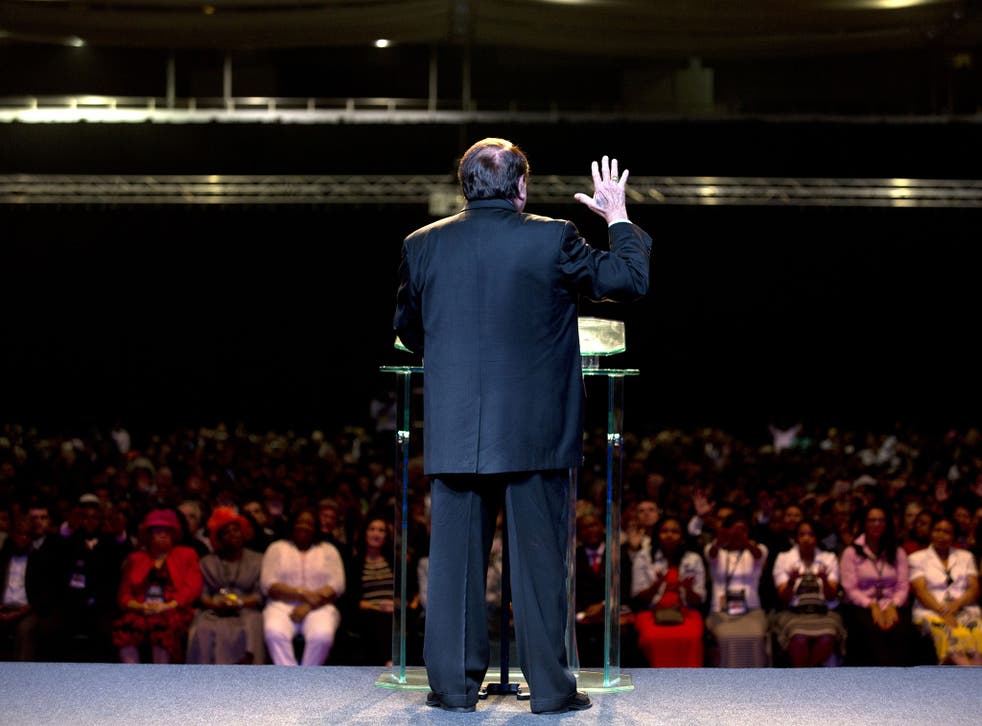 "I see every healing," says Morris Cerullo, the 82-year-old American televangelist raising his voice as he looks down from the stage on the few-thousand-strong crowd.
They raise their arms. "I see every deliverance from habitssss. I see the victory of what Christ died on the cross for, was buried in the grave for, rooooose from the dead for. I see it manifested in your life! Oooooo my God…"
Tonight is the final time Cerullo will deliver his "healing ministry" on these shores and called the 2014 "Mission to London" his last "crusade" to England. He undoubtedly has his followers, but also many critics. Cerullo's claims that he is an "apostle and prophet of God" with a hotline to the Almighty enabling him to act as a conduit for healing the sick is what infuriates critics.
Last weekend I spoke to Belzie Reynolds, whose 25-year-old epileptic daughter Audrey reduced her daily medication after appearing on stage with Cerullo during his 1992 visit to London and died in the bath six days later having suffered a seizure. She was outraged Cerullo had returned and demanded to know why her daughter had died after attending his healing ministry.
During an interview with a Christian network in April, Cerullo again spoke of witnessing miracles. He said he had seen "mothers taking crippled children being put on the ground and saying, 'Walk in Jesus', the child fell down, they'd do it again, they'd fall down … until the child could run and run off the platform."
The interview cut to a still of Cerullo holding a child's hand on stage and walking together with some crutches in the background. He was unavailable for interview in time for this article so instead I joined the crowd on Wednesday night to experience a Morris Cerullo "crusade" for myself.
The sick were once again placed at the centre of his 75-minute sermon. "People who are sick, people with arthritis," he shouted. "Through his strength you will be healed. Put both hands up, close your eyes…. con-fess it. Jesus did it, he did it… it's gone!"
Cue music. Looking around, a few people near me were shaking. A woman sobbed. Another, clinging on to the hand of a reverend, fell to the ground. A young man to my right was texting.
Cerullo invited people forward. "If you need healing for your physical body, come. If you need God to do something specific for you, come." Hundreds took up the invitation, but unlike in 1992 when Audrey Reynolds appeared on stage with Cerullo, no one joined the preacher this time to be "anointed". The preacher mopped his brow under the bright lights and closed his eyes. "I'm the Lord your healer," he said, keeping his eyes closed and mumbling for 10 minutes as music played.
With an estimated wealth of £30m, the messianic role Cerullo has carved out for himself has proved lucrative, but "this is not about money", Julian Richards, Morris Cerullo World Evangelism's European director, repeatedly told me.
He had joined me at the back of the hall within 15 minutes of my arrival. Looking up towards me, he strode over with an extended hand. I was slightly startled. "Hi, Paul? Julian. Nice to meet you. Welcome. We have pictures of you which we circulated to all staff in case you arrived."
Julian stayed with me for a quarter of an hour. "No one is asking for money, it's free admission," he said. "I know how much Morris has paid to host this." Numbered buckets were placed at the end of every single row with flyers in them but no collections went round. Meanwhile, a crescendo was building as Cerullo spoke about "the supernatural".
"The media doesn't understand. You need to feel a supernatural experience so you can understand the God you serve is a soooper-natural God…Oooooo my God…"
The lights dimmed at this point, a few people looked up. Two Earls Court staff remained in the centre controlling the lighting. The media came under fire repeatedly during the evening yet this criticism would have had more weight had Cerullo, face beaming on the two big screens behind him, not moments later waved at a camera and said: "Hello, God Channel! There's one million people watching us here tonight."
His son David gets paid more than $2.5m (£1.5m) a year as chief executive of the Inspirations Network, the Cerullos' "non-profit Christian broadcaster".
There seemed ample evidence at the Mission to London that money remains vital to the cause. After walking through the main doors I was confronted with stalls from various Evangelical organisations selling books, CDs, DVDs, keyrings and other items. Cerullo's products were on the central stall. A woman held a copy of the Mission to London souvenir DVD box set. "How much is this?" she asked. "That's £95 – less than half price. It's usually £200."
The woman kissed her teeth and put down the box set.
The New Anointing, Super Abundance and The Miracle Book were a few of the 80 books Cerullo has written that adorned the table. You could even buy a "limited edition" paper bag with a picture of Cerullo and his wife "Mama" Theresa with "God's heartbeat – Souls! Souls! Souls!" on it.
If there is a Holy Grail in Cerullo's world then it was being presented at the adjoining booth: the Morris Cerullo International Centre Legacy Village in San Diego, complete with five-star restaurant, therapeutic jacuzzi, health spa and flower-filled prayer gardens. MCWE's planned giving director Bill Packard was describing the deal: timeshares in one or two-bedroom executive studios, or the spacious 2,400 sq ft penthouse overlooking the entire village could be yours if you ring now and place a $1,000 deposit. Building is due to commence this year and Cerullo says people can live there "until Jesus comes". The plans look very similar to the $150m 93-acre religious campus David Cerullo opened in 2008, describing it "like a small Universal Studios".
How can their organisation afford all this? Their most recent accounts show annual revenues of $94m, of which almost $40m came from donations. It spent $91m on "expenses". The TV network has a budget of around $100m and raises much of its money from donations, apparently still with the message that God will bring financial favour to those who donate.
I did meet one person on the stalls who really should be called extraordinary. Nick Ashton was just 23 when he founded the independent, non-religious charity Malawi Eye Surgery Fund four years ago. It has carried out 1,500 operations to date, restoring sight to people who have been blind for decades.
While acknowledging that 80 per cent of the Fund's donations come from church groups, he said: "I have never witnessed someone being healed from this kind of serious medical condition from anything other than surgery."
Back on stage Cerullo brings his sermon to a close and walks off stage, replaced by his right-hand man Greg Mauro.
"There's a miracle in this building for someone tonight", Mauro says. "Aaaah feel it. God bless those people streaming towards the door. Heaven is your home. Take the word home with you … and don't forget to visit the CD and DVD table on your way home."
Join our new commenting forum
Join thought-provoking conversations, follow other Independent readers and see their replies