Ebola in the UK: Woman diagnosed with the virus in Glasgow Gartnavel Hospital
The female nurse worked at a Save the Children facility in Sierra Leone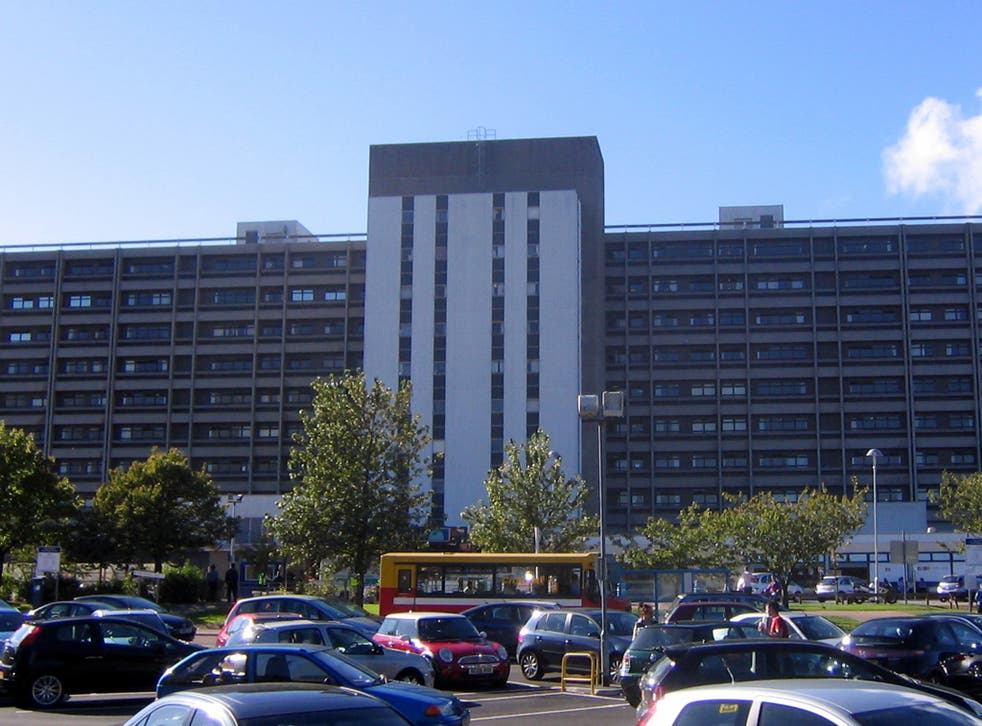 The first case of Ebola to be diagnosed on British soil has been announced tonight, after a health worker in Glasgow was confirmed to have contracted the virus.
The female patient is an NHS nurse who had just returned from Sierra Leone after a spell treating the victims of the potentially fatal disease.
She is currently being treated at the specialist Brownlee Unit for Infectious Diseases at Glasgow's Gartnavel Hospital, and is said to be in a stable condition.
A spokeswoman for Save the Children confirmed to The Independent that the female patient is an NHS nurse who worked at its Ebola hospital in Kerry Town, near the capital Freetown. She added that the charity believes the patient flew to Sierra Leone on 23 November.
In pictures: Ebola virus

Show all 62
The woman had returned to Scotland on Sunday night via Casablanca and Heathrow, arriving into Glasgow Airport on a British Airways flight. She was screened both in Sierra Leone and Heathrow, but at that stage was not displaying any symptoms.
The woman sought medical help hours after her return to Britain when she began to feel ill early on Monday morning, and was placed into isolation at 7:50am.
In line with UK and Scottish protocol for patients diagnosed with the virus, she will be transferred to the high level isolation unit in the Royal Free hospital, London, as soon as possible, the Scottish Government said in a statement.
After chairing a meeting of the Whitehall Cobra contingencies committee in London, Health Secretary Jeremy Hunt said there would be a review of the "procedures and protocols" adopted by NHS workers and other government staff working in Sierra Leone.
"We are reviewing our procedures and protocols for the other NHS workers who are working in Sierra Leone alongside colleagues from the Department for International Development and the Foreign Office," he said.
"They are doing a very, very brave job, under very challenging circumstances. We want to make absolutely sure that we are doing everything we can to keep them safe."
Passengers on the two flights the woman was on were now being contacted as a "precautionary measure" although the risks of them contracting the disease were "very low", said Mr Hunt.
She is believed to have been in contact with only one other person after arriving in Glasgow, as well as hospital staff.
Anyone deemed to be at risk will be contacted and closely monitored the Scottish Government added, but stressed: "the risk to others is considered extremely low" as the aid worker was diagnosed in the very early stages of the virus.
However, a telephone helpline has been set up for anyone who was on the Heathrow to Glasgow flight last night. Those concerned can phone: 08000 858531.
A British Airways spokesman said the firm is working closely with health authorities in England and Scotland, and will offer assistance if it is required.
"The safety and security of our customers and crew is always our top priority and the risk to people on board that individual flight is extremely low," he added.
In response to the diagnosis, First Minister Nicola Sturgeon has chaired a meeting of the Scottish Government Resilience Committee (SGoRR) to ensure all necessary steps are being taken, and has also spoken to Prime Minister David Cameron.
Ms Sturgeon said: "Our first thoughts at this time must be with the patient diagnosed with Ebola and their friends and family. I wish them a speedy recovery.
She added that Scotland has been preparing for the eventuality that the disease could reach its shores "from the beginning of the outbreak in West Africa."
"I am confident that we are well prepared," she said. "We have the robust procedures in place to identify cases rapidly. Our health service also has the expertise and facilities to ensure that confirmed Ebola cases such as this are contained and isolated effectively minimising any potential spread of the disease."
A Downing Street spokesman said that the UK Government stood ready to assist "in any way possible".
Chief medical officer Professor Dame Sally Davies stressed that UK hospitals have a proven track record of dealing with imported infectious diseases.
"It is important to be reassured that although a case has been identified, the overall risk to the public continues to be low," she said.
She added: "Our thoughts are with this individual who, along with other NHS and public health colleagues, are doing a fantastic job saving lives."
The Kerry Town facility where the nurse worked opened on 5 November, and includes an 80-bed treatment centre managed by Save the Children and a 12 bed centre staffed by British Army medics specifically for health care workers and international staff responding to the Ebola crisis.
Michael von Bertele, Save the Children Humanitarian Director, said: "Our thoughts are with the individual, their family and colleagues at this difficult time. We wish them a speedy recovery.
"Save the Children is working closely with the UK Government, Scottish Government and Public Health England to look into the circumstances surrounding the case."
The only other British person to be diagnosed with the often deadly virus was nurse William Pooley, 29, who contracted Ebola earlier this year while also volunteering in Sierra Leone and was flown back to Britain in tight isolation.
He has since returned to the West African nation to continue his work, and appeared as Channel 4's Alternative Christmas Message speaker to urge the British public to join the fight against the disease.
Having recovered from the disease, he is thought to have developed some immunity to the virus. He said he was going back because there was a "real emergency" in the country and he was delighted to be back on the front line.
More than 1,000 British health service staff have volunteered to tackle the Ebola crisis in Sierra Leone with the first group of doctors and nurses flying out last month. They are supporting military personnel who have built clinics to treat disease victims.
Since an Ebola outbreak began in December 2013 in the West African country of Guinea, there have been a total of 19,500 cases in eight countries, mainly Guinea, Liberia and Sierra Leone – and 7,600 reported deaths, according to the World Health Organisation.
The latest reports indicate that the spread of the disease is fluctuating in Guinea, declining in Liberia and plateauing in Sierra Leone. In those three countries, the death rate is 70 per cent.
The symptoms of the deadly virus include a fever, headaches, joint and muscle pain, a sore throat and intense muscle weakness, according to the NHS. Patients typically develop these symptoms after five to seven days, but can appear between two and 21 days of a person becoming infected.
After these symptoms develop people experience diarrhoea, vomiting, a rash, and stomach pain before liver and kidney functions deteriorate.
If untreated, Ebola then causes internal bleeding and patients can bleed from their ears, eyes, nose or mouth.
However, while Ebola is contagious, it is only spread through contact with the blood and body fluids of an infected person, such as urine, vomit, diarrhoea and faeces, and saliva.
The World Health Organisation makes it clear that patients do not become contagious until they are displaying symptoms of Ebola, and they are not contagious during the incubation period.
The infection can be transmitted when these infected fluids come into direct contact with another person's broken skin, or with mucus membranes, which are found in the lining of the nose and mouth.
Join our new commenting forum
Join thought-provoking conversations, follow other Independent readers and see their replies