Edinburgh Zoo panda Tian Tian 'pregnant' (but it's not black and white)
If she is expecting, her cub will be the first giant panda to be born in the UK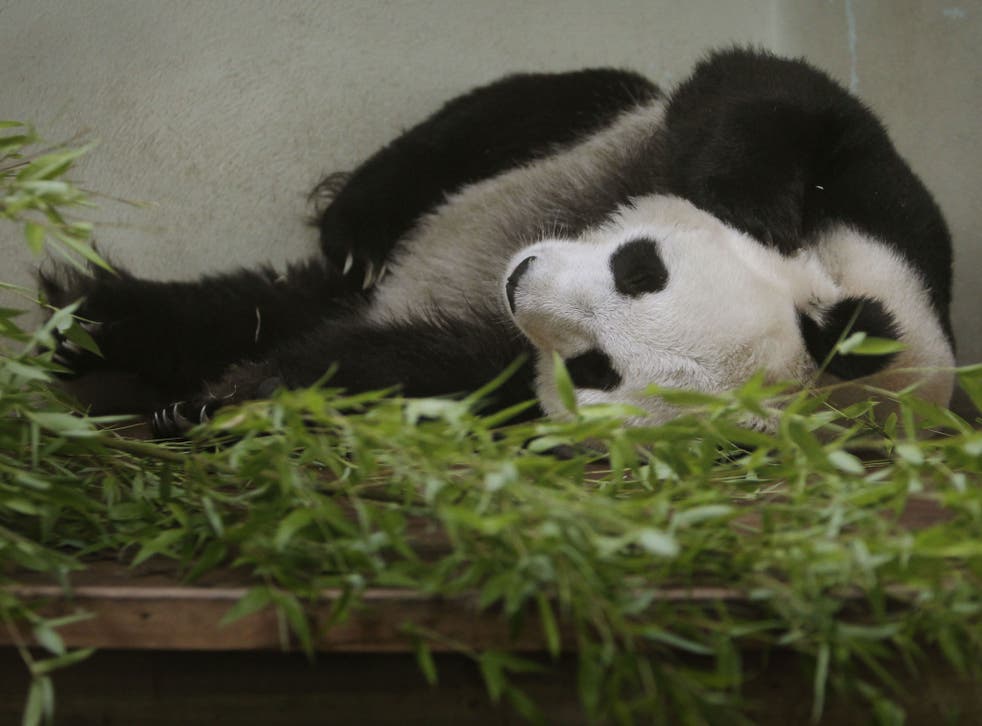 In the world of the panda bear, nothing is black and white. Amid media interest almost equal to that accorded to the royal baby, Edinburgh Zoo revealed its foremost couple could be expecting a cub – but also warned of the potential for another disappointing chapter in the tale of Tian Tian and Yang Guang.
Brought together after negotiations between the Chinese and British governments, then expected to mate as the world watched, the relationship between the UK's only two resident giant pandas is one of false starts and failed romance.
While the female, Tian Tian, has two children from previous partners, her prospective mate Yang Guang was untested in the reproductive field when they were paired together earlier this year. After failed mating attempts when Tian Tian spurned Yang Guang, keepers at the zoo decided artificially to inseminate Tian Tian. In a blow to Yang Guang's pride, they also used semen from a German interloper, Bao Bao from Berlin Zoo.
Tian Tian was also said to have been inseminated with Yang Guang's semen, but the male bear will not be confirmed as the father of any cub until conservation geneticists test blood samples from a newborn to establish who its paternity.
In a further complication, if Tian Tian has twins, they could be brothers with different fathers.
In late June, eight weeks after she was artificially inseminated – shortly after the visit of Scotland's First Minister Alex Salmond, coincidentally – the zoo revealed Tian Tian had displayed the first sign of pregnancy – her urine showed a first increase in progesterone.
Yesterday, it confirmed it had seen a second rise in progesterone on 15 July which indicated a "pseudo or real pregnancy".
Iain Valentine, director of the zoo's panda project, said the signs were "quite promising".
"Now we have taken another step in that the progesterone levels have now increased, which means that we are into the last 40 to 55 days of either pregnancy or pseudo-pregnancy," he said. "On top of all that, all of her behaviours are now shifting as well, so the picture is looking quite good."
The Royal Zoological Society of Scotland (RZSS) has been using new protein analysis techniques developed by the Memphis Zoo in Tennessee to establish if Tian Tian is expecting.
Her urine samples are flown for weekly testing by Dr Martin Dehnhard of the Leibniz Institute for Zoo and Wildlife Research in Berlin. "The hormone concentrations we measured in the urine sample increased," said Dr Dehnhard. "That tells me she is pregnant or pseudo-pregnant."
A definitive indication of Tian Tian's pregnancy could be provided by an ultrasound scan. But Tian Tian is said to be unenthusiastic about the idea. "We're not going to risk the hand of our vet," said Mr Valentine. "Confirming a female panda's pregnancy is never straightforward and we would encourage people to try not to get too excited just yet," warned Mr Valentine. Further hormone results will be available roughly by mid-August."
But any cub, or cubs, born to Tian Tian would not be British. According to the agreement thrashed out between the two governments in 2011, they would officially be the property of China and an expert from the country would be present before, during and after the birth.
Her offspring would be named 100 days after the birth, in keeping with Chinese tradition.
Tian Tian and Yang Guang are rented from the Chinese government for a period of 10 years at an annual cost of around £600,000. Visitor numbers at the zoo are said to have doubled since their arrival.
Panda pregnancy: The indications
Protein Researchers have developed a test for an acute phase protein which increases in expecting pandas. The urinary protein, called ceruloplasmin, is thought to increase when a fertilised egg causes an inflammation reaction in the uterus, which triggers the protein's appearance in urine.
Hormones The hormone progesterone initially increases once the animal breeds. Then a second rise occurs around the time that the embryo is implanted in the wall of the uterus. Tian Tian's progesterone levels showed a sharp rise on 15 July, which was confirmed this week.
Nesting They will increasingly want to build nests. Experts warn these indicators can also be unreliable because female giant pandas can display these signs when not pregnant. Tian Tian, for example, has gathered straw together into a bed under her sleeping platform. In the wild, pandas would use wood chips, saplings, branches and bamboo.
Psychology Moodiness is said to be a symptom of pregnancy in giant pandas. Just as Tian Tian was "off her food" when she was ready to mate, the amiable bear, who enjoys playing football, has been observed by keepers to be unusually irritable.
Register for free to continue reading
Registration is a free and easy way to support our truly independent journalism
By registering, you will also enjoy limited access to Premium articles, exclusive newsletters, commenting, and virtual events with our leading journalists
Already have an account? sign in
Register for free to continue reading
Registration is a free and easy way to support our truly independent journalism
By registering, you will also enjoy limited access to Premium articles, exclusive newsletters, commenting, and virtual events with our leading journalists
Already have an account? sign in
Join our new commenting forum
Join thought-provoking conversations, follow other Independent readers and see their replies