English Defence League march called off after just six people turn up
Handful of supporters abandon protest after just half an hour in Chelmsford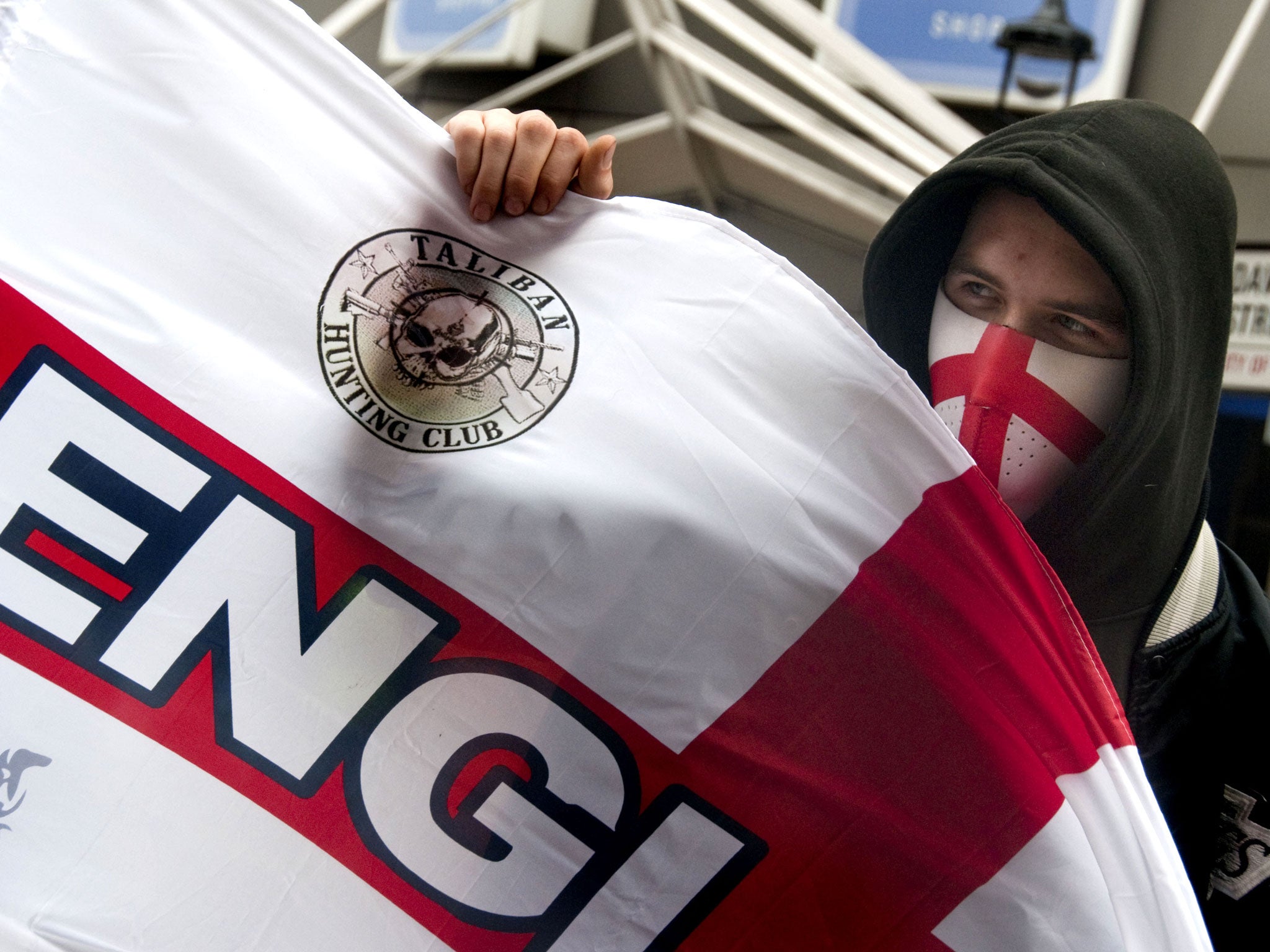 A march by the far-right English Defence League (EDL) in Essex has been abandoned after only a handful of supporters turned up.
The protest had been due to start at 1pm but was over less than half an hour later after a solitary stand run by a handful EDL members was packed up.
They were vastly outnumbered by counter-demonstrators in Chelmsford, who estimated the number of far-right protesters at between two and six.
One man volunteering as a steward was seen unfurling a large St George's flag emblazoned with the phrase "RIP Lee Rigby", referring to the soldier murdered by two Islamist terrorists in Woolwich in 2013.
The flag also included the EDL's slogan and the phrase: "Not racist, not violent, no longer silent."
The group's Essex division claimed it called the protest to highlight issues including grooming gangs, female genital mutilation and terror arrests.
A Facebook event for the march had listed 17 people as going and 43 "interested" but they failed to materialise.
Far-right groups hold protest only to find themselves outnumbered 10-1 by anti-fascist demonstrators
Paul, an activist from Stand Up To Racism, said the group was a "hated minority" that would not be tolerated in the city.
"Only two to four of them turned up," he told The Independent. "They scuttled of home, they wouldn't march because they were vastly outnumbered by the opposition.
"People from Chelmsford will not tolerate fascists in their midst trying to divide our communities.
"Our grandfathers and grandmothers fought against fascism and we won't allow it to happen again."
Unite Against Fascism described the event as a "washout", putting the number of EDL protesters at six.
A heavy police presence had been deployed to prevent disorder but officers stationed around central Chelmsford and on standby in riot vans were not needed.
Meanwhile, counter-protesters demonstrated peacefully carrying "refugees welcome" signs.
One anti-EDL demonstration was called "Chelmsford Throws Out Fascism" by organisers.
"Chelmsford and Essex's response to their fascist, white supremacist ideology will always be to throw it in the bin," they said.
Supporters joined with another counter-demonstration organised by United Against Fascism, which called the EDL "pathetic".
The group is frequently outnumbered by opponents at its marches, including some that saw clashes break out in London and Birmingham in June.
Earlier that month, a small group of EDL supporters had to be confined to a side street by police in Liverpool.
Far-right groups have come under increased scrutiny in the UK amid a spike in tensions over grooming gangs, Brexit and terror attacks carried out by both Isis-linked extremists and a suspected far-right fanatic in Finsbury Park.
National Action, a neo-Nazi group, became the first far-right group to be banned as a terrorist organisation by the Government in December after being linked to the murder of Labour MP Jo Cox.
Two British soldiers are among the alleged members currently awaiting trial for terror offences.
Leaders of another ultranationalist group, Britain First, have been charged with causing religiously aggravated harassment during a rape trial.
Reports of hate crime have risen dramatically in the past 18 months, as the number of suspected far-right radicals flagged to an anti-terror programme has soared.
Just under a third of all people being monitored under the Channel programme in 2016/17– part of the Prevent terror prevention scheme – believe in extreme right-wing ideologies and are vulnerable to radicalisation, according to Home Office figures.
Join our commenting forum
Join thought-provoking conversations, follow other Independent readers and see their replies