Expert dismisses claims WWII pigeon code has been cracked
Historical advisor to Bletchley Park says Canadian historian's solution is 'just silly'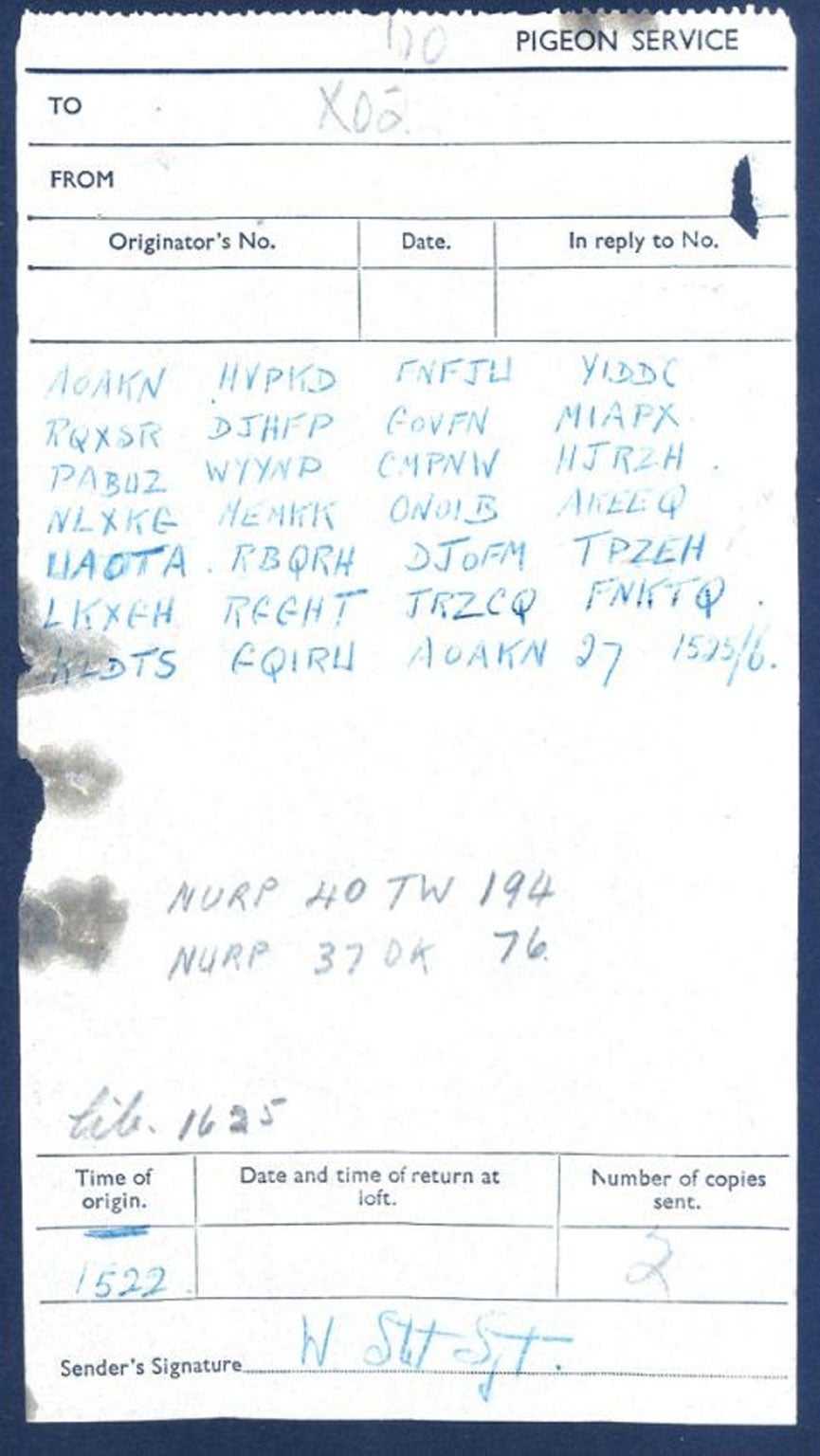 When a retired Canadian historian solved a mystery World War II cipher found strapped to the leg of a dead carrier pigeon he ruffled a few feathers at GCHQ who said the code was impossible to crack.
Today a historian and code expert debunked Gord Young's solution as "just silly".
Mr Young won global headlines two weeks ago when he argued that the cipher was based on a World War 1 code, and that he worked it out in minutes by referring to his great uncle's Royal Flying Corp [92 Sqd-Canadian] aerial observers' book.
GCHQ had previously said the 27 five letter blocks were impossible to decipher.
But Michael Smith an historical advisor to Bletchley Park, the Buckinghamshire home where the German Enigma code was cracked during World War II, said the solution was "nonsense".
The mystery began in November when David Martin, 74, found the remains of a World War II carrier pigeon while renovating his chimney in Bletchingley, Surrey, with the message attached to its leg.
GCHQ said the code as impossible to crack without the relevant code books and threw open the challenge to the public.
They have since received hundreds of attempts, none of which they say are credible.
But Mr Young, from Peterborough, in Ontario, Canada, won global headlines with his proposed solution earlier this month, saying it took him just 17 minutes to work out.
"Folks are trying to overthink the matter," he said at the time. "It's not complex."
"They were saying it's indecipherable, and that's nonsense. I'm not saying what I've got is totally accurate either, but I'm at least trying to show that it can be cracked. Somebody somewhere has got a World War II codebook like I've got a World War I codebook."
Yesterday, however, Mr Smith poured cold water on the suggested solution.
"The idea that a World War One code would have been used during the second world war is just silly, frankly," the author of The Secrets of Station X, about Bletchley Park, told the Today Programme.
"It wouldn't have been used because it would have been well known to the Germans and insecure."
"Mr Young has essentially taken the string of 27 five letter groups and decided on the basis of this World War 1 code that individual letters stand for something. So for example, HVP is 'have Panzers'.
"This is nonsense and it just isn't the case that this message has been decoded."
He later told The Independent that he had spoken to GCHQ and they believed the code was made using a "one-time pad" by a special operations unit.
"It's impossible to crack because the letters are purely random," he said. "What we do know is that the code was carried by two pigeons, one registered in 1937 and one in 1940. The code was sent between 1940 and 1945. It was probably sent from behind enemy lines by a special operations unit such as the SAS or SBS. They would have used a pad that encrypts purely randomly and is then destroyed."
GCHQ maintains that the cipher is impossible to crack. In a statement on its website it says: "Hundreds of proposed solutions have been carefully examined by the expert cryptanalysts at GCHQ. So far none have proved credible."
"Without access to the original code books or any context around the message, it will be impossible to decode. Any proposed solutions without such material, be impossible to prove correct."
Join our commenting forum
Join thought-provoking conversations, follow other Independent readers and see their replies