Face of Ukip poster is Irish migrant actor
The poster appeal features Dave O'Rourke from Dublin as a "British worker"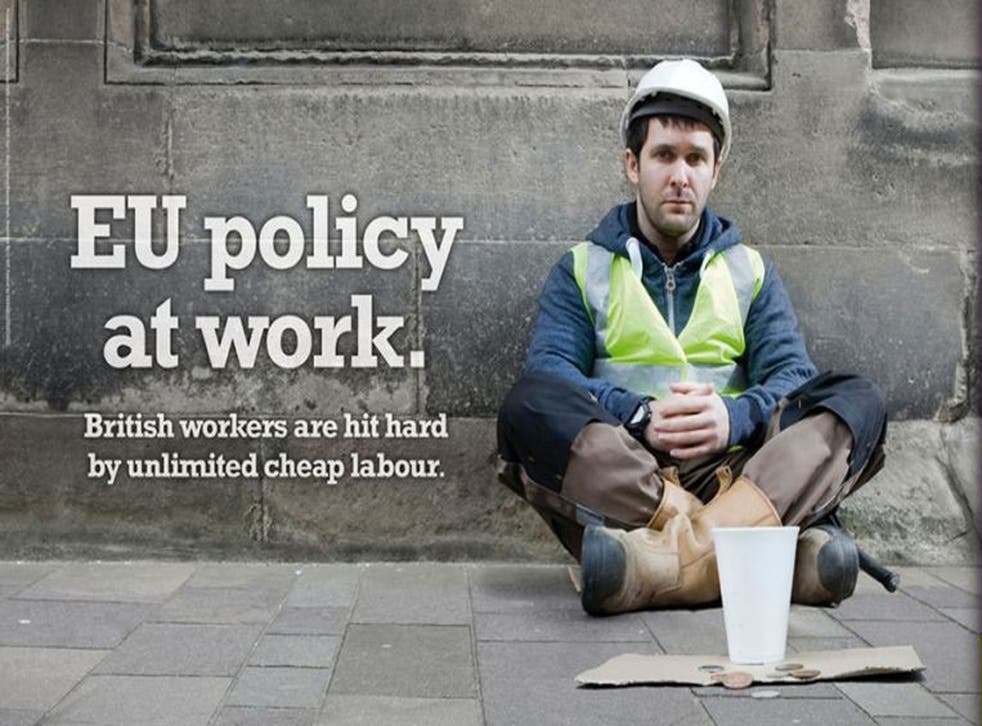 A "British builder" portrayed in a Ukip poster accusing EU workers of taking UK jobs is actually an Irish actor who migrated to this country, it emerged on Friday.
In the latest embarrassment to Nigel Farage's chaotic European and local election campaign the man – pictured begging on the street – was named as Dave O'Rourke from Dublin.
The gaffe emerged just hours after the party suspended a real builder who appeared in an election broadcast video wearing a hard hat for a series of tweets which condemned Islam as "evil "and branded the Prophet Mohammed a paedophile.
Ukip also had to defend its European manifesto after it featured a woman called Lizzy Vaid pledging to vote for the party — without mentioning she is an assistant to Mr Farage and Ukip's events manager.
Ukip at the weekend announced details of a £1.5 million poster campaign to be rolled out across the country. One shows a "builder" with the headline "EU Policy At Work", followed by the caption: "British workers are hit hard by unlimited cheap labour."
Asked about the man's identity, a Ukip spokesman said he believed it was an actor called Dave O'Rourke, originally from Dublin but resident in Britain for at least 10 years.
Conservative MP Bob Neill said it was a case of Ukip trying to con voters.
"Here is another example of Ukip being cynical and not being straight with the British voters," he said.
But the Ukip spokesman called the Tories "wilful idiots" and pointed out that when William Hague led the party, actors were used in a poster on the number of nurses and teachers in Britain. "This is utterly standard practice in political advertising," he added.
Ukip member Andre Lampitt, who starred in Wednesday's election broadcast, was suspended from the party after "repellent" posts were found on his Twitter account last night.
In the broadcast, Zimbabwe-born Mr Lampitt, who runs a decorating business in Morden, posed in a builder's hard-hat to complain "lads from eastern Europe" were undercutting him.
But in tweets unearthed afterwards, he claimed Ed Miliband was "not British", condemned Islam as "evil", and on Africans, said: "Let them kill themselves off." Today his family said he was dealing with "personal issues". A family member said: "He is actually a very nice person but is very angry at the moment." Mr Lampitt did not respond to requests for a comment.
Today Mr Farage said he was "sorry" Ukip's vetting procedures had not discovered Mr Lampitt's previous comments, and an internal investigation had been launched. He called the tweets "repellent" and agreed they were "probably" racist.
Register for free to continue reading
Registration is a free and easy way to support our truly independent journalism
By registering, you will also enjoy limited access to Premium articles, exclusive newsletters, commenting, and virtual events with our leading journalists
Already have an account? sign in
Register for free to continue reading
Registration is a free and easy way to support our truly independent journalism
By registering, you will also enjoy limited access to Premium articles, exclusive newsletters, commenting, and virtual events with our leading journalists
Already have an account? sign in
Join our new commenting forum
Join thought-provoking conversations, follow other Independent readers and see their replies