How crowdfunding helps far-right extremism spread round the world
Analysis: New report highlights 'overlooked' role of funding in spreading extremism
Lizzie Dearden
Security Correspondent Comments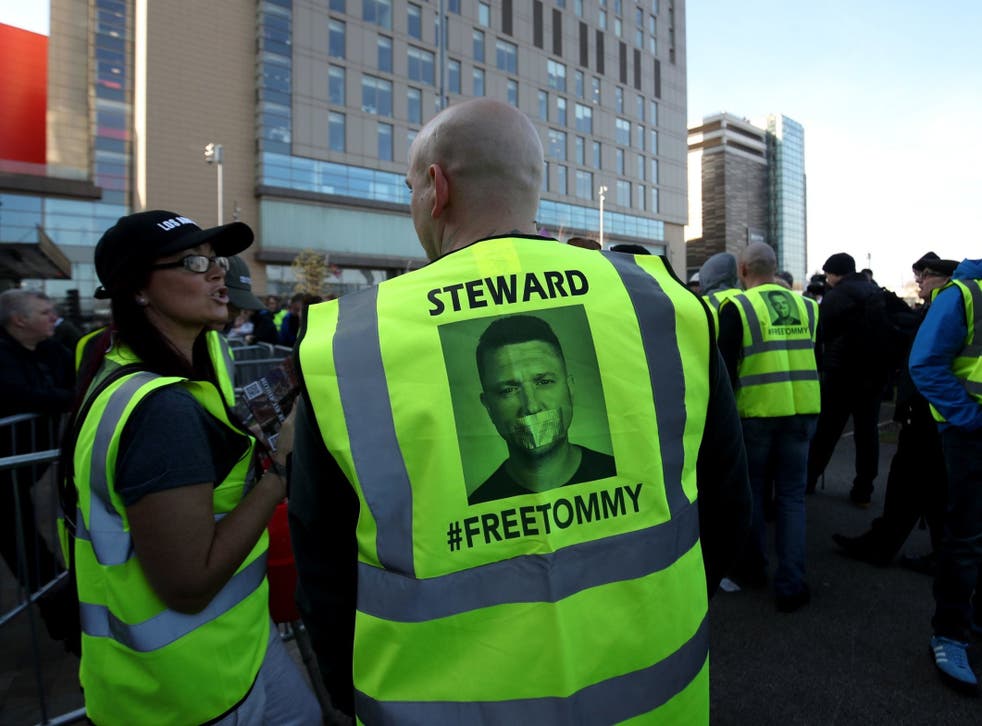 The increase in the far-right terror threat facing the UK and other western nations has been attributed to factors including migration, polarisation, economics and social media.
But one of the most vital drivers has been overlooked – money.
Twenty years ago, the British far right was defined by small political groups like the British National Party and the National Front, who relied on membership fees and street activism to fund small-scale activity in the UK.
But the advent of online crowdfunding has enabled anyone with a reactionary view to build a fan base online for free, ask for donations and convert the money into unprecedented international reach.
That reach enables extremist ideas to be spread around the world, through slick social media operations and videos of the likes that inspired the terror attacks in Christchurch, Finsbury Park and Pittsburgh.
Tommy Robinson supporters protest outside the Old Bailey

Show all 16
Tommy Robinson's meteoric rise is one of the starkest examples of the funding shift. The English Defence League, which he co-founded in 2009, became notorious for its violent and provocative street protests but gained little international attention.
After Robinson left in 2013, he faded into obscurity until he started working as a "correspondent" for Canadian website Rebel Media.
His post was part-funded by a "fellowship" from US tech billionaire Robert Shillman, and brought him new audiences in Canada, the US and English-speaking countries around the world.
When Robinson decided to go it alone as an "independent reporter" in early 2018, he started crowdfunding his work and was able to hire his own staff for filming and publicity.
By the time he was jailed in May last year, he had acquired fans including Donald Trump Jr, who condemned his imprisonment as more international backers threw money at Robinson's cause.
One year on, Robinson has attempted to enter politics as a member of the European parliament and has vowed to continue attempting to "politicise" his supporter base.
Robinson was cited in a new report as among the figures demonstrating the dangers of "overlooking" international funding networks that are fuelling the modern far right.
Analysts at the Royal United Services Institute (Rusi) said the "extremist milieu – both on- and offline – on which extreme right-wing terrorism feeds" needs money to sustain itself.
Finsbury Park terror attack: One year on
Author Tom Keatinge said that the extreme right wing was openly benefiting from crowdfunding and "deep-pocketing donors across the ocean" in a way that would be unthinkable for Islamist groups.
"Finance plays an important role in enhancing the promotional activity of extreme right-wing groups, from creating propaganda to organising marches and events to maintaining websites supporting and promoting extremist literature and exchanges of ideas," the report said.
"Senior law enforcement practitioners have suggested that non-violent extremism is often the first step in a process of radicalisation that ends in terrorism, which is why financial analysis into nonviolent extremism should not be overlooked."
Register for free to continue reading
Registration is a free and easy way to support our truly independent journalism
By registering, you will also enjoy limited access to Premium articles, exclusive newsletters, commenting, and virtual events with our leading journalists
Already have an account? sign in
Join our new commenting forum
Join thought-provoking conversations, follow other Independent readers and see their replies