Father who saved baby's life months after learning CPR urges others to learn first aid
Eight-month-old Ruaridh Brown's 'lips had turned blue' and he stopped breathing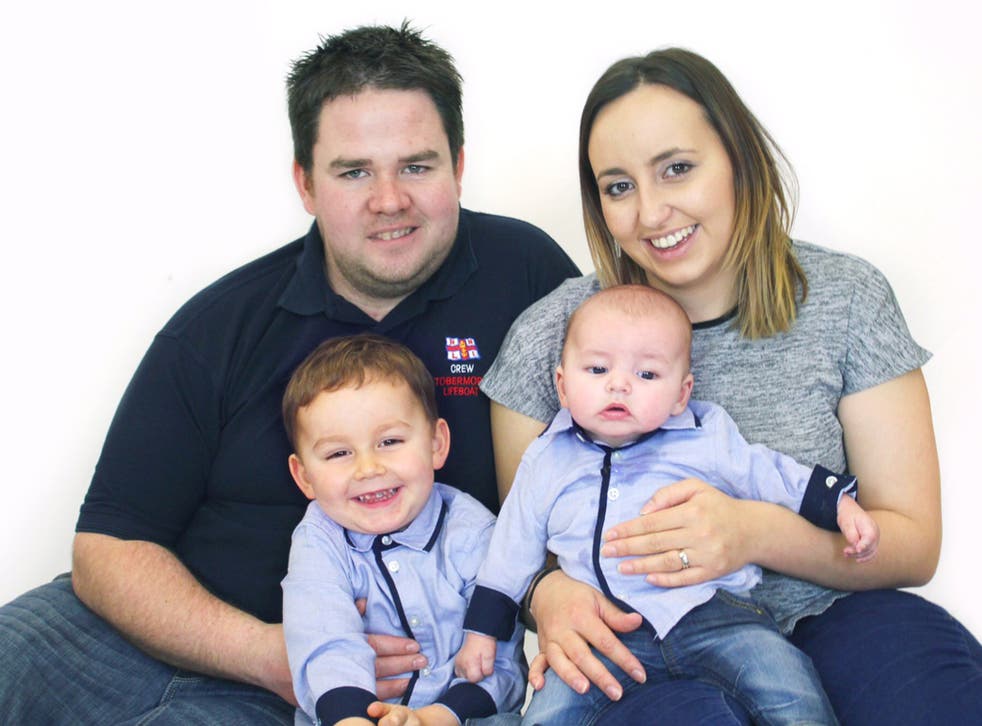 A father who saved his baby son's life with the CPR skills he had learned on course months earlier is urging people to take up first aid.
Alec Brown told The Independent that he was at home in a remote area on the Scottish island of Mull, when his youngest son, eight-month-old Ruaridh woke up from his nap.
The 29-year-old said that his wife Kayleigh, 26, "thought he was feeling a bit hot", but when she checked his temperature "it was normal".
Describing incident which happened earlier this month He said: "She sat him in his high chair and went to make him lunch. She came round and you could see his was struggling. She picked him up and he wasn't breathing at all.
"We thought he was choking so I tried slapping his back to dislodge whatever it was and nothing came."
Having called an ambulance, they laid Ruarudh on the floor and checked his airways.
"His lips started turning blue," he said, adding that he began CPR, using the skills he had learned on an infant first aid course in February.
"I was giving chest compressions for a minute and a half, then he took a deep breath and then spewed," Mr Brown said. "Then he started breathing."
Eventually, the ambulance arrived and took Ruraidh to a children's hospital in Glasgow by helicopter where he was kept for three days.
Doctors believe the youngster suffered from a viral infection.
As his baby started crying as his breathing started improving.
"You don't show any emotion at the time," Mr Brown said. "A lot of bad thoughts go through your head, but when he started crying, that is when it first hits you what happened."
Health news in pictures

Show all 40
He added that he completed a free first aid course in February specialising in CPR for babies.
"We are in a remote area it is a good thing to have," he said.
The particular course was organised by a mother working with St Andrews First Aid, whose own child had been saved by CPR,
"Whether you are a mummy, daddy, nana or grandpa, just do an infant CPR course as soon as you can, as a general CPR course does not teach you the same things, it is different for adults and children," Mr Brown said.
Tobermory RNLI Lifeboat, which Mr Brown volunteers for, praised him on their Facebook page.
"First aid training is for all not just emergency services personnel," they wrote. "We are so proud of our volunteer crew member Alec and even more pleased that Ruaridh has made a full recovery and looking forward to seeing him at the Station barbecue next month."
Join our new commenting forum
Join thought-provoking conversations, follow other Independent readers and see their replies