Video of female cyclist exacting revenge on van-driving catcaller 'was faked'
Witness describes actors being briefed prior to footage being shot that subsequently went viral
Lucy Pasha-Robinson
Wednesday 22 February 2017 17:57 Comments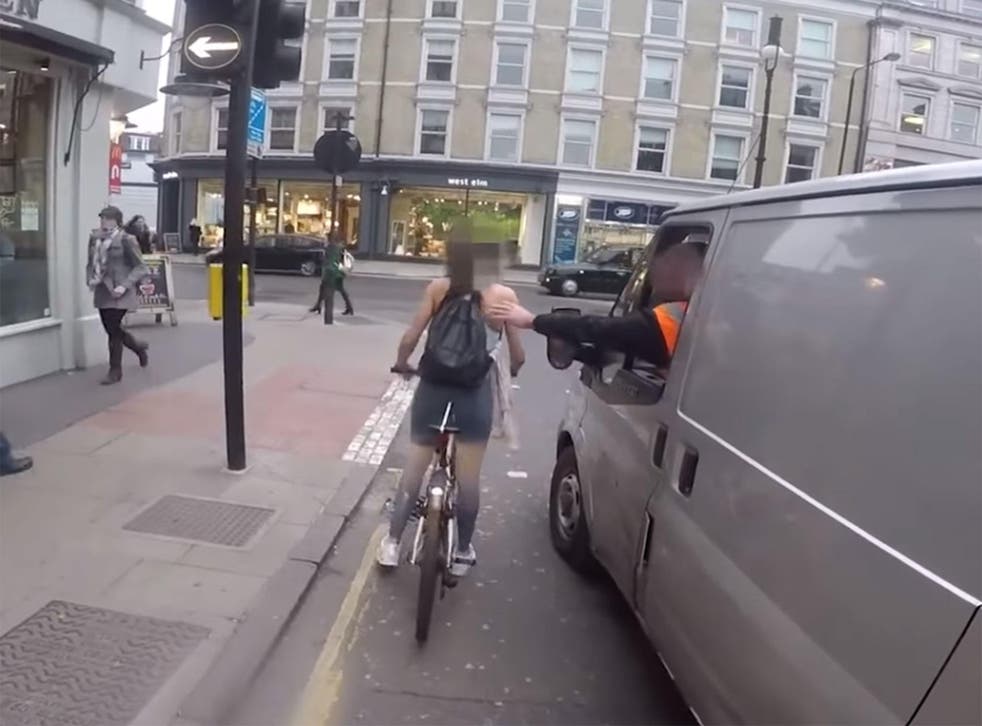 Footage of a female cyclist being catcalled by workmen in a van went viral after it was shared online - but eyewitnesses to the incident are now claiming it was staged.
The video showed a woman on London's Goodge Street waiting to cross over Tottenham Court Road with her bicycle, as the man in a van next to her heckles her and tries to touch her.
However, one witness has now claimed they saw James Bolding, co-owner of viral content firm Jungle Creations, giving instructions to actors before the scene was filmed.
The footage, apparently captured by a motorcyclist with a dashcam, sees the cyclist slapping the man's hands away as he attempts to grab her, shouting: "That's not very ladylike is it, eh? What charm school did you go to, eh? You wanna tell your mum and dad to get their f****** money back."
However, builder Scott Deane told The Sun he saw the woman with the bike talking to a blonde man who appeared to be giving her instructions.
"Three guys dressed in orange site clothes turned up in a van and the blonde bloke was giving them instructions too," he said.
"He was telling the girl, 'You need to ride behind the van aggressively'."
The footage was shared thousands of times on Wednesday, with many people taking to social media to voice their disapproval.
At one point, the driver can be heard shouting at the woman: "Shut up you old dog. You on your period?" before reaching out to try and touch her shoulder and telling her to give him her number again.
She is filmed sticking her middle finger up at him as the van drives off.
The cyclist, the van and the motorcyclist filming the incident head in the same direction onto Chenies Street. The van pulls up ahead and the cyclist stops abruptly next to it, quickly ripping off the driver-side wing mirror and dropping it in the middle of the road before cycling off.
As the motorcyclist drives past the shocked men getting out of the van, he says: "That's exactly what you deserve, you scum."
Jungle Creations' co-owner Paul Beiboer claimed the company did not create the video and said the footage had been provided by a source it had never previously used.
However, he refused to name the person or place the footage had been sourced from.
Jungle Creations did not immediately respond to The Independent's request for comment.
However, Mr Beiboer told the Evening Standard: "We couldn't verify its authenticity, but we don't think it's fake."
Register for free to continue reading
Registration is a free and easy way to support our truly independent journalism
By registering, you will also enjoy limited access to Premium articles, exclusive newsletters, commenting, and virtual events with our leading journalists
Already have an account? sign in
Join our new commenting forum
Join thought-provoking conversations, follow other Independent readers and see their replies