Finsbury Park Mosque says it was 'unaware' trustee is senior member of Hamas
Hamas names Mohammad Sawalha as member of its political bureau after high-profile visit to Russia
Lizzie Dearden
Home Affairs Correspondent
Tuesday 07 November 2017 18:23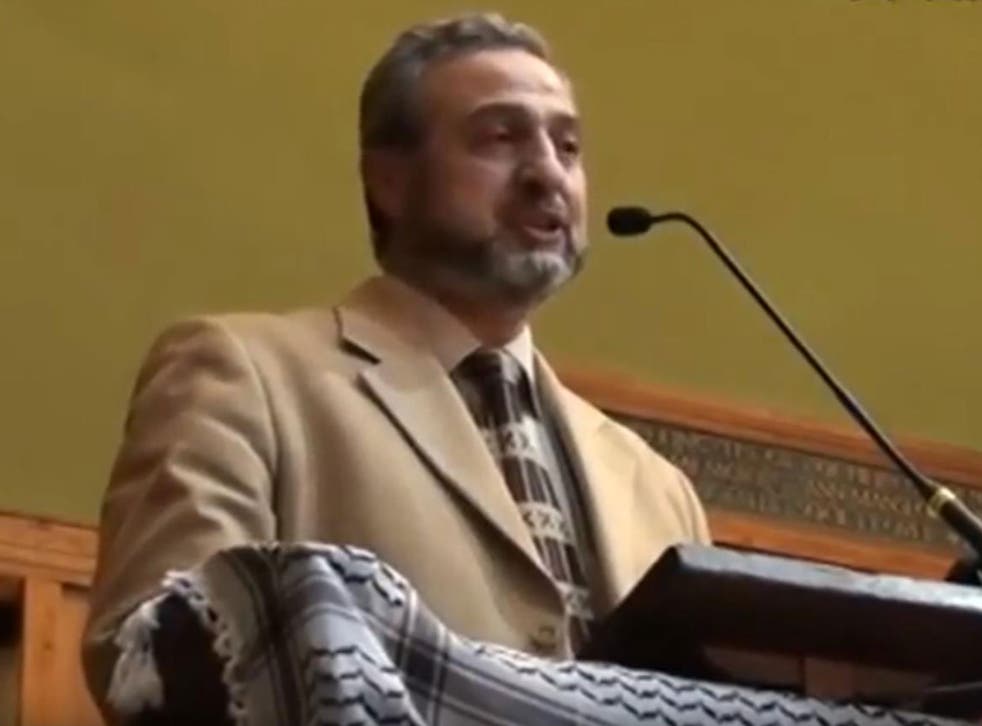 Finsbury Park Mosque says it was unaware that one of its trustees has been appointed to Hamas' political bureau.
Representatives of the institution told The Independent it has no relationship with the Islamist Palestinian political party following a high-profile trip to Russia by representatives including Mohammed Sawalha.
Hamas named him alongside senior members in coverage of the visit, dealing a blow to the mosque's efforts to dispel its former reputation as a hub for al-Qaeda supporters and extremist preachers including Abu Hamza.
Mr Sawalha, who is one of Finsbury Park Mosque's six trustees, was identified as part of Hamas' political bureau in coverage of the "fruitful" visit to Moscow.
He was among senior members of the organisation to meet Vladimir Putin's Middle East envoy Mikhail Bogdanov.
Hamas released photos of the three-hour meeting in September, where it said delegates discussed its reconciliation with the Palestinian Authority and alleged Israeli abuses against Palestinians in Gaza, West Bank and East Jerusalem.
Russia's foreign ministry issued a statement following the engagement saying it welcomed a "moderate" political programme announced by Hamas earlier this year, which accepted a proposed Palestinian state within 1967 borders.
The visit was hailed as a landmark for Russian relations with Hamas, which is listed as a terrorist organisation by the US and EU.
Palestinian-born Mr Sawalha was thought to be a member of Hamas before fleeing the West Bank for the UK in 1990 but his position in the group's political bureau is his most senior confirmed role.
He has also been involved in pro-Palestinian activism including Gaza flotillas, and is the former president of both the Muslim Association of Britain and British Muslim Initiative.
Asked how Mr Sawalha's position in Hamas squared with Finsbury Park Mosque's values, a spokesperson said: "We were not aware about this news till recently made public in [The Times].
"We are looking at the situation and the mosque will be issuing a statement in the next couple of days.
"We would like to confirm that the mosque has no relationship with Hamas."
Finsbury Park Mosque leaders said it was under the "forceful control" of fundamentalists between 1997 and 2005 and has since overhauled its leadership and trustees as part of a new ethos promoting "love, care and compassion, justice and peace".
The mosque has become known for its interfaith work, with events attracting guests including Labour leader Jeremy Corbyn, who represents the area in Parliament.
Attracting up to 2,000 worshippers, the mosque hosts community events and runs welfare services, education courses and advice surgeries.
Finsbury Park attack

Show all 14
Its worshippers were targeted in an alleged far-right terror attack in June, when one man died after a van hit Muslims leaving Finsbury Park Mosque and the nearby Muslim Welfare House following Ramadan prayers.
The atrocity prompted an outpouring of public and political support for the institutions, but the far-right have seized on Mr Sawalha's position in Hamas to renew accusations that Finsbury Park Mosque has links to terrorism.
Hamas as a whole is not deemed a terrorist organisation by the British Government, which has proscribed only its military wing over its "aims to end Israeli occupation in Palestine and establish an Islamic State".
But the European Court of Justice ruled Hamas should remain on a separate EU-wide blacklist in July because of its "involvement in terrorist activities".
The group has claimed responsibility for terror attacks dating back more than two decades in Israel and the Occupied Palestinian Territories, while being accused of grave human rights abuses including jailing and executing gay men.
Hamas, which controls the Gaza Strip, has been subject to widespread travel bans and asset freezes since 2001, and has fought several wars against Israel as well as launching insurgent attacks.
It has opposed sanctions and argued it has a legitimate right to conduct military operations, but senior leaders regularly praise "martyrs" who launch terror attacks against Israeli civilians.
Hamas' founding charter, from 1988, called for the takeover of all territories in former Mandatory Palestine, including modern-day Israel, but a new document presented in May claimed it would accept a Palestinian state within 1967 borders.
The group has not yet responded to The Independent's request for comment and Mr Sawalha could not immediately be reached.