Finsbury Park Mosque: How religious centre went from 'al-Qaeda guesthouse' to model of moderation
Once the domain of 'hook-handed preacher of hate' Abu Hamza, the north London mosque has become an award-winning community asset seeking to divert the young away from extremism.  And yet it continued to face Islamophobic harassment, even before Sunday night's attack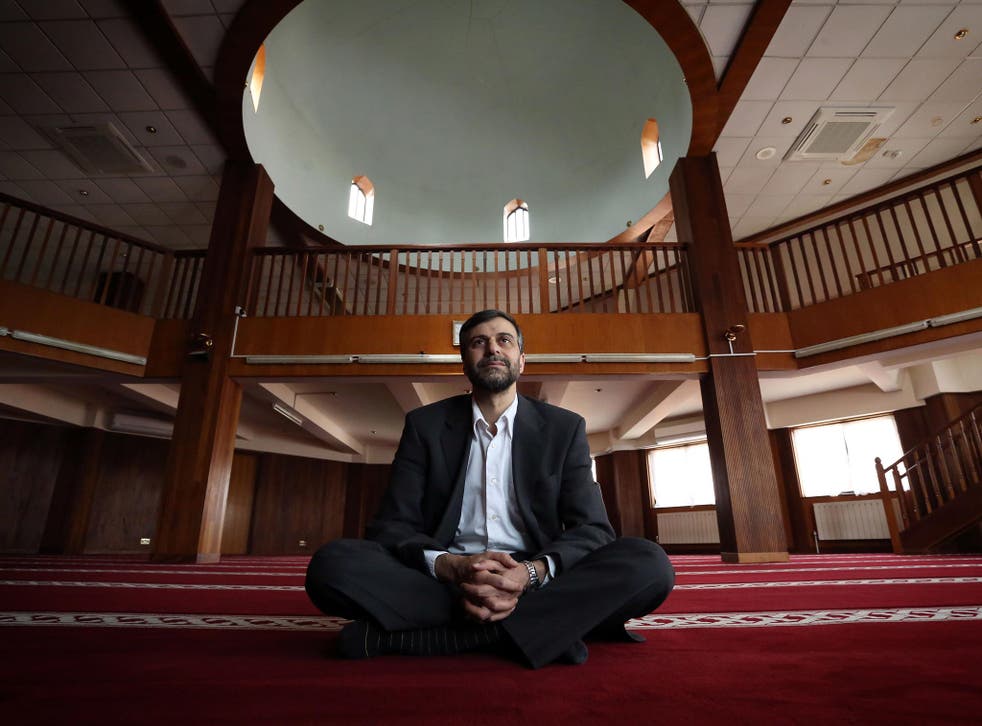 There was a time when Finsbury Park Mosque had everything required by those seeking to portray Britain as riddled with 'enemy combatants' plotting to turn the country into a Muslim-controlled 'Sharia Land'.
It was once described as an "al-Qaeda guesthouse in London". It assisted in the radicalisation of 'shoebomber' Richard Reid, the Briton who tried to blow up a passenger jet in 2001 using a bomb hidden in his trainers, and Zacarias Moussaoui, one of the 9/11 plotters.
But best of all, it had the perfect tabloid villain: radical imam Abu Hamza, the "hook-handed preacher of hate".
In the aftermath of Sunday night's terror attack that left one dead and 11 injured, some seemed keen to resurrect this past. (While ignoring the fact that the spot where the terror attack happened was actually slightly closer to the Muslim Welfare House in Finsbury Park.)
Tommy Robinson, the founder of the English Defence League, for example, considered it a good idea to tell his 304,000 Twitter followers that "the mosque where the attack happened has a long history of creating terrorists and radical jihadists and promoting hate and segregation".
He followed up with the suggestion that "Finsbury Park Mosque was a UK Government protected planning centre for hundreds of jihad attacks/plots which killed British soldiers and children".
You had to squint pretty hard to see that the news story dragooned into Mr Robinson's tweet as "evidence" was actually from 2014, and referred to something that happened 20 years ago, in 1997.
The truth is that Finsbury Park Mosque has changed, but the narrative around it seems to have struggled to keep up.
Abu Hamza is in a maximum security US prison. He's been there since January 2015 when he was given life without parole for 11 terrorism offences. Before that, he was in the high security unit of Britain's Belmarsh jail.
He was arrested in 2004 and subsequently convicted of soliciting murder and intent to stir up racial hatred.
He's even lost his hook. The US authorities insisted on giving him a prosthetic spork (spoon/fork) for eating his food.
The mosque, meanwhile, has been under new management since 2005, where they have spent more than a decade creating what they call a "new era", with "a new management team, new Imams, and new ethos".
As expressed on the mosque's website, the new ethos aims to reflect "the true teachings of Islam as a religion of tolerance, co-operation and peaceful harmony amongst all people".
It hopes to give its worshippers the capacity "to espouse values of diversity, tolerance and moderation and promote interfaith dialogue with other religious groups, by reaching out and acting as a resource centre for the local communities".
It seems to have had considerable success in this, given that local MP Jeremy Corbyn now uses it for constituency surgeries, that it has won local awards, and became only the third faith organisation to receive the prestigious Visible Quality Mark from the national body Community Matters.
But still, it is the dark past that many seem to remember.
Finsbury Park Mosque began well: opened at a ceremony attended by Prince Charles in 1994, one of London's largest mosques with seating for 1,800, close to Finsbury Park Tube and Arsenal Football Club, serving a diverse community including Pakistanis, Bangladeshis, Algerians and Egyptians.
But in 1997, Abu Hamza, a former London nightclub bouncer, arrived. He already had the look of a pantomime villain, having lost both hands and one eye.
The accounts seem to vary: sometimes he sustained his injuries fighting for the Mujahadeen against Soviet Russia in Afghanistan. By the time he was facing trial in a New York courtroom the need for a hook hand and a glass eye was occasioned by an accident involving liquid explosives while working on a roads project for the Pakistani military.
The Egyptian-born cleric's malign influence at the mosque was described by Abdul Kadir Burkatulla, one of the trustees, who told the BBC: "He used intimidation, verbal abuse and even physical use of force to exclude trustees, to bully them and intimidate them to surrender to certain of his demands.
"They have been threatened verbally and even assaulted in the mosque to the extent that they are too frightened to speak."
Finsbury Park attack

Show all 14
Hamza's sermons drew a crowd of young, extremist acolytes. Ordinary Muslims started avoiding the mosque.
By 1998, the Charity Commission was investigating reports that the moderate trustees felt intimidated and that several people, including Hamza, were effectively living within the mosque.
By 1999, Reda Hassaine, an Algerian who was paid by MI5 to spy inside the mosque was reportedly calling it an "al-Qaeda guesthouse in London".
And then 9/11 happened.
Concern about Finsbury Park Mosque and Abu Hamza went global.
It would subsequently emerge that Hamza's sermons had attracted, among others, Zacarias Moussaoui, one of the 9/11 plotters, and Richard Reid, the shoebomber who tried to destroy an American Airlines flight to Miami in December 2001.
Shortly after the 9/11 attacks, in 2001, the UK Charity Commission received a tape of a sermon given by Hamza on the first Friday after US military action began in Afghanistan. The commission concluded the sermon was of such an extreme political nature that it conflicted with the mosque's charitable status, and started proceedings against Hamza.
But throughout 2002, he continued to give sermons.
Then in January 2003, 150 police raided Finsbury Park Mosque, sealing off streets for half a mile around the building as they investigated an alleged plot to produce the poison ricin.
The mosque was closed and boarded up, but Hamza, by now a national hate figure, just resorted to holding Friday prayer meetings in the street outside. The meetings, attracting almost as many journalists as worshippers, were tightly marshalled by Hamza's young acolytes. The air of mutual hostility between the two sides was palpable.
The street theatre only ended in August 2004 with Hamza's arrest by British Police exercising their powers under the Terrorism Act 2000.
For Hamza, it was the start of a process that would end with a life sentence for sending cash to al-Qaeda, sending a follower from Finsbury Park to an Afghan training camp, and for assisting rebels who took tourists hostage in Yemen in a 1998 incident that led to the deaths of three Britons.
For Finsbury Park Mosque, though, it was a new beginning.
It re-opened in 2005, under the leadership of new chairman of trustees Mohammed Kozbar, who is also the vice-president of the Muslim Association of Britain.
It is now, according to Mr Corbyn, Labour leader and MP for Islington North, "a wonderful community asset".
It seems as if ordinary Muslims got their mosque back from the extremists.
In 2014, after years of hard work, Mr Kozbar was able to tell The Independent how the mosque was once again attracting nearly 2,000 worshippers, whereas before, under Abu Hamza, only about 50 people would come for Friday prayers.
"Before we took over in February 2005," said Mr Kozbar, "What was happening here was not healthy for the Muslim community, for the local community, or for the country."
In the mosque's new era, said Mr Kozbar, "We [as Muslims] want to feel we are part of the wider community. We want to be British citizens, not second-class citizens, and we want to feel we have duties, responsibilities and rights as well."
"We take [young people] away from the street, from gangs, from drugs and from extremism," he added.
Awards, including the Visible Quality Mark bestowed by Community Matters in November 2014, have followed.
But some still seem incapable of realising that the mosque has moved on from the Abu Hamza era.
And so in June 2011, seven years after Hamza left, an imam received through the post a package with an anti-Islamic message, offensive pictures of Muslim women, and a suspicious white powder initially feared to have contained Anthrax.
In August 2015, ten years into the new era, an international database was still listing the mosque as a potential terrorism risk – leading to a long libel battle that only ended in victory for the mosque in February of this year.
Meanwhile, in November 2015 a would-be arsonist threw a jerry can of petrol into the mosque grounds, trying and failing to set it alight, and in May of last year a bag of rancid pork was thrown over the fence.
Mr Kozbar described that incident as "very upsetting and frustrating", but only to a local paper.
Because the harassment of the mosque and the Muslim community it served tended to attract only local attention.
Until it turned violent.
Join our new commenting forum
Join thought-provoking conversations, follow other Independent readers and see their replies