Number of firefighters off sick with mental health problems jumps by a third in the last six years
Separate research suggests that stress caused by cuts to emergency services may be a greater factor than post-traumatic stress disorder
Rachel Roberts
Sunday 17 September 2017 18:44 Comments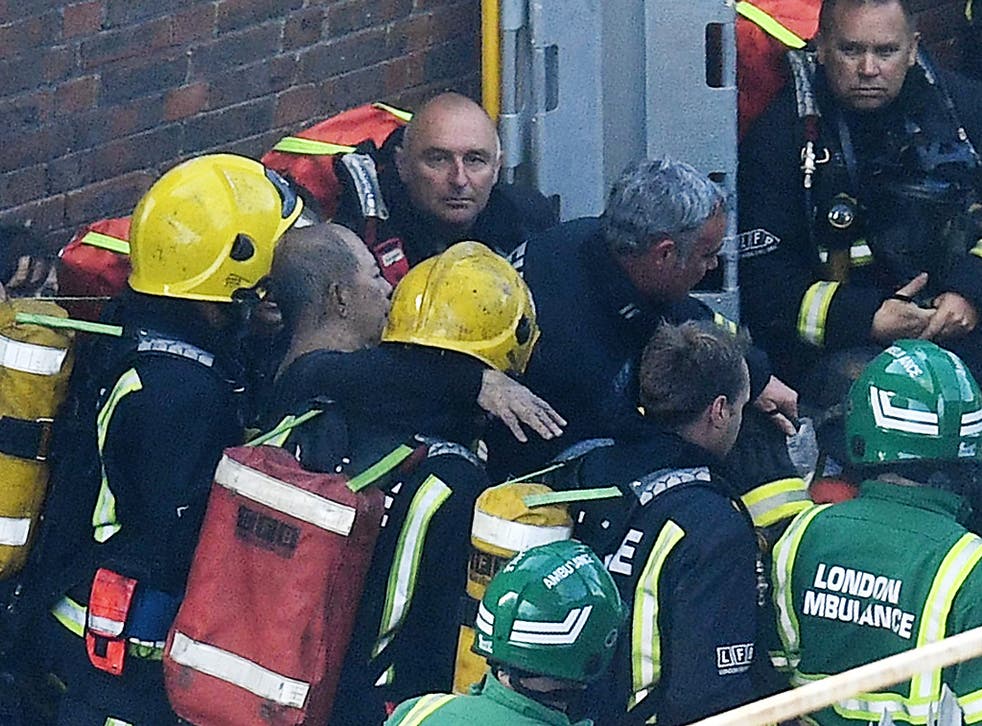 The number of firefighters taking long-term sick leave because of mental health problems has soared by almost a third in the last six years, new figures have revealed.
The problem appears even worse in London than across the country as a whole with the number of firefighters on mental health-related sick leave almost doubling since 2011-12.
Former London Mayor Boris Johnson approved sweeping cuts to the fire service, including the closure of 10 fire stations and the loss of 600 firefighting jobs during his time at City Hall.
Many firefighters in the capital were affected by the Grenfell Tower fire, with five of the 103 staff members who have taken mental health leave this year doing so as a direct result of the tragedy, according to the London Fire Brigades Union.
The latest figures were uncovered by the BBC's 5 live Investigates programme using Freedom of Information requests.
They show the number of firefighters and other staff taking long-term leave because of mental health problems including anxiety and depression has risen from 600 to 780 over the last six years.
At least 126 staff are believed to have left the service due to mental health issues since 2011, with the actual figure likely to be higher as only around two-thirds of local fire services supplied figures.
Separate research done by the Fire Fighters Charity found that 41,000 shifts were lost nationally in the past year due to mental health issues.
Research undertaken by Mind's Blue Light Programme published last year found that 27 per cent of firefighters have contemplated suicide over stress or poor mental health while post-traumatic stress disorder (PTSD) was a common problem.
The study found poor mental health was common across the emergency services – with workload and management pressure a bigger contributory factor than exposure to trauma.
"Many staff report that reduced budgets and more challenging targets are reducing the opportunities for informal support that they have counted on in the past, while increasing the pressures that they are under," the researchers said.
"Front line staff were concerned about mounting pressure ... in the form of reducing budgets and more challenging targets. This underpins the experiences of blue light personnel at work – elevating the risk factors for poor mental health while simultaneously reducing the opportunities for informal support amongst colleagues."
Retired firefighter Andy Graham suffered from mental health problems after witnessing several deaths during his 30 years of service, including a man who blew himself up with a manufactured suicide belt.
"There was no debrief system in place and within a matter of weeks, I started suffering from nightmares and panic attacks," he told the BBC.
"When you're in a profession like the fire service or any of the emergency services, you're taught that you're the strong one. You're the one that's there to get through the situation and help others.
"So when the time comes that you need help, it goes against the grain, and you keep telling yourself, 'no, I'll get through this'."
After seeking therapy for his problems, Mr Graham now trains others in mental health first aid.
"Fire services have better debriefing systems than they used to, but the support is not where it needs to be yet."
UK news in pictures

Show all 50
Sean Starbuck, mental health lead for the Fire Brigades Union said: "Grenfell has brought this issue to the forefront, but we've been raising it for some time with our employers on the back of the earlier Mind information.
"The stigma attached to mental health needs to be consigned to the bins of history where it belongs. It's not going to get there on its own.
"Fire services need to create an environment where firefighters feel able to disclose if they are suffering as a result of traumatic scenes they witness as part of the job.
"At the moment it appears many are unable to."
The National Fire Chiefs Council said that it puts "a lot of work into making sure that help and support is available" for its staff.
A spokesperson for the Home Office said: "It is the responsibility of fire and rescue services to have wellbeing services in place that meet their workforce needs.
"The Government has provided an additional £1.5m to pay for mental health support through Mind's Blue Light Programme to ensure our emergency services workers have the counselling and emotional support they require."
Register for free to continue reading
Registration is a free and easy way to support our truly independent journalism
By registering, you will also enjoy limited access to Premium articles, exclusive newsletters, commenting, and virtual events with our leading journalists
Already have an account? sign in
Register for free to continue reading
Registration is a free and easy way to support our truly independent journalism
By registering, you will also enjoy limited access to Premium articles, exclusive newsletters, commenting, and virtual events with our leading journalists
Already have an account? sign in
Join our new commenting forum
Join thought-provoking conversations, follow other Independent readers and see their replies