Flying Scotsman: Iconic steam locomotive prepares to return to the tracks after £4.2m revamp
This week the Flying Scotsman will make her first low-speed test runs along the East Lancashire heritage railway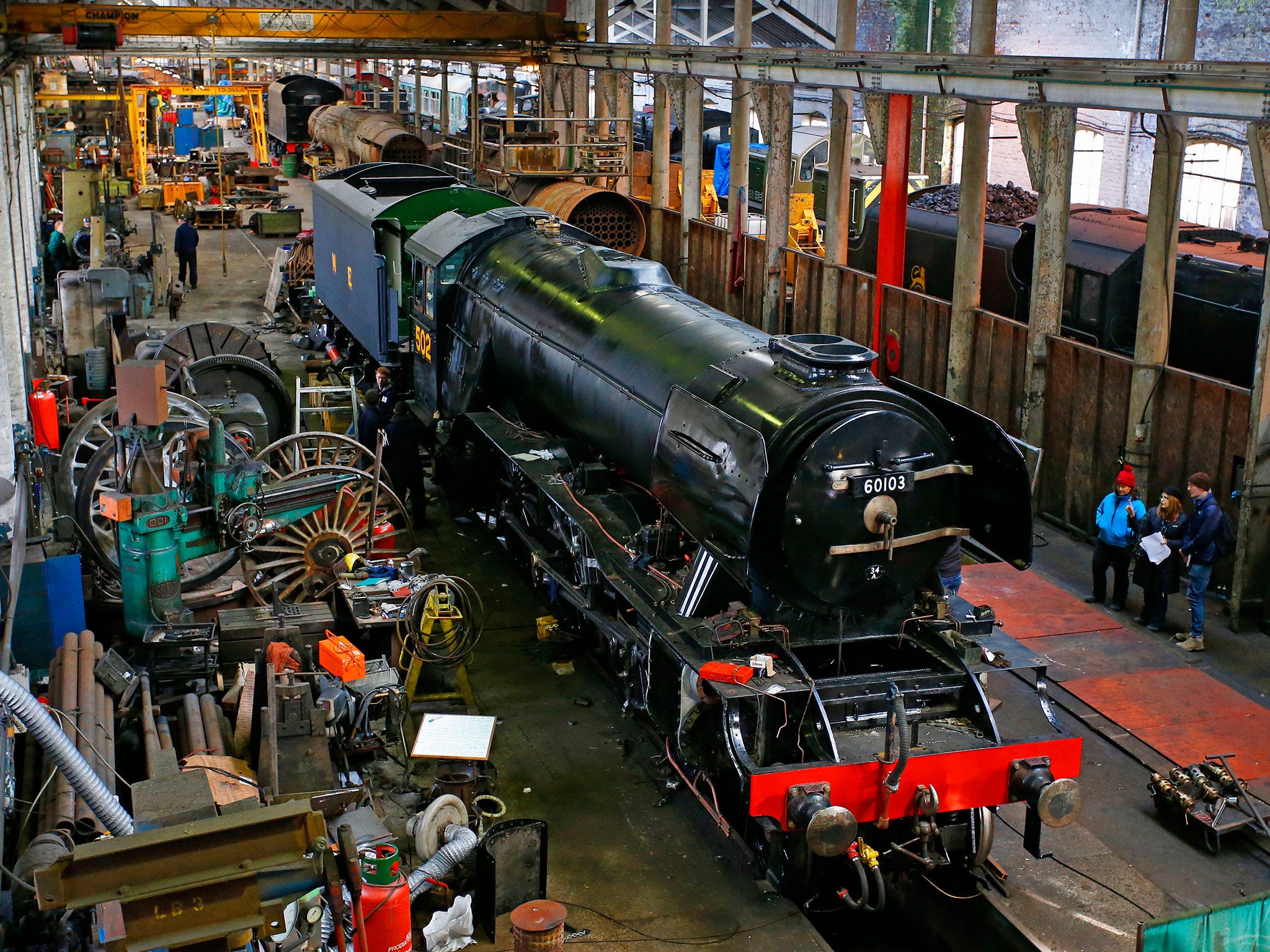 In a workshop in Bury, Greater Manchester, a team of eight has been working flat out to apply the final touches: drain cocks and lubrication pipework. And in the National Railway Museum, in York, more workers have been machining bolt heads down to the size of those that adorned the locomotive on the day it first emerged from the London and North Eastern Railway's (LNER) Doncaster works in 1923.
Technically, you could say that all this is just for restoring a "three-cylinder locomotive with Gresley conjugated valve" – but this is much, much more than just a "three-cylinder locomotive with Gresley conjugated valve".
This is Flying Scotsman, icon of the age of steam, star of the British Empire Exhibition of 1924 and 1925, and of countless childhood memories. This is the steam locomotive that, on 30 November 1934, on a downhill stretch between Little Bytham and Essendine in Lincolnshire, became the first to hit a properly authenticated speed of 100mph, passing into legend and making heroes of driver, Bill Sparshatt, and fireman, Bob Webster.
And on Wednesday, if all goes to plan, Flying Scotsman – in its heyday, the star of the London-to-Edinburgh train service – will once more be under her own steam, making her first low-speed test runs, along the East Lancashire heritage railway.
If that goes well, the public will get their first chance to see her in action at a series of weekend "preview" test runs that start on Saturday.
And then, in February, the locomotive that was nearly lost to the nation not once, not twice, but three times, will make a triumphant return to the East Coast Main Line with a full-speed inaugural run between London and York.
A nationwide mainline and heritage railway tour will follow, starting with Flying Scotsman hauling carriages of passengers along the North Yorkshire Moors Railway in March. Further passenger trips are planned in Surrey, Somerset and Lincolnshire, Bath, Bristol and Norwich – among other places – and Flying Scotsman will enjoy King's Cross to Newcastle and York to Edinburgh runs before finishing her 2016 season on the Severn Valley Railway in September.
And that, for the workers in the National Railway Museum (NRM) and the Bury workshop of Riley & Son locomotive engineers, will represent the triumphant culmination of 10 years' toil.
Because buying Flying Scotsman for the nation at a cost of £2.3m in 2004 turned out to be the easy part. A restoration expected to last 12 months when it began in 2005 ended up taking a decade and costing £4.2m.
"A mechanical heart transplant?" says Simon Holroyd, NRM engineering manager. "More like a mechanical everything transplant. It was a job that expanded out of all proportion. You were removing things, looking at what was underneath and saying, 'Oh, heck'.
"The middle cylinder was misaligned. The right cylinder was cracked. The main steam pipe for the brakes had failed …."
Flying Scotsman, he estimates, needed 5,000 new parts – all built to original specifications – including a new boiler, purloined from her sister locomotive Salmon Trout and restored to working order. The museum called in Riley & Son to help. Mr Holroyd, 51, says that the job is partly why he has grey hair. But then, over the past half-century, Flying Scotsman has often had rather a rough ride.
In the Sixties, British Rail began scrapping its steam locomotives. Flying Scotsman may have set that 100mph record, and hauled the first non-stop service between London and Edinburgh in 1928, ushering in a new era of train travel in which you got your hair cut in the on-board barber's shop and sipped Flying Scotsmans in the cocktail bar. But that was not enough for British Rail to consider her worth preserving.
The first "Save our Scotsman" campaign was launched and into the breach stepped swashbuckling Second World War RAF pilot turned businessman Alan Pegler. He bought the locomotive in 1963, saving her from the scrapyard.
Pegler took Flying Scotsman on a tour of the US, described by one NRM staff member as "Austin Powers with trains", complete with Winston Churchill impersonator and models in tartan miniskirts.
Pegler, though, went bankrupt and Flying Scotsman was impounded on a US army base. It took another businessman, Sir William McAlpine, to pay off creditors, buy the locomotive and bring her back to Britain in 1973.
And then, in 2004, a different set of owners found themselves in financial difficulty. American buyers hovered but the British public raised £441,600 – enough, with £365,000 from Sir Richard Branson's Virgin Group and a £1.8m National Heritage Memorial Fund grant, to buy the locomotive, with some money left over for restoration.
That restoration – paid for through museum funds, public and corporate donations and a £275,000 lottery grant – could, as some critics suggested, have been done quicker and more cheaply if Flying Scotsman had received a welded steel boiler made in Germany.
Mr Holroyd folds his arms. For him, it had to be the old-style boiler, with a copper inner skin for the firebox. Anything else, "just wouldn't be Flying Scotsman. You would have lost the heritage".
He was about five when he got his Flying Scotsman jigsaw puzzle for Christmas. He was learning to read at about the same time. "One of the flashcards that the teacher used had the words 'Flying Scotsman'. I always shouted loudest when that one came up. Never did I imagine that one day I would help to restore her." His pride is obvious.
As for what the public can expect when Flying Scotsman returns to the tracks, it is left to Andrew McLean, the museum's head curator, to try to explain. The 45-year-old first saw Flying Scotsman as a small boy, with his father, on "a beautiful sunny day in September 1975". Three years later, the model Flying Scotsman for his train set arrived on Christmas Day.
"This locomotive," he says, "is up there with your Big Bens and Windsor Castles. You can't fly on Concorde now. You can't cross the Atlantic on the original Queen Mary. But you will be able to travel on a train hauled by Flying Scotsman.
"And when you see a steam locomotive doing what it was designed to do …. You get the sight, the sound, the smell, the heat – a spectacle touching all your senses.
"When it is running like that, a steam locomotive is alive, and at that point, with Flying Scotsman, a lot of people will be choking up: she will have been brought alive again."
For more details about Flying Scotsman's 2016 season visit here
Join our commenting forum
Join thought-provoking conversations, follow other Independent readers and see their replies